News
Das Doing Work
Assemblymember Williams Closes out Summer Session with Flurry of Legislation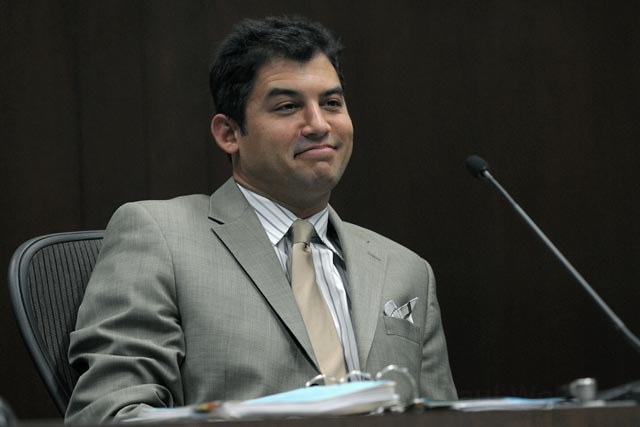 The legislation session wrapped up in Sacramento last week, and, for the 35th District's Das Williams, a State Assembly greenhorn, the annual post-Labor Day whirlwind that marks the close of our capital's legislation season proved to be a most productive one. The once-upon-a-time Santa Barbara city councilmember saw no less than a dozen pieces of legislation authored by his pen pass the Assembly floor — many of which have already been green-lighted by Governor Jerry Brown — along with a handful of coauthored affairs. Back home here in Santa Barbara this week, Williams summed up his maiden legislative adventure: "The session always has the good, the bad, and the ugly, but I like to think we got some real important work done, and I certainly felt very useful to our community."
In that S.B.-centric vein, Williams accomplished two separate pieces of what he described as "nuts and bolts" district legislation. The first, AB 504, is an education unification bill that specifically paves the way for the newly unified Santa Barbara School District to continue receiving the various voter-approved parcel-tax revenues that the district got approved before its name change. The second, AB 412, is a Maddy Fund bill that looks to help cover emergency medical expenses here in the county. The legislation calls for a new $5 penalty assessment on all area DUI and DUI-related tickets, which will generate an estimated $540,000 annually for emergency rooms and various related services.
Interestingly enough, though the legislation will go into effect in 2012, Governor Brown opted not to sign the bill (he also opted not to veto the bill) when it came to his desk late last week. The reason, explained Brown, was that the bill, though providing much-needed cash for a more-than-worthy cause, was on a slippery slope of unfairly subjecting lawbreakers to ever-increasing costs. "Sooner or later we must find better ways to pay for the public goods we need," said Brown in a memo.
On the broader legislative tip, Williams counts AB 438 and the very late-hour AB 1392 among his victories. The former is a mildly controversial bill that requires cities — starting in 2012 — to go through a series of financial audits and various other public transparency
-inspired hoops before they can privatize a previously public library system. The latter, 1392, which Williams coauthored with fellow Democrat Assemblymember Steve Bradford (Inglewood), works to capitalize on several million dollars' worth of federal use-it-or-lose-it money targeting energy efficiency in state-owned buildings. As per the bill, some $50 million will be spent over the next two fiscal years on retrofitting state buildings with more energy-efficient technology.
Also on the victory front, Williams explained this week that he considers the bipartisan passing of a loophole-closing portion of Governor Brown's Jobs First initiative (AB 40x 1) to be one of the session's greatest successes. By applying a mandatory single sales factor to all California businesses, this bit of legislation — which was made possible, in part, thanks to the vote of support from two Republican members — closes a roughly $1.1-million loophole that was essentially rewarding multistate companies, via a tax exemption, for moving jobs out of California. Even better, says Williams, this bill, thanks to the influx of cash it will generate, works to increase the maximum standardized tax deduction that can be claimed by individuals or families on their income tax returns by approximately $1,000. "This gives the average Santa Barbara or Ventura County resident $1,000 more in their pockets by simply closing a loophole for out-of-state corporations. That is a no-brainer for me."
It wasn't all good news, though, in Das's esteem. The first-year assemblymember lamented both the legislators' inability to reauthorize a Public Goods Charge — something that directly helps fund research and development for energy efficiency and various other green jobs — as well as the overwhelming beat-down that state-funded higher education, child care, and welfare took during the session's reconciling of California's $20-billion structural deficit. "I expected this to be a year of carnage, and it was." summed up Williams. Speaking specifically about the hit that higher education took, Williams was defiant. "Our greatest resource is our students, and our
higher-educational system is the greatest strength of economic development. We cannot afford to price them out of our own school system …. Next year, that will be one of my top priorities with new legislation."