Voices
My Visit to the MLK Memorial
Basking in the Presence Even Though Unveiling Delayed Due to Hurricane
When I left Santa Barbara on August 16 to attend my family's 70th Reunion in New Jersey, it was also with the burning desire to be present at the unveiling of the Reverend Dr. Martin Luther King, Jr. National Monument in Washington D.C., scheduled for Sunday, August 28, 2011.
Two days earlier, some of the buildings in the Washington D.C. area had been damaged by an earthquake, which ironically occurred while I was in the subway train, heading to Ground Zero, where 9/11 occurred. Now Hurricane Irene was whirling its way toward the Washington D.C. This prompted the announcement on Friday, August 26, that the unveiling of the Martin L. King monument was cancelled due to gale force winds. Despite these predictions, my son and I headed for the site early Saturday morning.
I wanted to be at the memorial ground because Dr. King had made such an indelible impression on me during his "I Have a Dream" speech, so well known all over the world. That day in 1963, I vividly recall pushing my way to get to the front of the crowd, and feeling so overwhelmed and empowered by his words that I reached up to hold the hem of his coat. I knew at that point that the delivery and power of his words would echo long after that day was over.
Upon our arrival in the D.C area Saturday morning, most of the streets were closed due to the hurricane. We were finally able to park on Constitution Ave., and proceeded to walk past the WWII Memorial and around the Tidal Basin, to reach the MLK, Jr. National Memorial site. There were already about a hundred people milling around, adults and children, including several in wheel chairs. They all seemed awed by the presence of such an imposing sculpture. After several moments I noticed that Jesse Jackson was there, with a contingent of people around him, and was mostly talking to reporters. After being interviewed and photographed he joined the crowd for a photo, then scurried away and into a limousine.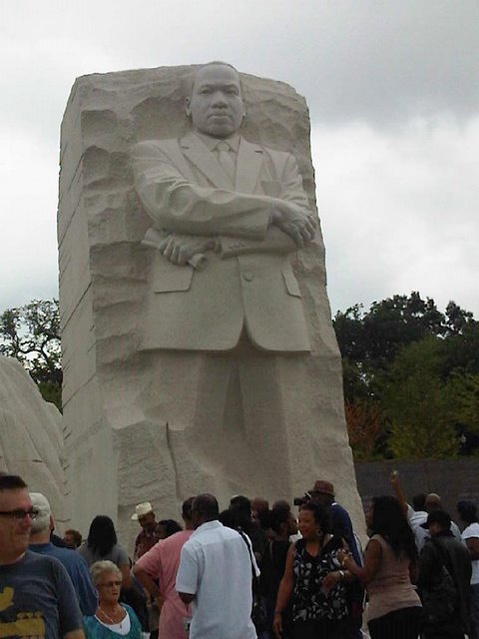 Approaching the monument, one is struck by its sheer size and the stance of the figure, which arises out of a huge stone inscribed with this title: The Stone of Hope. Staring up at the figure, it is easy to see the somewhat Asian facial characteristics that others have talked about recently. As I gazed at his face, I wondered whether people made such observations because everything seems exaggerated due to the sculpture's immense size. The fact that it was carved by master sculptor Lei Yixin, and shipped in pieces from China, may also have inspired, or loaned credence to, this critique. However, none of this dampened my feelings of reverence and excitement at finally being on the grounds.
Since we had approached from the back, across from the Jefferson Memorial, we were opposite the main entrance, which has two large inscribed stones. Another surprise was that the walls facing us, on both sides of the entrance, had some of Dr. King's many quotes.
After we were there about an hour, a man with a large camera approached me. He had several large bags and he asked me to help him pass out flags. I was baffled as to why he selected me. Although taken by surprise, I was delighted to help with this task. Later, I realized that he might have been concluded that I was approachable because of the tee-shirt I was wearing: the 2011 shirt of the Martin L. King, Jr. Committee of Santa Barbara, which has King's face on it along with the words "Santa Barbara Honors Dr. Martin L. King."
Roy Mabrey was the name of the man with the flags and large camera. The literature Mr. Mabrey passed out with the flags stated that, as a youngster, he was "deeply affected by a chance encounter with Dr. King" in Canton, Mississippi, in 1966. The two different flags had dates and events associated with African American culture and history. They also bore the names of organizations that were prominent during the Civil Rights era. He wanted the flags distributed to people at the site so that he could take a photo of the flags being held in front of the monument.
Following the flag photos, I noticed a man, bent over, in a motorized wheel chair with a toy poodle sitting in a basket. Though he had much difficulty speaking he was able to make me understand that he, too, was thrilled and happy to be on such hallowed grounds. To me he represented the tenacity and spirit that was so much a part of Dr. King's dedication to freedom and justice for all. I felt a special bond with him and was genuinely pleased to be there with him and his exuberant and friendly little dog.
Just prior to leaving the grounds, I noticed two female park rangers talking and holding brochures. I queried them about the new intended date for the unveiling. They said that an actual date hadn't been established yet, but it would be "in September or October." One of the ladies then handed me a brochure. As Secretary for the Martin L. King Committee of Santa Barbara, I felt that I was representing both the city and the committee. Therefore I asked for enough brochures to give to committee members, and they happily obliged.
As the wind became more pronounced and big drops started to fall, most people began leaving the site. My son and I got back to the car just before the downpour. Though somewhat dampened by the rain, my spirit was bright and lifted up by having made the journey, despite the earthquake and the specter of the devastating Hurricane Irene, which, later that evening, unleashed her fury.