News
Vandenberg Tracks Falling Satellite
Officials Don't Know When or Where Pieces of Dead Spacecraft Will Land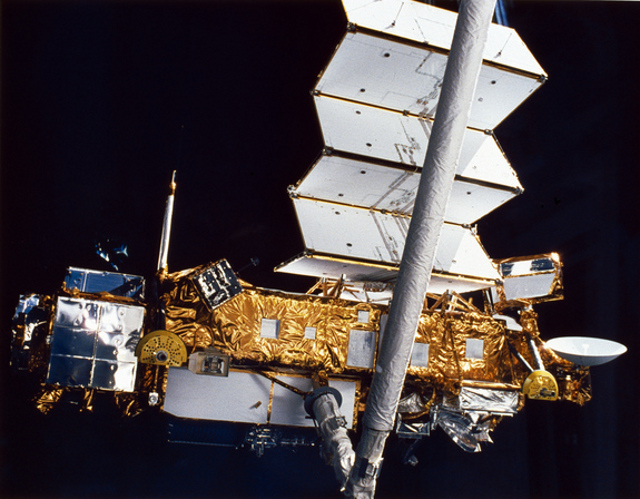 A decommissioned NASA satellite that's circled the planet for 20 years will make a fiery reentry through the atmosphere this week, breaking up and crashing down to Earth at some point Thursday, Friday, or Saturday.
Specialists with the Joint Space Operations Center – part of U.S. Strategic Command at Vandenberg Air Force Base – have tracked the school bus-sized spacecraft for months, but can only say at this point that 26 pieces of the satellite weighing a total of 1,170 pounds will pepper 500 miles of sea or land somewhere between northern Canada and southern South America.
Fluctuating levels of sun radiation and changes in the craft's orientation as its orbit decays make predictions difficult, officials said. When touchdown appears 24 hours away, Vandenberg will broadcast updates with increasingly accurate times and locations. (Track the satellite's movement in real time here.)
NASA officials said there is a 1-in-3,200 chance that a piece of equipment will hit someone, calling the risk to public safety and property "extremely small." Since the beginning of the Space Age in the 1950s, there's been no confirmed report of a person injured by falling space objects.
The $750 million Upper Atmosphere Research Satellite (UARS) was launched in 1991 and conducted a 14-year mission to collect data on the sky's photochemistry and the effect of emissions and particles coming from the sun. It was taken offline in 2005, joining the graveyard of the debris that hurtles through space at four to five miles per second. When the UARS was built in the 1980s, NASA didn't have a plan to limit reentry risks. Now, satellites are designed to all but completely burn up when they fall back to Earth.
According to NASA, there are more than 22,000 objects larger than four inches tracked by the U.S. Space Surveillance Network. Around 1,000 of these are operational aircraft; the rest are considered orbital debris. Throughout the last 50 years, the agency has cataloged an average of one piece of debris cascading to Earth each day. Most reportedly hit oceans or sparsely populated areas like the Canadian Tundra, the Australian Outback, or Siberia. The six-ton UARS (which is 35 feet long and 15 feet wide), however, is the largest craft in years to fall uncontrolled.
If any member of the public does find a piece of the UARS satellite, NASA officials said, they are advised to not touch it and instead notify local law enforcement. The remains are still owned by the U.S. government and can't be bought or sold, they said. The Federal Emergency Management Agency issued a statement explaining its members are ready to scramble a response if the UARS lands on U.S. soil.