Theater
Cloud Nine at UCSB's Performing Arts Theatre
Controversial Play Explores Gender Roles on Friday, November 4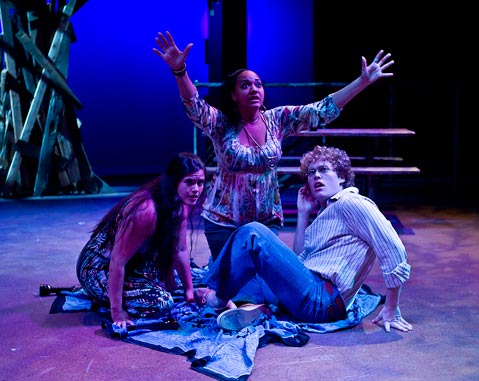 Many plays test the boundaries of the theater, but very few succeed in consistently arriving at the limits of what is possible. Through innovative casting, virtuous writing, and controversial subject matter, Caryl Churchill's Cloud Nine exposes the outworn premises of conventional drama at the same time that it reaches out toward something new.
In this excellent production at UCSB, a top-notch cast takes Churchill's wild ride and travels through realms unknown in search of themselves. The first act features Brian Bock as Clive, the paterfamilias of a highly dysfunctional colonial clan, and Dylan Hale as his wife, Betty, and locks in the contradictions and dark undercurrents that explode in the play's second half. Allie Granat is wonderful as Edward, the young son of Clive and Betty who is secretly in love with Harry Bagley (Garrett Ward). Brittany Carriger brings life and power to her dual portrayal of Ellen and Mrs. Saunders, and Andrew Fromer is also great as the insubordinate servant Joshua. While it draws on the common plot device of lovers who choose the wrong objects (e.g., Phebe in As You Like It), Cloud Nine mixes in just enough disturbing subtext to indicate that this is not going to end happily.
Act Two boils over with transgressive themes and arrangements, as Lin (Carriger) and Victoria (Granat) perform increasingly close to the edge of what is, socially speaking, imaginable. Fromer returns in this act as Cathy, a wild child, and while he gets plenty of laughs, the ultimate tone of the piece is anything but frivolous. Enjoy this marvelous production, with its great musical numbers and costumes, but do so with the warning that this is not an ordinary night at the theater.