News
Armendariz Licks His Wounds
Publicly Addresses DUI Arrest; Says He'll Stay on Council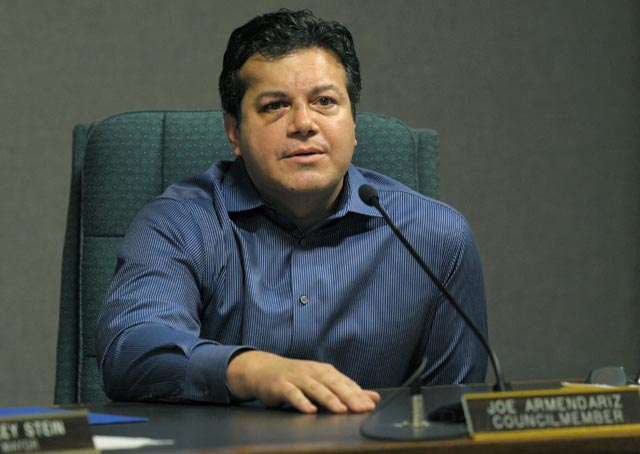 Joe Armendariz, the embattled Carpinteria city councilmember arrested December 2 on allegations of his second drunk-driving incident, made his first public comments Monday night, saying alcohol is something he's battled for much of the last 25 years.
Looking bruised, with noticeable swelling around his right eye and on the right side of his face, Armendariz, 44, spoke at the city council meeting of his emotional wounds. "My judgment was reprehensible; it was reckless; it was careless; it was thoughtless," he said Monday. "It was unfair not only to those around me at the time, but to my family, especially my children, especially to my little daughter, to subject them to the ridicule and humiliation is unconscionable. It's something that I will have to deal with."
Armendariz, who also serves as executive director of both the Santa Barbara County Taxpayers Association and the Santa Barbara Technology and Industry Association, said that he has "a lot of power in certain areas of my life — I have no power when it comes to alcohol." He spoke of how members of his family have struggled with bouts of alcoholism for years. Armendariz spoke publicly after a few members of the public addressed his behavior.
The comments came less than a week after news broke that he had been driving drunk on southbound Highway 101 near Carpinteria. Just before 11 p.m. on December 2, Armendariz approached a "sweeping right curve" in the highway just north of Santa Claus Lane and, according to authorities, didn't negotiate it, instead striking the center divider, crossing back over both lanes and off the road to the right. His car continued through a wire fence and into a tree field, a news release from the California Highway Patrol stated. He was the sole occupant of the vehicle.
Armendariz suffered a neck compression fracture and significant bruising, spending nearly two days in Cottage Hospital as a result. He has yet to be charged. His case is still under review, according to Senior Deputy District Attorney Lee Carter, who said his office is awaiting blood test results. In 2006, Armendariz was arrested for drunk driving after swerving his Lexus off Sycamore Canyon Road and into a culvert. It was alleged then that he had a blood-alcohol level of twice the legal limit, which is 0.08 percent.
The two-term city councilmember said he has no plans to step down and had already made a decision prior to the incident not to run for reelection when his term is up in November. After Armendariz spoke, fellow councilmembers Gregg Carty and Brad Stein said that they've talked to a lot of people in the community about their colleague and have both heard the same thing: "I've not gotten one comment that you should stay on the council," Carty told Armendariz.
Further on in the hearing, the council talked about its planned ban of single-use plastic and paper bags, a follow-up to a discussion held in October. The city still has to work out some details of the proposal, and staff is headed back to the drawing board to draft an ordinance that would prohibit all businesses from using single-use bags. The ban would keep paper and plastic bags out of large stores, while smaller stores could use 100-percent recyclable paper bags. Still to be determined is what defines a "large" store.
According to staff, more than 3 million single-use bags — the majority of them plastic and from large grocery stores — were distributed in Carpinteria in 2010. A waste-management study of 1,320 pounds of sampled trash showed 1,115 plastic bags. The council also directed staff to hold another workshop on the matter early next year for more public feedback and to return with a more finalized ordinance after that.