Briefs
"Bah Humbug!" Sez Mayor
Schneider Upset over Ruling to Abolish Redevelopment Districts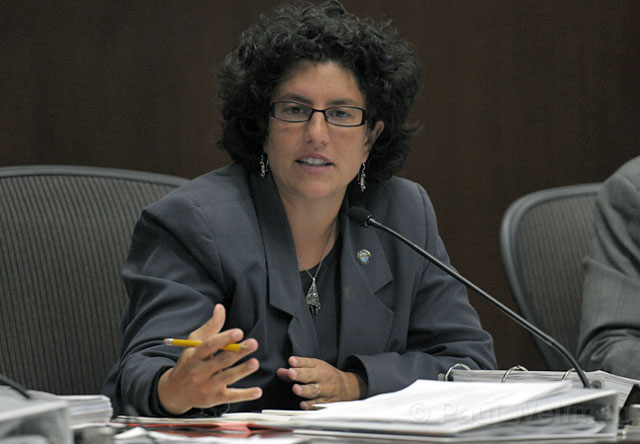 Four days after Christmas, the California Supreme Court belatedly dumped a ton of very dirty coal into the stockings of 400 local governments throughout California, issuing a ruling that effectively bans redevelopment agencies (RDAs) throughout California. Santa Barbara mayor Helene Schneider greeted the news with a grim "Bah, humbug!" adding, "This was definitely the worst case we could have imagined." As a result, she said, the City of Santa Barbara would be out up to $5 million a year in revenues that could otherwise fund affordable housing. Santa Barbara's most conspicuous recipient of such revenue is Paseo Nuevo mall which would not have been built without RDA funding.
The state Supreme Court effectively upheld part of a massive money grab engineered by Governor Jerry Brown and the State Legislature to raid the coffers of redevelopment agencies statewide. But legislating that grab proved tricky because, in 2010, state voters overwhelmingly approved Prop. 22 which explicitly prohibited the Legislature from taking money from redevelopment agencies and local governments to help balance the state's massive deficit. In fact, Prop. 22 went so far as to incorporate this prohibition into the state Constitution. The Legislature's solution to Prop. 22 was to pass a bill abolishing RDAs outright and then passing another bill that would allow RDAs to rise from their legislative ashes if they paid the state a substantial fee first. This pay-to-play provision — described as "extortion" by local government advocates — would generate an estimated $1.7 billion for the desperately cash-strapped state, money that could be spent on education or public safety. The California League of Cities sued, charging the two-step maneuver clearly violated the letter and spirit of Prop. 22.
In a nutshell, the high court ruled that the Legislature was endowed with all the requisite legal authority to abolish all RDAs; it took an act of the State Legislature to create them in the first place. But the court also ruled unconstitutional the second provision that enabled RDAs to pay the state to recreate themselves. As Dave Mullinax, a lobbyist with the California League of Cities that brought the lawsuit, put it, "It was our Armageddon scenario."
The good news, according to Mayor Schneider, is that other cities will be hit harder than Santa Barbara. After all, Santa Barbara's Redevelopment Agency was set to expire in 2015 anyway. But still, she said, City Hall will have to make do without $20 million a year in tax increment funding that Santa Barbara was counting on. "There's no way we can even think about funding any new affordable housing projects," she said. For the Housing Authority and Peoples' Self-Help Housing, she said, this might prove traumatic, as they'd used infusions of Redevelopment Agency cash to leverage significant funding from other sources.
Likewise, Schneider said numerous arts organizations that had come to rely on Redevelopment Agency revenues will have to look elsewhere. She said the ruling will cast a very dark shadow on plans to build a new police headquarters, refurbish the front of the downtown public library, or give De la Guerra Plaza a major face-lift.
She also suggested that downtown parking rates might go up sooner than anticipated because of the ruling. Every year, she said, the Redevelopment Agency effectively subsidized the city's parking districts by paying for such necessary capital projects as the seismic retrofits for two downtown lots. Because of that, the parking district could afford to pay for lot maintenance out of its existing coffers. Without the infusion of Redevelopment Agency funds, the parking districts will find themselves forced to pay for both maintenance and capital costs which, the mayor said, could well precipitate a rate increase.
Schneider found herself at odds with former councilmember and longtime political compatriot Assemblymember Das Williams over the redevelopment issue. Williams, a staunch supporter of education funding, argued that by gutting the redevelopment districts, elementary education could be spared the funding ax. In previous interviews, Williams argued that the League of Cities had proven dangerously inflexible at the bargaining table and badly overplayed its hand. By refusing to accept a small cut, he warned, the League of Cities risked everything. Williams, it turned out, was proven even more correct than he anticipated.
Mullinax, who sparred rhetorically with Williams in the media, said many of the legislators who backed the deal have since expressed "buyer's remorse." He said it's highly unlikely the League of Cities will appeal the ruling but suggested it would seek a legislative fix. "Okay, this will net the state maybe $1 billion at a time when the state legislative analyst says the budget is $30 billion out of whack. So what have we fixed?" he asked. "At the same time, redevelopment agencies spend money on construction projects that generate hundreds of millions of dollars a year creating thousands and thousands of jobs. So what have we gained?"
Although Prop. 22 won with 61 percent of the vote in 2010, RDAs — created to fight urban blight — have always been controversial. Conservatives have objected to the power of eminent domain exercised by such agencies to condemn the properties of unwilling owners in the name of progress. Throughout the state, there have been many examples of non-blighted neighborhoods being "improved" thanks to RDA spending. And supporters of public education have always complained that the tax revenues siphoned off by RDAs have come at the expense of local school districts. The League of Cities was certainly not helped any in the court of public opinion by the plethora of investigative news reports this year detailing the criminal extravagance of such cities as Bell and Vernon. "I don't want to sound like a sore loser," said Mullinax, "but people are going to look back in a couple of years and say, 'What the heck?!'"