News
First Latina Councilmember Sworn In
Murillo Wades into Trash Debate on Day One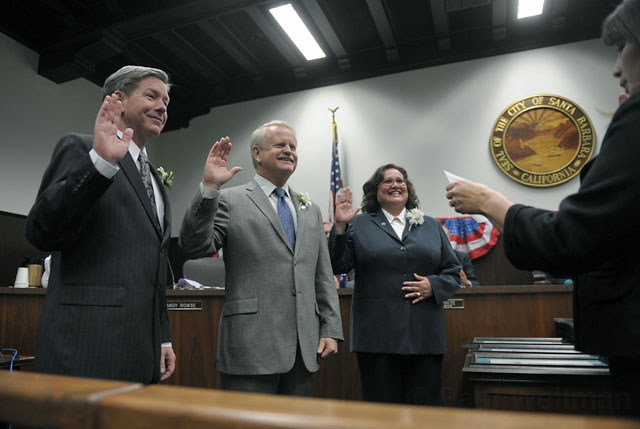 For nearly an hour, Santa Barbara's council chamber was bursting with celebratory energy and an almost intoxicating spirit of community as the three candidates elected to the council back in November were sworn into office to serve out their four-year terms. Two of the three — Dale Francisco and Randy Rowse — had been there before. The newcomer to the party was Cathy Murillo, the longtime activist and journalist who enjoys the distinction of being the first Latina elected to the council. She concluded her opening remarks by reaffirming, in Spanish, her support for pedestrian safety improvements along Milpas Street, and dedicating the swearing-in ceremony to her grandmother, Mary Hutardo Delgadillo of Zacatecas, Mexico.
Many of the people packing the council chambers Tuesday were there for Murillo, who gave a farewell tip of the hat to a teary-eyed Councilmember Michael Self, the one incumbent who failed to secure reelection. Though Murillo and Self are polar opposites in their political beliefs, both are extremely warm and equally stubborn. And both made it to City Hall by dint of labor-intensive grassroots organizing.
Murillo comes to office without having served on any of City Hall's advisory boards and commissions. Her entry into the race was initially greeted with skepticism by many in the Democratic establishment, who worried Murillo might be too fringy for mainstream political tastes. Although Murillo ran as part of a Democratic slate to "take back" the council from the conservative majority that has held it since last December, she was propelled to victory by the team of energetic volunteers she managed to attract on her own, independent of machine support. Rather than embracing the more-money-for-law-enforcement platform common not just to the conservative slate, but to her Democratic slate-mates, Murillo trumpeted her support for parks, libraries, youth programs, creek restoration, and alternative transportation. With Murillo's election, the council's tilt will shift decisively, if unpredictably, to the left.
After the ceremonial hoo-hah subsided, Murillo wasted little time making her presence felt. After enduring a grueling staff report on plans to convert millions of pounds of trash into methane gas, which in turn could generate enough electricity to power 1,000 homes, Murillo asked a few pointed questions that challenged the underlying premise behind the multimillion-dollar undertaking, now seven years in the planning and preparation stage. Wouldn't people get "lazy" about recycling and reducing their trash generation, she asked, if they knew there was technological fix for all trash they generated? Had City Hall done all it could to divert trash from the landfill through recycling programs, or was there more city residents could still do?
John Dewey, the chief executive for Mustang Renewable Power Ventures, a San Luis Obispo company selected to pursue building conversion technology at Tajiguas, noted that even the most die-hard recyclers might be challenged finding a use for dirty diapers. Murillo countered that wouldn't be an issue if people used cloth diapers instead. Likewise, Murillo expressed concern that there had been no full-fledged public hearings on a project that would affect ratepayers. County trash czar Mark Schleich, leading the push for conversion technology, noted there had been 90 stakeholder presentations thus far, but added that public hearings would begin in earnest once environmental review got underway. Supporters of conversion technology stressed it removes methane — 21 times more environmentally damaging than carbon dioxide — from landfills, where it pollutes the air and water tables.
To the extent other councilmembers share Murillo's concerns on conversion technology, none have expressed them so openly to date. But even before being sworn in, Murillo showed she was willing to buck the prevailing political winds among councilmembers where trash contracts are concerned. At a recent council meeting — before being sworn in and after getting elected — Murillo accused the politically powerful MarBorg Industries of playing hardball with City Hall in negotiating the terms of an exclusive franchise agreement worth $16 million a year. That remark found little traction with her council colleagues, most of whom are predisposed toward MarBorg. But it was greatly appreciated by City Hall staff, who worry that this predisposition could interfere with their efforts at the bargaining table with MarBorg. Likewise, city staff has concerns about conversion technology. The anaerobic digester technology proposed for Tajiguas, it turns out, has never been deployed on municipal waste streams before. Yet City Hall — along with four other local governments on the South Coast — is being asked to sign on the dotted line for 20 years based on assumptions and projections.
Aside from trash matters, Murillo and the new council were given a crash course in how they will be required to pull the plug on the city's Redevelopment Agency by February 1 and the ramifications of having to do without the $20 million in revenues that agency generates for City Hall each year. Murillo said she heard there would be chaos in the aftermath. "Are we going to have chaos?" she asked Community Development chief Paul Casey. Casey replied, "We prefer to use the term 'It's a fluid situation.'"