News
PUEBLO Closes S.B. Offices
Financial Woes Plague Latino Advocacy Group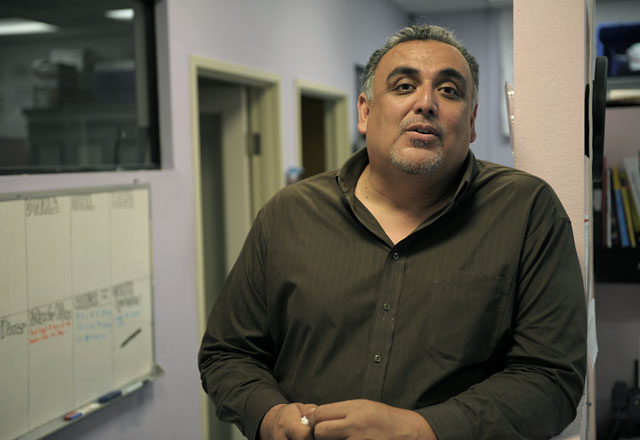 The same week the first Latina was sworn onto the Santa Barbara City Council, PUEBLO — Santa Barbara's 12-year-old immigrant-rights organization — announced it was laying off Executive Director Mark Alvarado and his part-time assistant, and closing its Haley Street headquarters. PUEBLO boardmembers cited an abiding "financial crisis" for the sudden action. Alvarado, who moved to Santa Barbara from El Paso, Texas, to take the job last April, was notified last Friday that he was being laid off after being invited to a meeting the day before to discuss the organization's "financial quandary." Boardmember Greg Prieto said he understood the move felt abrupt, but stressed the money simply did not exist to pay Alvarado's salary.
Since its inception in 2000, PUEBLO (People United for Economic Justice Building Leadership Through Organizing) has played a major role in Santa Barbara's politically progressive landscape. It successfully lobbied the Santa Barbara City Council to pass a living-wage ordinance; less successfully, it's lobbied Police Chief Cam Sanchez to grant a grace period to undocumented residents driving without licenses rather than immediately impounding their cars. And it's been a force to be reckoned with at times for political candidates seeking office. Cathy Murillo, just sworn in as Santa Barbara's first Latina councilmember, credited PUEBLO's get-out-the-vote volunteers for helping get her elected. She expressed dismay that PUEBLO has turned out the lights on its South Coast operations.
But Boardmember Art Stevens said the organization will continue to organize on behalf of immigrant rights, contending that volunteers will pick up much of the slack created with Alvarado's departure. He noted that 25 people now attend the PUEBLO Immigration Committee weekly meetings, up from eight a few years ago. Until the organization's finances turn around, he said, PUEBLO will focus its energies and resources on its Santa Maria campaigns. At the same time PUEBLO hired Alvarado, it also expanded its Santa Maria operation, hiring an additional staff organizer, Hazel Putney. As expenses grew, revenues shrank, Stevens said; two grants — worth about $80,000 combined — didn't come through.
Alvarado, who grew up in Santa Barbara, brought his experience as a neighborhood coordinator for the City of El Paso. He proved less confrontational than his predecessor when dealing with the powers-that-be, but struggled to find his balance between advocating progressive social politics and providing much-needed social services. While he elevated PUEBLO's media profile, he could not get PUEBLO's finances above water. In November, the PUEBLO board committed to raising $17,000, but fell significantly short of that goal. Stevens said he hopes PUEBLO can open a substantially smaller office in Santa Barbara sometime next year and hire a part-time staff member, as well.
PUEBLO is hardly the only grassroots organization experiencing financial troubles. La Casa de la Raza — established 40 years ago to serve as cultural epicenter for Santa Barbara's Chicano and Latino communities — could have its building auctioned by the county tax collector as early as this May unless it clears up long-festering tax bills. And SB CAN — dedicated to promoting affordable housing, open- space preservation, and alternative transit
—finds itself currently without a South Coast organizer, as well. That reportedly will change soon, said Joyce Howerton, SB CAN's executive director, but in the meantime, both SB CAN (S.B. Community Action Network) and PUEBLO have concluded that Santa Maria is more urgently in need of grassroots organizing.
As PUEBLO organizer Putney noted, there are no Democrats on the Santa Maria City Council even though 70 percent of that city's voters are registered Democrats. Given the major turnover now occurring at City Hall, she said, the time to get progressives elected in Santa Maria is now. Likewise, she said, PUEBLO needs to focus on Santa Maria to help liberal Democrat Lois Capps retain her redrawn congressional seat this year in her race against Abel Maldonado, a moderate Republican from Santa Maria. "It's really important we make a strong statement in Santa Maria," Putney said. "If we don't, people in Santa Barbara could find themselves very much affected by what happens [there]."