Film & TV
Film Fest Refigured
How the 2012 Santa Barbara International Film Festival Went from Near Disaster to Fresh Vision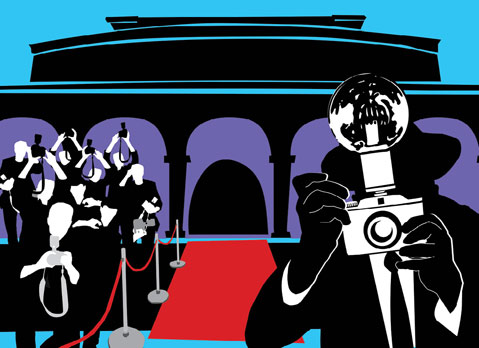 This year's film festival could have been a disaster: As things were ramping up last summer, Candace Schermerhorn — the longtime head programmer for the Santa Barbara International Film Festival (SBIFF) — told Executive Director Roger Durling that she had to leave in order to work on a documentary project of her own. "I was totally floored," said Durling, who "freaked out," wondering, "How could I build this festival without her?"
The replacement net was cast far and wide, but then a "curveball" came Durling's way: Michael Albright, a UCSB grad student in film. "He made me see the festival in a totally brand-new light, just the way I was seeing it 10 years ago when I started," explained Durling, who hired Albright and began approaching the festival like the Lego set he played with as a kid. "You could take these pieces apart and then build whatever you wanted but still keep the foundation. That's what happened this year."
That means some of the regular sidebars — such as those featuring a slate of films from Asia, Eastern Europe, and Quebec — are no longer, replaced by collections focused on music (Cinesonic sidebar), food and wine (Screen Cuisine), the Jewish/Israeli experience (Kolnoa), emerging French directors (Cinema Nouveau), and restored classic prints from the Warner Archives, such as Ben Hur. "I've always said since I started that the film festival should be a mosaic of the Santa Barbara community, and the more specific you get, the more universal its appeal would become," said Durling, explaining that, among other influences, Albright directed his attention to Santa Barbara's love of music. And that shows even beyond the Cinesonic sidebar: From Santa Barbara filmmakers to documentaries and international feature films, musicians and quality soundtracks are at the core of filmmaking in 2012, and SBIFF reflects that justly.
With Tinseltown attorney Doug Stone at the helm as board president, SBIFF 2012 is also upping the ante industry-wise by hosting an official acquisitions program, whereby representatives from the big film distribution companies will be in town to screen premieres and consider purchases. "It will definitely bring exposure to the distributors and make them more aware of us," said Durling. "And if we sell at least one film during the fest, it will definitely bring more notoriety to Santa Barbara."
Of course, it doesn't hurt that this year's honored guest list includes legendary director Martin Scorsese, whose latest, Hugo, garnered a leading 11 Academy Award nominations, and the cast of The Artist, which immediately followed with 10 nominations. Scorsese will be feted with the American Riviera Award on Monday, January 30, with The Artist's stars, Jean Dujardin and Bérénice Bejo, being named Cinema Vanguards on Saturday, February 4.
Altogether, Durling hopes Santa Barbara crowds will experience the new momentum as happily as he presents it. "I went from a moment of total panic to all of a sudden realizing that you can reinvent this thing," he said. "I feel super energized and revitalized. It's about keeping it fresh."
• Winning with Beginners: Modern Master Christopher Plummer Stars in Mike Mills's Santa Barbara Story
• Must-See Movies: The Santa Barbara Independent's List of SBIFF Top Films
• Darling Companion and More with Director Lawrence Kasdan
• Santa Barbara Filmmakers 2012: Hometown Heroes of the SBIFF Screen
• Harmonic Convergence: Music Docs, Live Soundtracks, and More
• Short Takes: SBIFF Features Social Justice Films, 10-10-10, Applebox, Audience Choice Award, and More
• Wide-Screen Cuisine: The Second Annual Film Feast Comes to Town