News
Arrest of Officer Goes Terribly Wrong
Albert Covarrubias, Suspected of Sex Crimes, Is Shot and Killed by Fellow Cop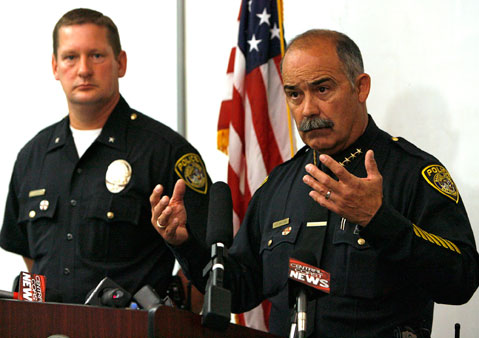 A Santa Maria police officer was shot and killed by a colleague after the officer's planned arrest spiraled out of control early Saturday morning.
Police moved in to arrest 29-year-old Albert Covarrubias — a four-year veteran of the department who authorities suspected was involved in sexual misconduct with a minor — as he broke down a DUI checkpoint near McElhaney and Broadway roads just before 1:20 a.m. As officers tried to take Covarrubias into custody, police said, he struggled with them, drew his weapon, and fired. The Associated Press reported that Covarrubias fired his weapon four times before aiming at an officer at the scene, identified in media reports as Matt Kline. Kline, a groomsman in Covarrubias's wedding three weeks ago, shot him.
Covarrubias was taken to Marian Medical Center where he died. While police haven't publicly identified Covarrubias or Kline, several media reports mention the two by name.
Santa Maria Police Chief Danny Macagni told reporters at a press conference later on Saturday that police began investigating a relationship between Covarrubias and a 17-year-old girl on Thursday and that the investigation continued into Friday. Early Saturday morning, authorities were armed with information that "demanded immediate action," Macagni said. "We had no choice."
While details of the intelligence remain unclear, Macagni said the department had "very specific, very explicit" information, and he also mentioned witness intimidation. He would not divulge any specifics at the press conference. "Let me stress the fact that we had information in hand that was very specific that demanded that we go out and take this officer off the street immediately," Macagni said. The Santa Barbara Independent has confirmed that Covarrubias was on a phone call earlier that night — set up by police who listened in — with the teenager. He apparently spoke of their relationship and told her not to tell anyone.
So rather than wait, the department sent two supervisors to the DUI checkpoint, where Kline, Covarrubias, and likely five or six other officers were concluding their operation. Macagni said Covarrubias was aware of the investigation. "He knew that we knew," Macagni said, without elaborating.
That, according to retired FBI agent and former Santa Barbara Police Commissioner Tom Parker, who is considered an expert on police conduct, was one of the department's many mistakes in handling the situation. Parker — based on what he knows about the case — said that only a few trusted individuals should've been brought into the investigation. He went on to say that the arrest of an armed officer "has to be one of the most carefully planned things you do."
Many in the Santa Maria community — the family of Covarrubias included — have questioned the need to try and arrest him right then and there. They, like Parker, wonder why police didn't wait for a safer situation. "You have to get the person into a position where you can neutralize them," Parker explained. Out in public, armed with a gun, is not that type of situation, he said. Parker also wondered why more people weren't involved in the arrest. "You have to overwhelm them," he said.
Macagni's silence on specifics has left lingering questions. Regardless, as he put it, it's a "very tragic and unfortunate situation." Macagni hasn't commented on the case since Saturday's press conference and didn't return a call made by The Independent on Tuesday.
The Sheriff's Department is conducting an independent investigation, according to spokesperson Drew Sugars, after being asked by the Santa Maria Police Department. Sheriff's personnel will be looking to see if the shooting was justified and will pass their conclusions to the District Attorney's Office. "This happens in every investigation where someone was shot and killed by someone else," Sugars said. These types of investigations generally take months as opposed to weeks, demonstrated by a December officer-involved shooting in Santa Maria, which the Sheriff's Department is hoping to pass along to the DA's Office in mid February.
In that incident, officers were attempting to disarm and arrest a suspected drug dealer when two officers — and the suspect — were shot. It was later determined that the two officers had been hit by "friendly fire."
That leaves three officers hit with bullets fired by their colleagues in just over a month's time, and the citizens of Santa Maria are wondering what is happening in the department that's supposed to protect and serve the public.