News
Home Is Where the Hurt Is
A Look at Santa Barbara Foreclosures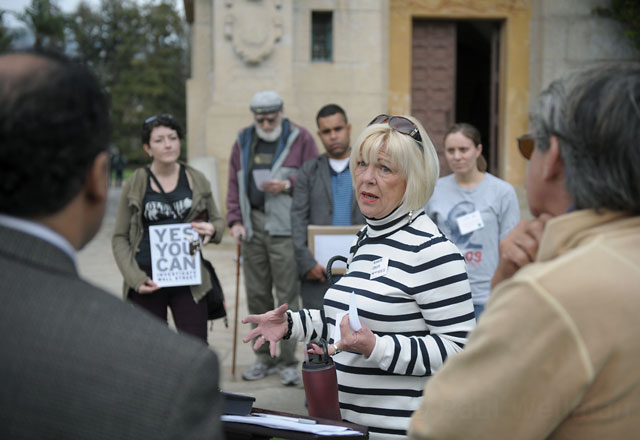 With thin lips, a cartilaginous nose, and white hair combed back into a streamlined fin, Lloyd Segal looks like a shark. The foreclosure expert did not act like a shark, though, when he animatedly and amiably walked the members of the Santa Barbara Real Estate Investment Association through the foreclosure process a few weeks ago, explaining to them how to get great deals on foreclosed or soon-to-be foreclosed-on properties with broad enough brushstrokes that they might want to drop $500 to attend his boot camp and learn some of the finer details. So maybe he is a shark.
Or maybe Segal is just running a smart business. On any given afternoon, you can find trustees — essentially companies whose job it is to offload foreclosed homes — auctioning houses at the main entrance of the Santa Barbara County Courthouse, and there are deals to be had. Like everywhere in California, foreclosures have increased in the county since the bubble burst in 2007 with filings quadrupling in three years. Lenders filed 841 notices of default — the first step in the foreclosure process — with the county recorder in 2006, and that number climbed to a peak of 3,360 in 2009. Last year 2,492 notices were filed.
A trustee auction completes a foreclosure. Banks put in the first bid, and if no members of the public want to buy the property, then it gets labeled as REO (for real estate owned by a bank). Many homes of owners who are in default sell for less than is owed on them in what, in the real estate business, is called a "short sale" — shielding lenders from the administrative costs of foreclosure and allowing borrowers to avoid a serious black mark on their credit reports.
Some real estate agents express concern about "shadow inventory," homes that the banks own but are not auctioning off because they do not want to create a glut on the market and thereby drive down prices. Steve Epstein, a Santa Barbara–based agent who specializes in REOs, explained that shadow inventory is a bigger problem in cities like Phoenix where banks practically own entire developments. Still, the consensus among agents is that high numbers of foreclosures and short sales will persist for the next two years.
The biggest concentration of foreclosures is in the North County. According to the foreclosure tracking firm ForeclosureRadar, there were 808 bank-owned properties in the county as of December 31, with 340 in Santa Maria alone and 234 in all of the South Coast.
Garrett Glasgow, a political science professor at UCSB, recently published a paper arguing that communities with slow-growth policies were more insulated from the foreclosure crisis. His two coauthors issued a survey 10 years ago for the Public Policy Institute of California to track planning trends in all of California's cities. They compared the results of the survey with current foreclosure numbers and found those municipalities with more cautious growth policies fared better when the housing bubble burst. "Santa Barbara had a ton of advantages going into the foreclosure crisis," Glasgow told The Santa Barbara Independent, such as high demand, slow growth, geographical constraints on expansion, and a market that was already untouchable by aspiring homeowners.
Steve Epstein agreed with Glasgow's assessment. Comparing Santa Barbara and Santa Maria, he said, "There's nothing to stop Santa Maria from building another thousand homes on the next broccoli field" when the market picks up again. Glasgow warned that it was unsafe to assume that prohibiting growth is the answer. "What these results suggest is that some of these cities that came out of this okay were growing, but they were very skeptical, and they had lots of regulations."
Glasgow also suggests that slow-growth policies may have shifted the geography of the foreclosure crisis without doing much to stem the overall problem. For instance, one homeowner, who did not want to reveal her name because she runs a personal training business and doesn't want to worry current and potential clients, works in Santa Barbara but bought a home in Lompoc. A series of crises that occurred in domino-like fashion made it hard for her to keep up with her payments. First, her employer cut her hours and made her pay for her own benefits. She chose to pay for her health care but forgo dental insurance. Then, in June 2010, a spring-loaded bar slipped out of a client's hand and hit her in the face, knocking out two teeth and costing $35,000 in (uncovered) dental expenses.
After much hassle, she was eventually offered loan modifications by both the federal government and her servicer, Bank of America. Without a reduction in her principal, though, neither modification made sense. Her Mediterranean-style stucco house, which she bought for $385,000 in 2004 — and which peaked in value at $450,000 — is now worth less than $200,000. Last March, she stopped making payments and has since moved into her parents' home. She is currently arranging a short sale.
Brian Kerrigan, a counselor with People's Self-Help Housing (which operates in Santa Barbara and San Luis Obispo counties), said that most people who fall behind on their payments experience some sort of loss in income. Payment defaults usually have a cause other than the change in interest on a variable-rate mortgage. He also says that, after four years of helping clients apply for bank modifications, the banks have become immensely more responsive to customers, setting up escalation departments and regional home preservation offices. The best experiences he's had have been with Bank of America, Wells Fargo, Chase, and Citibank, in that order.
Kerrigan added that, although the banks have improved their efficiency, "A lot of clients feel upset about how lenders have communicated, giving them the runaround, asking wrong questions, denying claims for the wrong reasons." It is not uncommon for one department of a bank to have initiated discussions with a client at the same time that another was preparing to foreclose. Jim Caldwell, president of the Santa Barbara Association of Realtors, said that this practice, called "double-tracking," is sometimes the result of miscommunication, but he also surmised, "The banks are trying to walk on both sides of the street at the same time. They truthfully want to foreclose, but if they can placate the buyer and give them a false sense of confidence, they do it."
In order to deal with the crush of foreclosures when the housing market tanked, some banks engaged in "robo-signing," where employees signed documents en masse with somebody else's name or completely manufactured documents. Such practices have proved most troubling in states like Florida, where foreclosures must be processed through the courts. (Lenders may pursue judicial foreclosure in California, but it is usually more of a hassle.)
Political activists and, increasingly, politicians (including President Barack Obama, who spoke about foreclosures in his State of the Union Address last week) believe that banks should be held accountable for such illegal practices and, in general, for not doing enough to help their borrowers after receiving bailout funds. Currently, California's Kamala Harris and a number of other states' attorneys general are all that stand between federal and state authorities and five major mortgage servicers that are forging a settlement that, in exchange for about $25 billion, would limit the lenders' exposure to liability claims.
The Independent's look at foreclosures in the county continues next week with an interview with U.S. Representative Lois Capps on what she believes the federal government can and should do to address the foreclosure crisis and shore up the housing market.