Travel
Satsanga Retreat Center
Goa, India
Goa, India, February 19, 2012: Our day starts early here at Satsanga Retreat Center, in the Village of Verla Canca, in the state of Goa, India. At 5:30 in the morning we open our eyes and slide out from under the mosquito nets. In pashminas and socks, as it is still chilly in the mornings here, we wind our way up the wrought iron spiral staircase to the third floor, the Buddha Shala, for morning meditation and pranayama.
It is still dark outside, and, fighting the impulse to sleep, we stack bolsters and blankets around us and slip into meditation. Well, some of us do. I personally spend the time thinking about all the things I cannot do on a yoga teacher training, like drink wine and use foul language.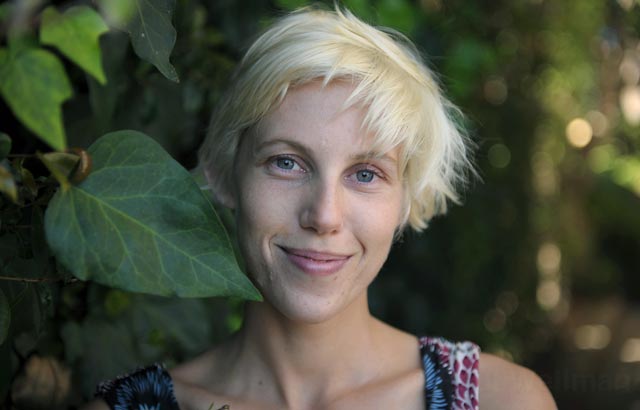 Nevertheless the emergence of tranquility perfectly matches the slow deep voice of our pranayama teacher, Emil Wendel, who has spent the last 40 years living in Asia and on the Indian subcontinent, studying Taoism, Buddhism, Sanskrit, Asana, and Indian thought. The Buddha Shala is surrounded by trees, and two of its four walls are entirely windows. As Emil guides us through pranayama, or breathing practices – nadi shodhana, ujjayi, and viloma – the sun rises and a multitude of roosters start crowing.
Twelve of us have gathered here in India for a five-week intensive yoga teacher training. Coming from corners of the world as far as Africa, Australia, Canada, and California we are all joined by our love of yoga and our desire to learn more. Emil is only one of the brilliant yoga minds who will contribute to our teacher training.
Goa is no longer the trance-dance capital it once was, now attracting a broader range of people and interests. Yoga in Goa, due in part to the massive influx of foreigners escaping colder climates, is flourishing, and many wonderful teachers make Goa their part-time home. Our main teacher is Heather Elton, photographer, former Rough Guides writer, publisher, filmmaker and yogini extraordinaire. She describes herself as a wrathful teacher and warns us that we will not be coddled here. This has certainly proven to be true. As a tempering element to her fierceness she brings in other yoga teachers who also reside in Goa part-time, among them Jodi Boone, Rachel Zinman, Chris Kummer, and Emil.
Our days are full. From 5:30 in the morning to 9:30 at night we shuffle from the Buddha Shala to the Shiva Shala, to the kitchen, the pool, and back again. Emil instructs us in yoga philosophy, Chris in movement anatomy, Rachel in tantra and ayurveda, Jodi in prenatal and restorative yoga and Heather in astanga, iyengar, adjustments, and the business of yoga. Like I said, it is an immersion.
As the smallest state in India, with miles of sandy coastline facing the Arabian Sea, Goa feels more like one big sprawling village than an actual state. Goa was colonized by the Portuguese until 1961 and has a distinct religious and cultural charm. Catholic churches have replaced many of the old Hindu temples, although new ones spring up like daisies in a field. Food is sumptuous and creamy, streets and villages have Portuguese names, and much of the architecture is that of a conquering nation trying to keep out the (other) invaders and keep in the locals; thick high walls and strong ocean forts.
Replacing the conquering Portuguese now are an influx of westerners; Goa is probably the most popular vacation destination in India for sun-starved Europeans. Legend has it that first came the hippies, on the hippie bus, via Afghanistan. Then came the Swedes, Germans, and Brits, and a few years ago the Russians showed up. Now many restaurants have Russian menus, and there are Russian-speaking hotels, Russian shops, and many Russians on the beach. Another recent addition to the cultural milieu are rich Indians. Much to the chagrin of foreigners who can no longer buy property as easily as they used to, the rich Indians come in droves, in fancy cars, and they and are buying left and right. All of this, combined with the locals and a seasonal mix of young hippy backpackers, yogis, and spiritual seekers, makes for quite a heady brew.
Although our home at Satsanga seems a world apart – from the touristic bustle of the beaches and the wild partying of their occupants, the thrum of taxis and scooters, the baying of mangy stray dogs and the glassy eyes of beggar children – nowhere in India is immune to the sense of paradox. India's paradoxical nature gets under your skin. It is part of what makes India one of the most visited countries in the world.
As we sit safely in our verdant retreat center, meditating on the beauty of bhakti, or devotion yoga, breathing during morning pranayama, we notice a sickly smell. Plastic. Burning plastic. Literally piles of it. Everywhere. Clouding the air, turning the sun a dusty red as it rises, making me cough during asana practice. Goa has no trash service, and locals resort to burning their own waste in the morning. Huge tracts of land adjacent to Hindu temples are filled with the detritus of modern life, especially plastic bags and water bottles, many of which have been cast off by careless tourists; the sacred cows graze through it.