Voices
Worst Transportation Bill Ever?
Santa Barbara Coast in the Crosshairs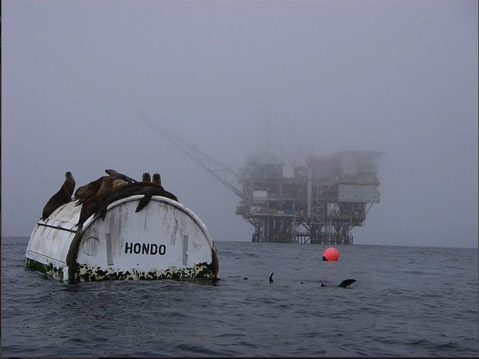 Here we go again.
Washington Republicans are hijacking a must-pass transportation bill in order to advance an ideological agenda — this time, one that has Santa Barbara beaches in its crosshairs.
With the current federal transportation law set to expire next month, Congress must pass new legislation to continue ongoing work and to modernize our nation's roads, bridges, transit systems, and ports.
But the leaders in the House seem determined to use the bill as a vehicle to check off items on Big Oil's wish list. In fact, their so-called transportation bill is filled with oil industry favors, like mandating new drilling off Santa Barbara and Ventura counties despite the area's well known, long standing bipartisan opposition to new drilling.
GOP lawmakers say this drilling scheme is necessary to help fund the transportation bill. But according to the nonpartisan Congressional Budget Office, any new drilling off our coast would at best generate tens of millions of dollars in revenue, while the gap in transportation funding is measured in the tens of billions.
Santa Barbara's devastating 1969 oil spill galvanized Central Coast residents, and virtually the whole state, against more offshore drilling. We were outraged by the damage to the environment and wildlife. And we understood the havoc that similar blowouts would wreak on our economy – especially tourism and fishing, and related industries.
That's why Californians led the fight to pass groundbreaking environmental laws like the National Environmental Policy Act and Coastal Zone Management Act to protect our coastline and communities from the devastation that the 1969 oil spill brought to Santa Barbara.
Now our coasts are at risk again, because the GOP's transportation bill would also gut these environmental laws. The bill would specifically deny California, and only California, from any role in new offshore drilling decisions. It also removes California residents' ability to voice their concerns about protecting their state's coastlines during the environmental review process.
Bad as they are, these noxious, backward looking proposals to drill everywhere aren't the only problems in the transportation bill. For example, the legislation would cut investment in California highways by $725 million from current levels. That means it will be harder to widen Highway 101, make safety improvements on Highway 166, or even fix the Carpinteria Creek Bridge.
It would also end dedicated funding for mass transit and alternative transportation projects, like bike paths and sidewalks, that are helping transform cities up and down the Central Coast. And, against the wishes of law enforcement, the bill would slash support for highway and rail system safety. All of these provisions have generated enormous controversy and opposition, even from some longtime supporters of transportation bills.
Historically, the multiyear transportation bill has been one of the most bipartisan pieces of legislation to come out of Congress. That is because there is – or used to be – general agreement that we all benefit from good roads that get families to school and work safely, goods to the market cheaply and efficiently, and create thousands of jobs along the way.
This time around Washington Republican leaders seem less interested in working across party lines to craft a responsible proposal and more interested in pushing an ideological agenda. Indeed, none other than U.S. Transportation Secretary Ray LaHood, a former Republican congressman who was a leader on transportation issues in his party, called it "the most partisan transportation bill [he's] ever seen."
Much like the fiascos over extending the payroll tax cut and averting a default on our debt, this has all the makings of yet another unnecessary Washington political food fight over an issue we've always been able to come together on for the good of the country.
This is truly unfortunate. America is tired of these political games. And so am I.
We need a balanced transportation bill that creates jobs, fixes our roads and bridges, and ensures our businesses and families have a safe way to get to work and back home. Pretty simple, really. What we don't need is more Washington politics – especially the kind that put our coasts, our communities, and our way of life at risk.