News
Cruisers
They're Back!
It's early March, so I've got the Beach Boys playing in the background and I'm dreaming of warmer weather and some summertime beach cruising. I've recently returned from an East Coast and Pittsburgh work trip. Instead of Santa Barbara's sunny mild days the weather was lake-effect snow squalls and blustery cold winds tearing at my face like jagger bushes (Pittsburghese dictionary below).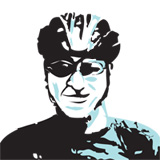 I've biked in a lot of towns and cities across the country: Boston, Chicago, Fort Lauderdale, Pittsburgh, San Francisco, Oakland, Portland, and there is no doubt that Southern California is the home of the beach cruiser. If you have ever stood on the UCSB campus as classes are changing, you have experienced the wild rush and exhilaration of thousands of riders on cruisers. Many of them are carrying books in hand, surfboards under arm, or talking on cell phones. Welcome to Southern California beach-cruiser culture!
The beach cruiser was born during the Great Depression when bicycle sales plummeted. Adults weren't buying bikes. So Schwinn decided to target the youth market with a sturdier and more affordable two-wheeler. Their inspiration was the motorcycle. The Schwinn B-10E Motorbike, which looked like a motorcycle without the motor, was an immediate success. Every boy had to have a red Schwinn Motorbike (and a BB gun) for Christmas.
Cruisers were very popular throughout the 1930s, '40s, and '50s. When I lived In Pittsburgh I had a 1950s Schwinn DX Ballooner Tank bike that I rode to work during the winter. My DX Ballooner was red and white, heavy as a tank (it also had one beneath the top tube), with knobby tires, chrome fenders, and a headlight. But every winter morning it was ready to plow through snow and sleet and do battle with cars and trucks on the slushy streets. The only downside to my Pittsburgh winter cruising was the landscape of steep hills between home and work. Riding a 50-pound bike bundled up in a down parka, wool hat, and mittens uphill through snow was a daily workout! There is something to be said for impetuous youth.
None of my cycling buddies shared my cruiser enthusiasm. Instead of my heavy single-speed, coaster-brake, wide-tire road tank, road-racing bikes were what they used to try to cut through the mounds of dirty, gritty snow.
I really wanted one of the tricked-out cruisers. My dream: a shiny red Huffy Radiobike with motorcycle-style horn tank and a built-in AM radio, battery power/pak on the rear rack, headlight, white sidewall tires, two blinkers, and more.
Fast-forward to the late 1970s and early '80s when cruiser frames were the building blocks for a new type of two-wheeler — the mountain bike. Not surprisingly, this new development was started by groups of enthusiasts in California who were racing bikes down the fire roads of local mountains. The dirt trails were rocky and steep. Riders quickly reached high speeds as they bounced through mud and flew over rocks and tree trunks. Road bikes quickly fell apart; the racers soon discovered that old balloon-tired "klunkers" could be had for free or a few dollars at garage sales or flea markets.
These mountain bike-riders started stripping off the heavy fenders and chain guards and souping up the bikes by using motorcycle brakes to improve downhill performance. Santa Barbara's own James McLean is credited with coining the term "mountain bike." Mountain biking rapidly became a worldwide cycling craze. I'll be talking to McLean and writing a lot more about the early history of mountain biking in a future column.
Cruisers have also inspired a couple of other recent bike trends. As you ride around Santa Barbara, you can't miss seeing more and more chopper bicycles. These bikes usually feature a lower center of gravity, suspension forks, hot-rod paint jobs, and large rear tires. The riders are usually high school students or young adults who are excited by the form and finish of customized motorcycles. Choppers celebrate the motorcycle, the original inspiration for cruisers.
For decades, Latino car enthusiasts have been lowering the suspension on older American cars to build lowriders. Not surprisingly their kids began building their own custom lowrider bikes. Lowriders are usually built on old Stingray type frames, but the entire look of the accessories such as springer forks, wide tires, and bullet headlights says cruiser.
It might be drip droppin' today in Santa Barbara, if we're lucky, but soon it will be time for endless warm summer days, and if you're interested in beach cruisers, or just fun group rides, here's one you shouldn't miss: One of the last events of Fiesta is the cruiser ride from The Dolphins fountain, at the end of Stearns Wharf, to Goleta Beach and back. The ride is a longtime Santa Barbara tradition that has been taking place annually for over 30 years. You'll see lots of cruisers (over 800 rode last year), from rusted surf bikes to high fashion cycles. Everyone is welcome, regardless of what you're riding.
It's lunchtime, and if I were in Pittsburgh I'd be looking forward to a cut of pizza, a jumbo sammich, or maybe my favorite chipped chopped ham BBQ (let me know if you want the recipe). If you're hungry, I'll half in two the sammich. When my Pedal On column is done, I might even have an ice-cold Ahn City bir.
Pittsburghese
Jagger bushes: green plants with sharp thorns
Blinkers: turn signals
Drip droppin': light rain
Cut: slice of pizza
Jumbo sammich: bologna sandwich (best on Wonder Bread with a dab of Miracle Whip)
Chipped chopped ham: razor thin sliced ham originally sold by Islay's Deli
Half in two: cut something in half
Ahn: Iron
Bir: beer