Bottles & Barrels
In Tune with Tempranillo
Dorothy Schuler to Speak at American Wine Society Santa Barbara's Fourth Event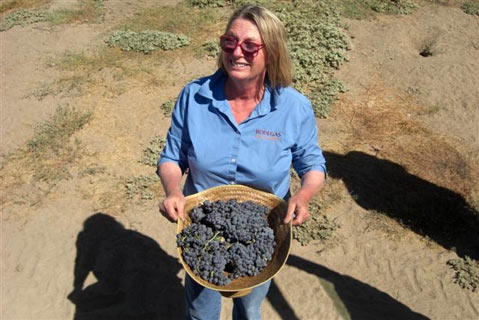 The American Wine Society's Santa Barbara Chapter (AWSSB) will be hosting its fourth event at Alchemy Arts Center & Café on March 28. The theme will center around a tempranillo tasting curated by guest presenter Dorothy Schuler, owner of Bodegas Paso Robles and President of TAPAS (Tempranillo Advocates, Producers and Amigas Society).
"We plan to take our taste-buds on an exciting and exotic trip to Spain," explained AWSSB's executive director Jacky Lopez. "Our goal as an organization that promotes wine education is to broaden our knowledge of wine, including wines from regions that are not as well known in the Santa Barbara area."
The Independent got to chat a bit more with Schuler about what she does and how she came to know and love the Spanish grape varietals she works with.
How did your focus turn to the Spanish/Portuguese grape varietals?
Quite simply, no one else was totally focusing on these varietals. My personality is such that I like to do something different from everyone else, and there was a definite hole in the wine market vis-a-vis American-made tempranillo.
I've lived in Europe and believe in the European model that wine is to be drunk while eating. The Iberian varietals are extremely well suited for food pairing. And, because very few winemakers were using these grapes, I basically had carte blanche. The blends that I make were not dictated by American wine convention.
I have several winemaker friends who know absolutely nothing about the varietals I use. This gave me a great deal of freedom.
Where did you get your grapes?
In 2002, the first vintage, the grapes came from the Cienega Valley in San Benito County. In 2004, tempranillo became available in Paso Robles. Many growers here had planted tempranillo vineyards that started producing usable fruit by 2005. I now buy grapes locally and in Edna Valley, Calistoga, Alta Mesa, and Cienega Valley.
Did you find it difficult to advocate an underdog grape as an underdog in the industry yourself, being one of a small percentage of female winemakers?
It seems to be my lot in life to try something new and lead the way. And to work in fields dominated by men.
It turns out that approximately 8 percent of the winemakers in Paso Robles are women, with Napa leading the way with 12 percent. I was shocked that the Paso number was so low. But that is a much higher percentage than it was for female cycling journalists in the mid-1980s when I worked in Brussels, Belgium for a sports magazine company. Women weren't even allowed in the race follow cars in Belgium then.
When I first started selling my wine, I discovered that an extremely small number of wine buyers actually knew the tempranillo grape. I still get asked, in the tasting room, if my grapes are shipped over from Spain! I now have a California wine appellation map in the tasting room marking the areas and vineyards where I source my grapes. Now you'll find that many wineries here are using an Iberian grape, be it albarino, tempranillo, garnacha, etc.
I'm constantly reminding the local Rhone-style winemakers that three of their grapes actually belong to me: mourvedre, grenache, and grenache blanc. I'm glad I was one of the first here, but I must admit that at times it was wearing. I knew there was an uphill battle to be fought, but I did not think it was going to take quite so long.
Why should the everyday wine drinker put down their pinot noir and explore the tempranillos and malvasias of California's Spanish wine scene?
There's a reason the Spanish colonized California: It looked so much like home to them! And their native grapes grow very well in many parts of our state. Wine is a food, and it gets pretty boring if you only have one thing to eat. I wouldn't want to have the same dinner every night, and I think most of us feel the same way.
Now I love a good French pinot or an American one made in the French style, but I don't want to drink the same wine with my meal all the time either. The wines made from the Iberian grapes are particularly well suited for pairing with food, though admittedly the one problem I have with my albarino is that a bottle just seems to disappear on a warm summer evening….
Part of the joy and adventure of wine is being able to try something new all the time. Ever had Bastardo?
As a true supporter of Spanish wines that are meant to be enjoyed with food, I have to ask: How is your Spanish cooking?
The cooking in my home is mostly done by my husband. I worked in a French restaurant a long time ago. I found restaurant work to be extremely demanding and decided this was not a career for me. That said, I was known to be a great cook when I was younger.
But once I discovered that the ONLY household chore that interested my husband was cooking — and this is a secret, so don't tell him — I proceeded to teach my husband to cook. (He thinks he did it all on his own!) I still make the big meals, but the paella in our house is made by him. I own many Spanish food cookbooks, which I read hungrily while selecting recipes for my husband to cook.
4•1•1
For more info on Dorothy Schuler, see www.bodegaspasorobles.com. For more info on and tickets to the March 28 event at Alchemy Café, see awssb.org or call 805-467-6777.