Living
Market Fever
Shopping in Goa, India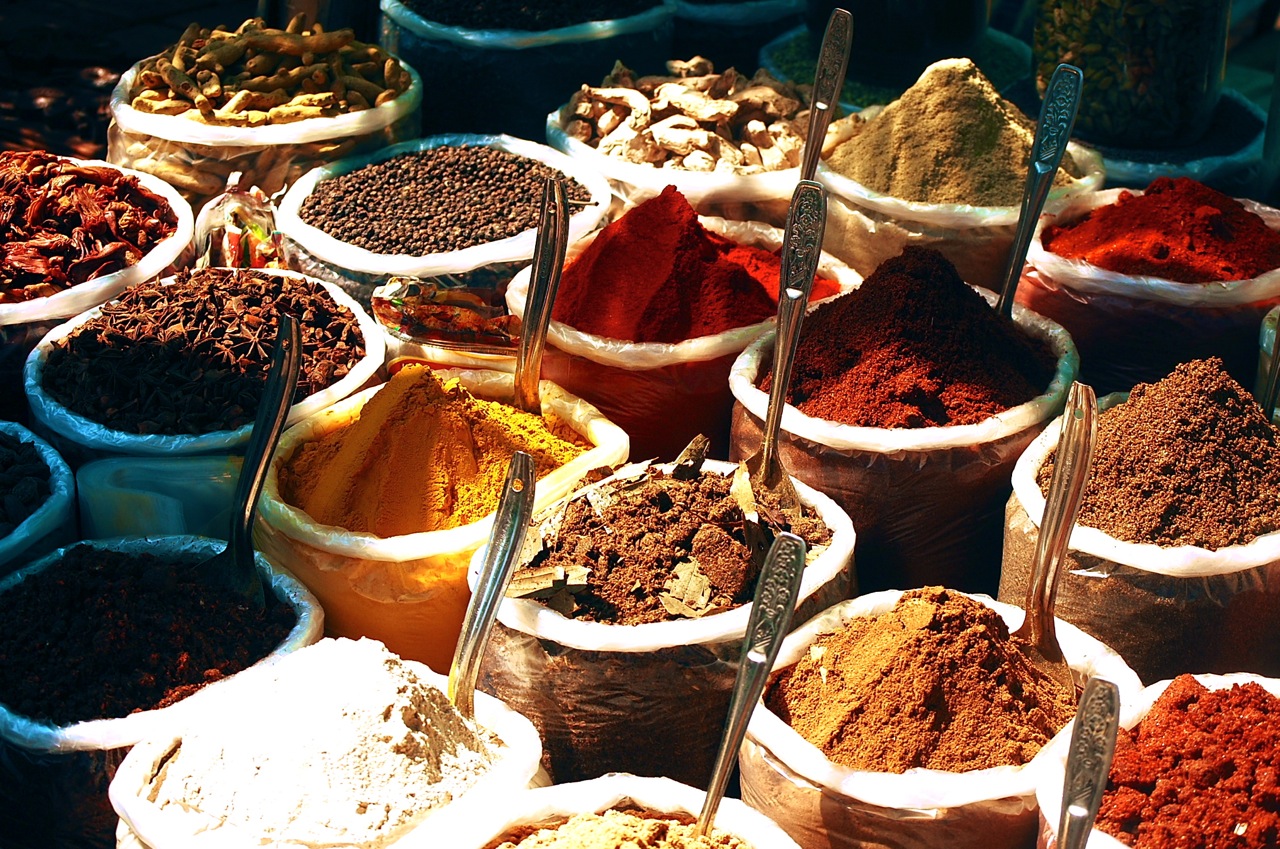 As our time of yogic contemplation here at Satsanga draws to a close, lust for things of the material world is on the rise! Goa certainly has some of the best and most interesting shopping in India due to the influx of foreigners each season. Vendors capitalize on this by bringing the best from all corners of the country to sell at the many markets.
Saturday Night Market: On our first night out, we escape the confines of the retreat compound and hop into taxis, swerving around cows and the overhang of banyan trees, arriving breathless and thirsty at the hip expat-run Saturday-night market.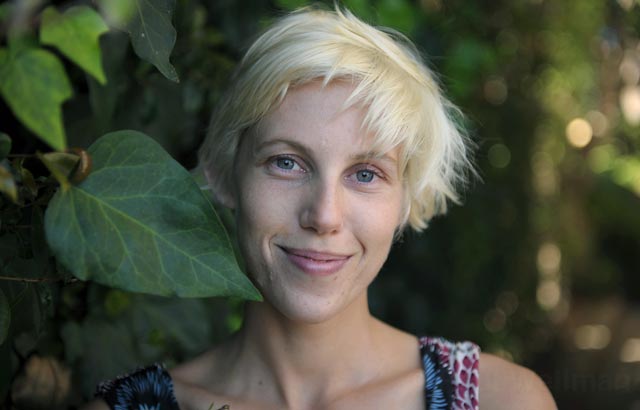 The market is a vast sprawl of stalls climbing up a hill, and built around, and sometimes onto, trees. There is also a stage with live music, food stalls, several bars, and at least three separate trance dance pits. Goa's youngest and sexiest come in droves to buy cheap colorful silk dresses and more expensive exotic pieces designed by the many expats. We arrive around 8 p.m. and the market is just warming up.
After quickly downing an Old Monk (Goa's local rum) and Coke for 125 rupees (about $2.50 U.S.), the hunt is on. There seems to be no rhyme or reason to the stalls: pashminas next to bikinis, tee-shirts sold side-by-side with lanterns; bedspreads, saris, jewelry. All the items bathed in the orange glow of cheap electricity. We meander up the hill. One stall sells beautiful, embroidered silk dresses, and I get a purple one for 500 rupees.
Bargaining with the Indian vendors goes like this: The seller starts with the most outrageous price, expecting you to counter with a ridiculously outrageous price. In the end we both get what we want, but I can never tell the true worth of the items or if I paid too much.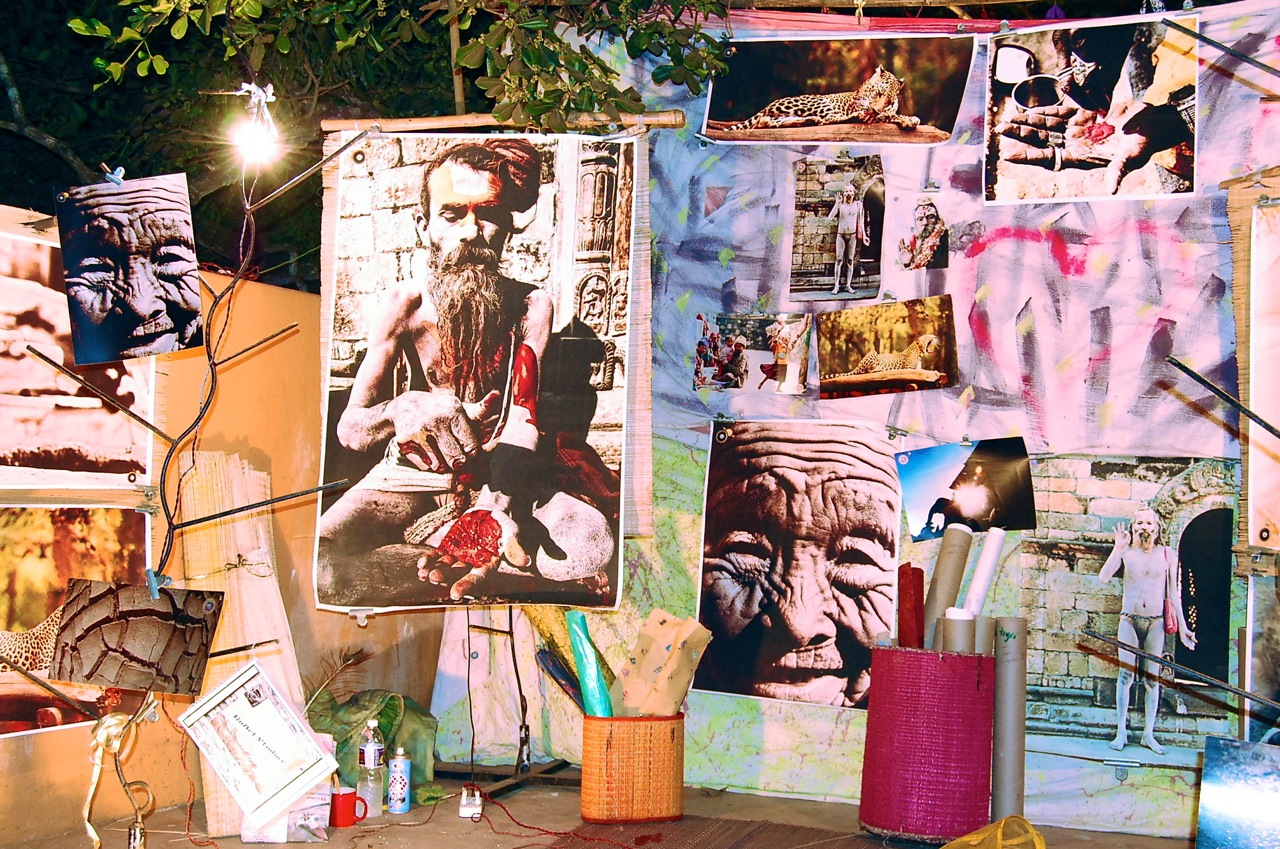 The expat vendors do not bargain: Their prices are high and fixed, though if you know someone you might get a discount. I finger a beautiful cotton dress. The price is 3,000 rupees, about $60 dollars – definitely Western pricing, but the piece is a one of a kind. I will never find it again anywhere else in the world; does that not make it priceless in a way? Maybe it's the heat, the crush of bodies, and the reverberating trance music, but I hand the rupees to the sales girl, an Argentinean tango dancer living in Goa, and she folds it into a reusable bag and hands it over. How chic.
Wednesday Market: Just a short scooter ride away from Satsanga is Anjuna Beach. A bit of faded glory, it certainly looks better at night, when trance music pours out of the multiple beach shacks onto the sand and colored bulbs light up the trees. Nevertheless, we brave the tawdry midday tourist scene in hopes of better bargain-hunting and perhaps a walk on the beach. It is quite hot, and by noon the market has already been in full effect for five or six hours. This does not diminish the spirit of the vendors looking to milk the last of season's tourists before monsoon starts, though some of the family members are napping.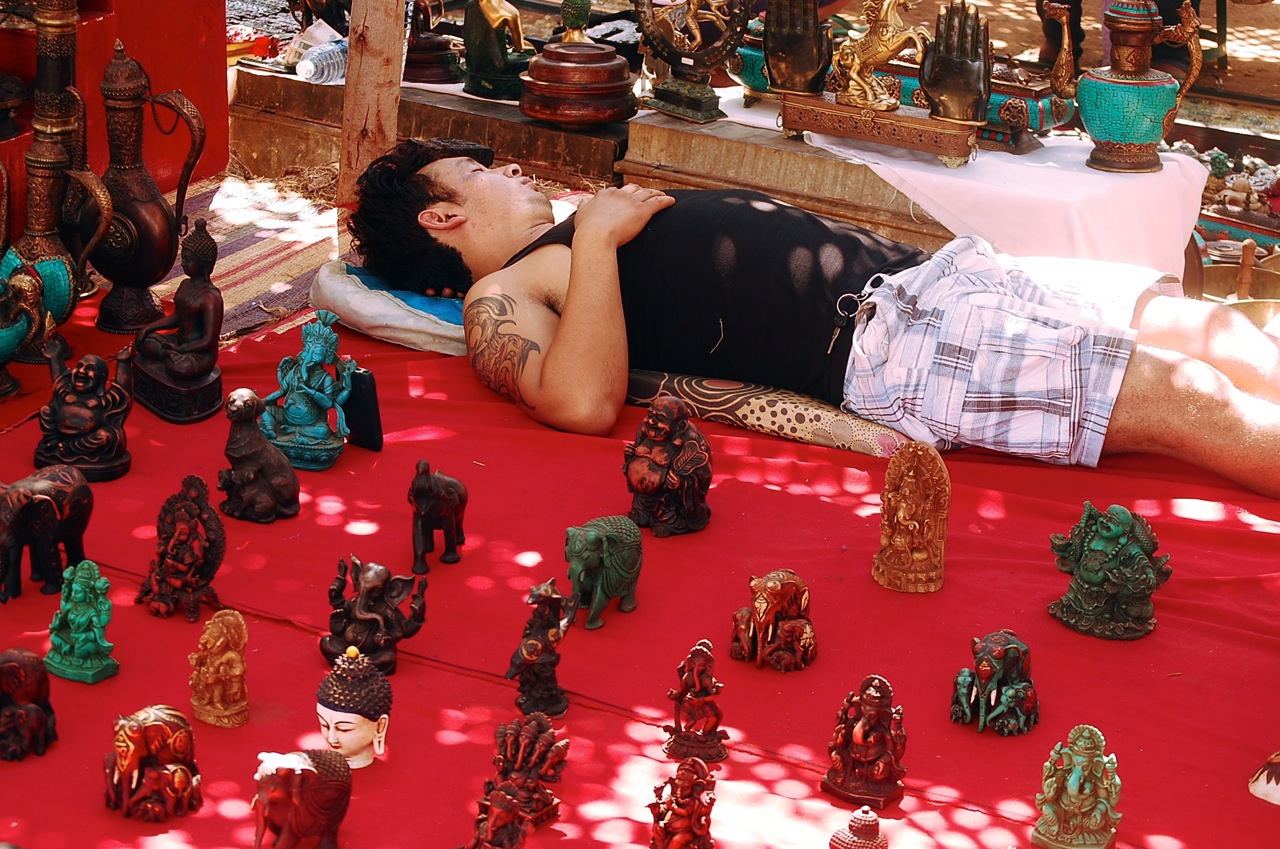 The market spreads out along the fields that border the beach. The vibe is much friendlier than the slightly exclusive and very cool Saturday-night market. It is also much cheaper as the vendors do not have to pay such an exorbitant yearly fee for their Wednesday stalls. A slight ocean breeze cools the air, and shade is provided by patchy palm roofs. I find my Argentinean tango dancer and look at another unique piece, but then my eye is caught by a complex of Tibetan vendors. A beautiful round-faced woman shows me thick yak-wool shawls and blankets. Although I can barely imagine wearing such a thing in this heat, the wool is one of the softest things I have ever felt. I look at some lovely pieces of silver, which are available for sale by weight only; some Tibetan singing bowls and some Buddha figurines, but the blanket sticks in my mind. She asks for 500 rupees, and I say 300. She refuses; the Tibetans are not big on bargaining. Finally we settle on 350, and I choose a thick purple and blue blanket. Maybe the trains will be air-conditioned.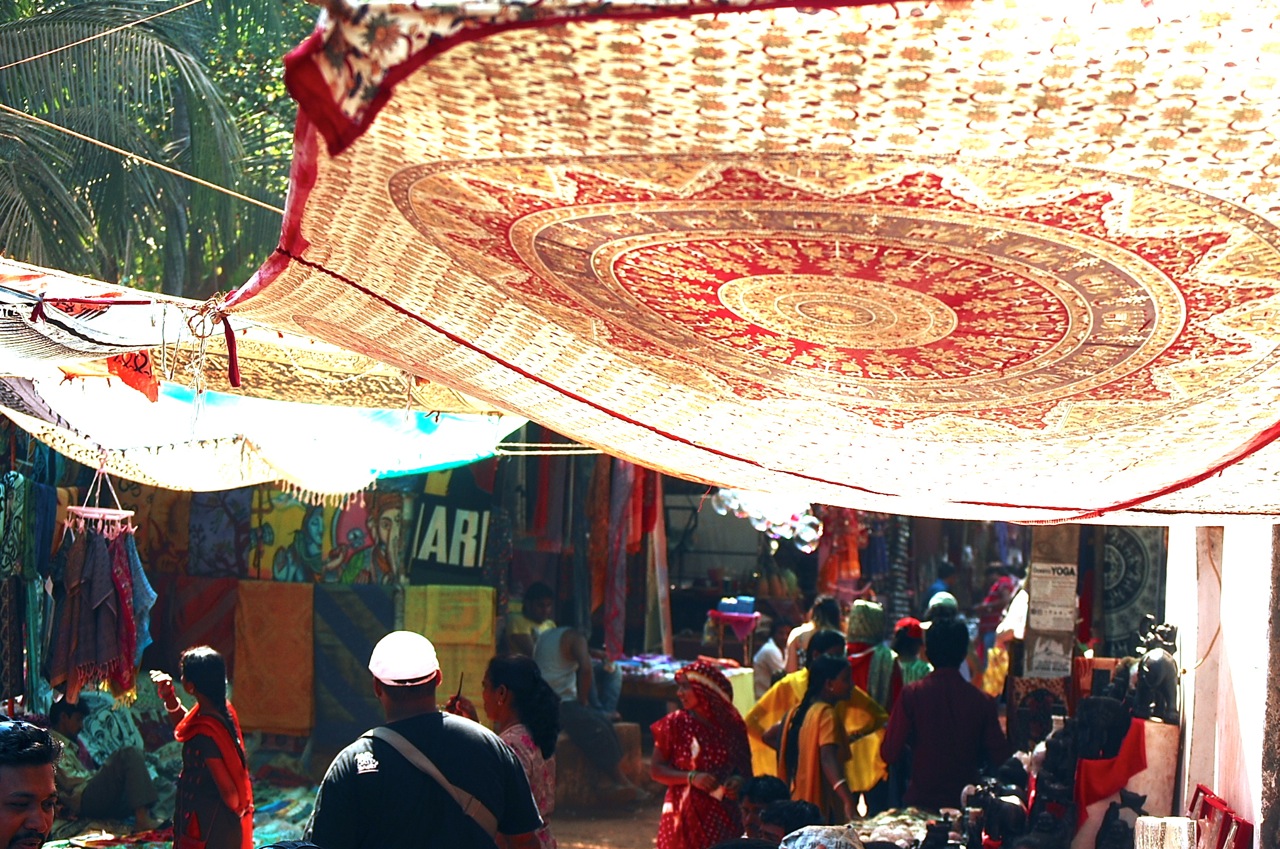 Mapusa Market: The municipal market in the center of town is where the locals shop. We arrive late on a Friday evening, and the market is bustling as the Indians have gotten off work and are doing their weekend grocery shopping. Piles of vegetables and fruits line the main entrance and the "streets," or corridors: green beans, purple eggplants, tomatoes, squash, melons, papayas. I am amazed at the variety of produce available.
Pushing through crowds, we walk deeper into the market, conspicuously the only foreigners around. Everything is available ranging from mobile phones to Tupperware, ladies undergarments, shoes, piles of spices and chiles, jewelry, objects of religious devotion, huge bottles of rum and brandy. The market is solidly built, although quite smelly, consisting of several large enclosed atriums as well as small shops and the temporary stalls where the fruit and vegetable sellers set up. It is late in the evening by now, and we wander into a large atrium to find a few men finishing up the last of the religious flower garlands for the night. This is the flower market, where every morning thousands of garlands are strung and make their way into temples, churches, and homes around Goa.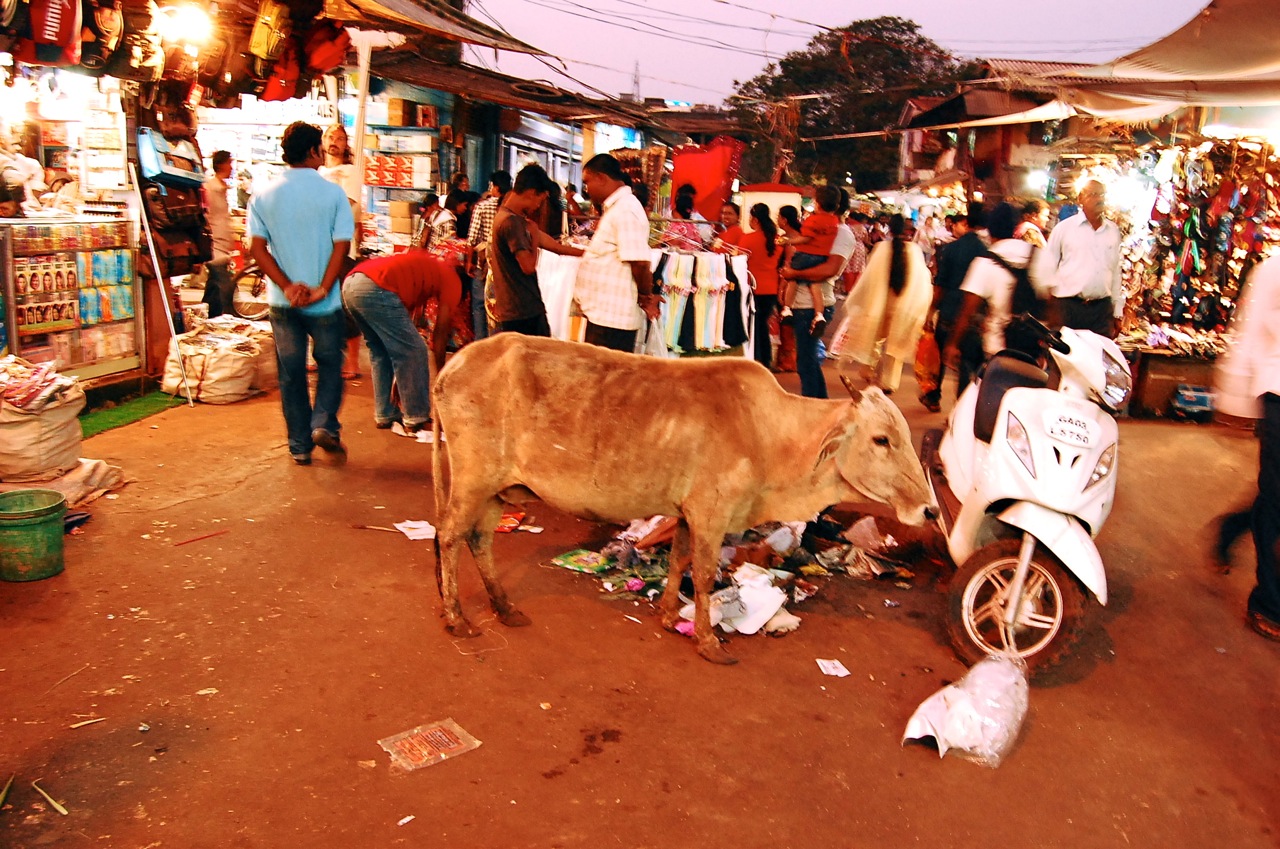 We feel a tug on our sleeve and smiling, well-dressed Indian woman greets us. She engages us in conversation and gives us red bindis to wear. We wonder what her motive is. We say we are only looking, not buying, but would like a beer and find ourselves seated at her shop looking at the gorgeous silk and goat's wool shawls and scarves, with tall Kingfisher beers in our hands. Twenty minutes later the market is closing, and a few of us have acquired thin silk scarves, a perfect gift to bring home. She was a good saleswoman, making us feel comfortable when we obviously stood out, and we were happy to buy from her. Scooters, cows, and trucks whiz past us, and the market shuts down until Monday.