Announcement
SBCC Hosts Western Collegiate Model United Nations
The 20th annual Western Collegiate Model United Nations (WestMUN) began today, March 29, at SBCC's Fé Bland Forum on West Campus. WestMUN simulates an actual UN session, giving students the opportunity to be a part of the world of debate, discussion, and diplomacy. Delegates prepare draft resolutions, plot strategy, and negotiate with adversaries.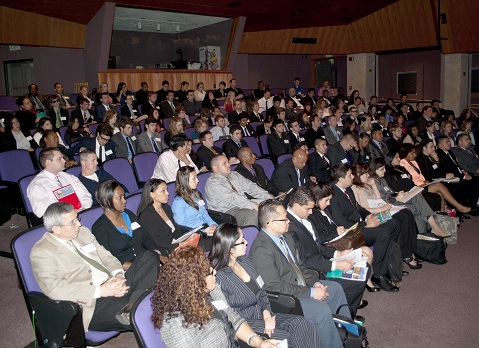 The conference opened with a plenary address by Dr. Manoutchehr Eskandari-Qajar, SBCC Professor of Political Science. Tomorrow on March 30, Thomas Tighe, President and CEO of
Santa Barbara-based Direct Relief International, will deliver the keynote address at noon, also in the Fé Bland Forum. The conference will end on Saturday evening, March 31, with an awards ceremony and a closing plenary session.
In order to celebrate WestMUN's 20th anniversary, the conference is featuring two unique committees out of the six scheduled ones. The first is running a simulation of the Historical Security Council set in 1991. The second is the UN Human Rights Council which will deal with a newly highlighted topic by the international community Eliminating Discrimination Based on Sexual Preference.
"We know that students learn best by doing," said Dr. Peter Haslund, President of the WestMUN Board of Directors. Dr. Haslund is also SBCC Faculty Emeritus and President of the SBCC Board of Trustees. "That's the underlying justification for our Model United Nations simulation in which student delegates take on the role of diplomats from among the 192 member states of the actual UN and do their best to represent their country's interest."
Dr. Haslund added, "At the conference, the students tackle real problems – those that confront actual delegates of the UN – and we try to resolve those problems in a way that maximizes the national interests of those affected while learning to compromise in areas that are not so critically important." He stressed, "The ability to see and evaluate a set of circumstances, not from just one point of view, but from the perspective of another is an element of critical thinking that is often in short supply at either a national or international level, and its absence is often very tragic. The delegates are learning to see the other side of an issue is a measure of success."
For more information on the Model United Nations, contact Dr. Peter Haslund at (805) 895-3268.