Living
Looking for Friends but Finding Enemies
Mayor's Ballot Measures Get Mixed Reviews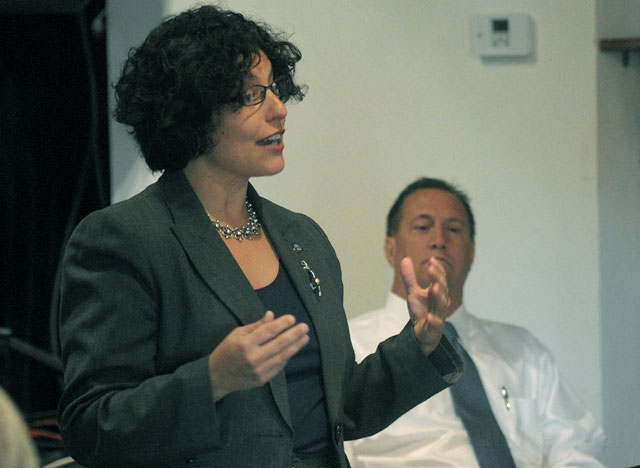 Santa Barbara Mayor Helene Schneider is quick to point out there's something for everyone to dislike in her package of three initiatives—which would relieve City Hall's financial burden to the tune of $12 million a year—for which she's now collecting signatures. Last week, Schneider found out the hard way how right she is. The mayor began last Thursday morning by delivering a seven-minute pitch to members of the Downtown Organization (DO), which represents downtown merchants and business owners, at the Santa Barbara House of Prayer, the former site of Rocks nightclub in the Paseo Nuevo mall. In hindsight, the location may have proven ironically prophetic. If the business owners' reaction that morning reflects that of Santa Barbara voters in general, Schneider may need divine intervention to get her package passed. That's assuming she collects enough signatures to qualify it for this November's ballot.
Standing in front of a music stand—not a pulpit—Schneider explained how the revenues generated by her initiatives would yield the money necessary to pay for extra cops, maintain the parks, support the arts, and keep the city's rental mediation program afloat. In the past three years, she noted, the recession had forced City Hall to cut millions of dollars and eliminate 80 positions. Thanks to Governor Jerry Brown and the Democratic controlled state legislature, the city's redevelopment agency—like all redevelopment agencies throughout the state—had its plug pulled. Gone will be about $8 million a year that the redevelopment agency generated in discretionary dollars. If civic boosters like the DO wanted city services maintained—or even improved—Schneider argued, new sources of revenues had to be tapped.
It was evident from the tone of debate that Schneider—a liberal Democrat following in Santa Barbara's long tradition of cautious progressives—was held in high personal esteem. But it was equally evident that none of her proposals were. The centerpiece of her plan is an initiative that will increase Santa Barbara's sales tax by half a cent; this will generate an additional $10 million a year. This proposal was greeted with barbed comments and hostile questions. Unless the money was explicitly earmarked for specific programs, some speakers charged, it was akin to giving a blank check to a shop-a-holic. Schneider explained that under California's infinitely perverse election laws, she'd need approval from two-thirds of all voters to pass anything so specific, while only a simple majority was required to pass a new tax and place the proceeds in the city's general fund.
But the real outrage was reserved for Schneider's proposal to generate $250,000 a year to help cover the costs of keeping the peace in the city's lubricious and often raucous nightclub district. Schneider wants bar and restaurant owners doing business in the city's entertainment district after 11 at night to pay quarter of a percent more in its business license fees. The proceeds would help defray the cost of providing law enforcement. The mayor claimed a recent poll by the Police Officers Association shows overwhelming public support for this. But there was absolutely none in the House of Prayer. Bob Hansen, owner of SoHo's, argued City Hall shouldn't be inflicting additional costs on businesses like his when he's just now managing to climb out of the recession. He said he understood that some bars generate a lot of calls for police service and take a toll on city coffers. "I get two calls a year," he pointed out. Tony Romasanta, owner of Eladio's, said it was "terribly, terribly unfair," to charge club owners who weren't part of the problem for the behavior of owners who were. "It's unfair, irrational, and unconstitutional," he proclaimed. Bob Stout, owner of the Wildcat and a longtime player in the restaurant and bar scene, expressed frustration that Schneider announced her initiative plan without any prior warning or public discussion. "I wish you would have come to us," he told the mayor. In an interview later that day, Schneider said, I don't know what would have come out of it if I had. It's not about whether the special interests think it's a good idea. It's what the people think."
Giving Schneider a boost, the mayor's initiatives won the endorsement of the politically influential Democratic Women, whose board voted 11-to-3 last Wednesday night in favor of the initiative package. What proved persuasive was Schneider's proposal to amend the city charter to require public employee unions to pay the maximum the law allows into their own retirement plans. For most cops and firefighters, this would constitute the equivalent of a nine percent pay cut. Most other city employees—those represented by the Service Employees International Union—are already paying close to the maximum. (That union—now in negotiations with City Hall over a new contract–is expected to abstain from taking a position.) Mary Ellen Wylie, a past president of Democratic Women, said she was impressed the mayor's proposal addressed pension reform, an issue gathering steam throughout the state, on a local level. Schneider discussed her package with the Democratic Women board. "She didn't want to vilify unions or labor," Wylie said. "She was more interested in shared sacrifice."
The police and firefighters unions have not taken any official positions. The head of the firefighters union has objected to the initiative, however, arguing that retirement issues should be resolved at the bargaining table, not the ballot box. Last year, he noted, the firefighters agreed to concessions—mid-contract—in order to prevent one of the fire stations from being shut down. Leaders of the police union, normally fiercely outspoken, have been surprisingly quiet. Although their contract doesn't expire until June 2013, union leaders have reportedly presented a new proposal to City Hall negotiators. Details remain murky, but the union has reportedly agreed to retirement concessions in exchange if the blow could be softened with a pay raise. That proposal was scheduled to be the subject of closed-doors City Council discussions this Tuesday. Perhaps one reason the cops were so quick to propose a deal is that their own poll reportedly showed Schneider enjoying uncommon popularity with high propensity voters, 65 percent approval ratings.
Schneider got a civil if bumpy reception from the Democratic Central Committee (DCC) Thursday night, which voted to ask the mayor to stop gathering signatures so that its members could meet with other community groups to come up with an alternative solution to the city's retirement fund problems and something less "regressive" than the sales tax. It was the second time in two months that
the DCC has asked Schneider to stop collecting signatures. She has declined to do so. DCC chair Daraka-Larimore Hall has been critical of Schneider's proposal, its timing, and the utter lack of prior consultation or warning prior to its unveiling early this February. Where Schneider has stressed that her initiatives would give Santa Barbara a degree of local autonomy over its own fiscal future, Larimore Hall has expressed concern about having multiple tax increases on the ballot in November. Governor Jerry Brown's proposed tax increase, he argued should take precedence. If too many tax increase initiatives are on the same ballot, he—and many Democrats—have expressed concern that voters will reject them all. Should that happen, he warned, the state's budget situation—already dire—could get $9 billion worse.
The extent to which any of Schneider's proposals can be modified is limited. There's not enough time to make alterations to the text of her initiatives and begin anew the process of collecting signatures and still hope to qualify for the November ballot. But she has made some changes already. In the face of intense opposition from the Public Education Foundation—which is pushing two parcel tax measures on the June ballot to fund school programs—Schneider agreed to compromises. (The Foundation was upset at the prospect of having voters encounter multiple education tax measures, even if they occurred in different elections. Some voters might be dissuaded from supporting the June parcel taxes, its consultants argued, if there were people collecting signatures for another measure slated for November.) Based on this concern, Schneider has agreed not to discuss the possibility of splitting any sales tax increase with the schools until after the June election. At that point, she said, she would ask her fellow council members to place an advisory measure to split the proceeds with the school on the November ballot. Given that it appears four council members—Randy Rowse, Dale Francisco, Cathy Murillo, and Frank Hotchkiss—currently do not support Schneider's package, it has yet to be seen whether the votes are there to put such advisory language before city voters in November. In recent interviews, Francisco and Murillo—who represent left-right polarities of the council—both stated they would not. (Early on, Hotchkiss came out in support of Schneider, but in the last two weeks changed his mind.)
Schneider concedes she's taken a lot of heat from the political interests, but said to date, she hasn't heard any outrage from the voters. "When I'm out collecting signatures, I don't get any 'Oh my God, you can't deal with taxes and pension reform!'" she said. "I'm forcing the conversation. I'm jump starting the conversation on some major issues that will have major consequences if the status quo continues."