Cover Story
Requiem for a Bank
The Rise and Fall of SBB&T
After credit default swaps, after the bailout, after the foreclosure crisis, in the midst of the Wall Street Recession, it's hard to romanticize any bank. And I would never argue that Santa Barbara Bank & Trust was like Bailey Building and Loan in It's a Wonderful Life. The owners of that fictional lending institution were magnanimous to the point of sainthood. Certainly, Santa Barbara Bank & Trust was no mom-and-pop operation. At the height of its power, it dominated the county, holding a remarkable 30 percent of the market share. And it made money. Lots of money. But for many, it became more than a bank; it became considered a Santa Barbara original, part of the city's identity, a sort of Mission, Rincon, and Kinko's all rolled into one.
Take the story of Toni Lichok. If there ever was an example of Santa Barbara style, this was it. She started working at the bank shortly after it opened in 1960 and stayed until she was 80. Even though her jobs had long been automated or made redundant, the bank president at the time, David Spainhour, kept creating new positions for her. By the end of her tenure, Lichok sat in a tiny pink room on the first floor of the downtown branch and spent her time chiding colleagues who threw coffee filters into the dry trash or complaining that the courier's bags weren't big enough. "We very seldom fired anybody," agreed Spainhour's predecessor, Don Anderson, who was hired in 1969 by the bank's three founders — Louis Lancaster, Reuben Irvin, and Ralph Raddue.
Those men, who founded the bank with about 800 shareholders, quickly began forging a deep bond with the community. One of their core principles for success was service. And they practiced what they preached. Lancaster, for instance, founded the Channel City Club, an organization that brings expert speakers on state and national issues to Santa Barbara. Anderson — who grew up in the miniscule town of Madison, Minnesota, where his father ran a bank founded by his grandfather — understood and believed in this business philosophy. "The culture of [Santa Barbara Bank & Trust] back when I started was that these guys were so involved in community service it was expected that if you worked for the bank, you were involved in something," said Anderson.
The bank itself participated as a sponsor for most major events in town. Its executives sat on the boards of charities, nonprofits, and civic organizations. And every single member of the staff volunteered for some form of service work. That approach earned SBB&T fiercely loyal customers and a committed local investor base. It was the sort of bank that parents bought stock in as birthday gifts for their children, cautioning them never to sell the shares. It was an investment certain to last a lifetime.
Everything about the bank seemed to elicit trust and security. What one man who knew the bank's founders well, and who used to go salmon fishing with Raddue and Irvin every year, remembered best was "the honesty and down-to-earth quality of those men."
What happened to such a seemingly unbreakable bond between an institution and a community? How did it all unravel?
Pride
From 1989 to 2005, SBB&T acquired eight other banks, morphing from a community bank to a regional power. As the bank changed, so did its character. That may have been nowhere more evident than in the bank's proof department. There, operators bent over large desk-like machines with keyboards that encoded checks and deposit slips, their fingers scrambling over the small buttons as fast as possible to finish the day's work and hopefully earn a production bonus. All checks must be proofed and sorted on the day they are deposited and sent by courier to the issuing bank the next day. As SBB&T expanded south to San Diego and north to Santa Clara, proof operators were pushed to exhaustion. Capable of processing up to 4,000 paper items in an hour — a task that regularly invokes carpal tunnel syndrome — SBB&T's operators would start their day at 10 a.m. and finish whenever the work was done. If a courier bringing deposits from a branch in San Luis Obispo got stuck in traffic and didn't make it to Santa Barbara until 11 p.m., so be it. The proof operators waited.
Erika Isaly, who, like so many of her coworkers, had started at the bank as a teller, was working as a proof operator in 1996 when the board of directors hired William "Tom" Thomas Jr. to replace David Spainhour when he retired. Before then, employees would often remark on the differences between SBB&T and large national banks. Other operations might be greedy or bureaucratic, they'd say, but management at SBB&T looked after its employees, and they, in turn, looked out for the bank. But after Thomas arrived, Isaly felt, that distinction began to fade.
"He was probably the first president who had no attachment to the bank," said a 26-year veteran who started as a teller and worked her way up to administration at SBB&T. "He was not aware of what really was going on."
Thomas was the first CEO to be brought in from another institution. Whereas Spainhour, for example, had been at the bank from its early days, working up through the ranks, Thomas had come from a Los Angeles bank directly into SBB&T's upper echelon. "He was probably the first president who had no attachment to the bank," said a 26-year veteran who started as a teller and worked her way up to administration at SBB&T. "He was not aware of what really was going on." Jim Herrell, senior VP of Trusts and Investments from 2000 to 2003, worried Thomas — who did throw himself enthusiastically into S.B. philanthropies — was brought on to make the bank an acquisition target.
Around that time, the bank's rapid expansion was beginning to stretch resources until cracks appeared on SBB&T's seemingly smooth surface. In 1998, SBB&T had changed its corporate name to Pacific Capital Bancorp (whose stock ticker is PCBC), the parent company of two banks it had acquired. The name change signaled that SBB&T was no longer a provincial bank in a small city by the sea. But it hadn't changed enough of its corporate culture to operate efficiently in the world of serial mergers and acquisitions. Though its portfolio grew, it retained the soul of a community bank.
Therefore, SBB&T tended to let its northern banks operate independently, keeping their brand names and not firing redundant executives, many of whom often bucked against the authority of the parent company. Ironically, SBB&T remained too benevolent. The business model it followed as a small community bank wouldn't work if it wanted to play with the big boys.
The toughest challenge it faced, however, was integrating the computer systems of all the newly acquired banks with its own. The bank undertook a company-wide conversion in 2005. It hired an outside consultant and wrote off $9.3 million on software in 2006. Unfortunately, the new system had many problems, and some glitches continue to this day. According to one 20-year veteran who worked through this transition, the system's new software was designed for banks with only about $200 million in assets, not nearly powerful enough to handle SBB&T's volume of business, which at that time was $7.5 billion.
The bottleneck was partially a result of SBB&T's wildly successful tax refund anticipation loan (RAL) business, which began in 1992. The RAL is a short-term loan — akin to a payday loan — made against tax refunds. SBB&T backed Jackson Hewitt, the second-largest tax preparer in the country. The RAL loans carry service fees and interest rates that approach 1,000 percent when annualized. The bank faced lots of criticism on the ethics of this program, but former president Anderson believes that if a survey were conducted of those customers who actually took the loans, 95 percent would say they appreciated the service. In 2009, when the bank was losing hundreds of millions of dollars, federal regulators forced the bank to sell the program to meet capital requirements, but the RAL business had long before attracted regulatory scrutiny.
The Fall
In 2008, right on the heels of the software fiasco, the bottom fell out of the real estate market. If you ask current and former bank officers, the explanation of the bank's demise is simple. The housing bubble burst, leaving SBB&T exposed to bad real estate loans, especially in markets such as the Central Valley, Northern California, and Nevada, all of which were ground zero of the foreclosure crisis. Why nobody had the foresight to realize that they were flirting with disaster is a tougher question to answer.
There is some disagreement among former executives regarding whether the success of the RAL program lulled senior management into overlooking unwise loans. What is undeniable is that in 2008, the bank took a $180-million TARP loan, yet in 2009, it was still reporting losses to the tune of $421 million. The bleeding continued into 2010, and by the latter part of the year, rumors were swirling that other banks were lining up to buy SBB&T. Nobody did, and many observers predicted disaster for the once mighty bank. Every Friday afternoon during the spring and summer of 2010, reporters — including those from this newspaper — would stalk the bank's headquarters, anticipating that FDIC agents might show up to announce SBB&T was being placed into federal receivership. That never happened. Instead, a man from Texas arrived.
At the last minute, the bank's relatively new president and CEO, George Leis, found Gerald J. Ford (no relation to the U.S. president), who made his fortune buying and selling banks during the savings-and-loan crisis. With roots as a community banker himself, Ford saw value where nobody else did. Impressed that the bank's customers remained loyal even as the stock dropped to a low of 22 cents and larger banks circled like sharks waiting to feast on SBB&T's remains, he bought a 91-percent stake in SBB&T for half a billion dollars on August 31, 2010.
Ford installed his business partner Carl Webb as CEO, but kept Leis on as president, a job he still holds. By convincing Ford to bail out the bank, Leis — who is an alumnus of the same L.A. bank as his predecessor, Thomas — kept it alive, sort of. When Leis took the helm of SBB&T, it was already a patient hemorrhaging on the table, and maybe nobody could have saved it from acquisition or, worse, failure. But it was on his watch — while he was raking in $600,000 a year plus incentives — that SBB&T ended its 50-year run as a Santa Barbara bank.
Many employees and customers hoped that business would return to normal. Bankers in town knew better. They had expected Ford to flip SBB&T for a profit, but several admitted they were surprised at how quickly he did so and how high a price he got for it. On March 12 of this year, UnionBanCal Corporation — the Mitsubishi-owned, San Francisco–based parent company of Union Bank — announced that it will acquire Pacific Capital Bancorp, the parent company of SBB&T, pending regulatory approval for $1.5 billion. The deal made Ford $647.3 million richer.
Four days after the proposed purchase was announced, the Wall Street Journal ran an article detailing the basements of the rich and famous, including the one in Ford's Dallas mansion: "The architect, Larry Boerder, extended the home's circular stairwell with a large first-floor window into the basement to bring natural light downstairs. The 5,000-bottle wine cellar is clad in basket-weave patterned limestone; chandeliers hang over a columned 20-by-50-foot pool."
Ford had built his 7,600-square-foot subterranean lair before he sold SBB&T, but for many Santa Barbarans whose lives and livelihoods were connected to the bank, it felt like getting salt rubbed into a wound. It's probably not fair to blame Ford for making a savvy business deal. In fact, if SBB&T had gone under completely, the fallout would have been worse, but it is hard to watch a treasured institution turn into a mere commodity, something to be bought and sold.
The Aftermath
Besides the emotional toll, however, there is the financial toll that many Santa Barbarans experienced during the death throes of Santa Barbara Bank & Trust. When the economic bubble was fully inflated in 2006, the combined value of all PCBC stock — its market capitalization — peaked at more than $1.6 billion. Much of that was owned by investors right here in S.B. County. They lost nearly everything. A man who had inherited some of his stock from his father, one of the bank's original 800 shareholders, saw his investment go from $124,000 down to $2,400.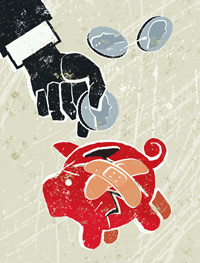 And when the deal with Ford went through, the bank's board approved a 1/100 reverse split in order to keep PCBC worth enough to stay listed on the NASDAQ. This meant that every hundred shares of stock a shareholder owned were converted into one share, making it impossible to recoup losses when the stock price rebounded. It decimated employee 401(k) accounts that were invested heavily in PCBC stock.
Also, as part of its compensation package for rank-and-file employees, SBB&T offered what is called an Employee Stock Ownership Plan (ESOP). The company bought stock for employees, which declined in value — not to mention the approximately 300 employees who were laid off altogether when the bank was free-falling, or those who were surprised in June 2009 to see their dividend payments had been stopped, or retirees whose health benefits were cut.
The good news is that Union Bank is a solid institution, which will — at least in the near future — be a donor to Central Coast charitable causes. But it is certain that there will be more layoffs; how many, spokespeople for both Union and SBB&T say, it's too early to speculate. Moreover, the Santa Barbara name is gone, and the connection to the town is gone. By the end of the first quarter next year, the only vestige of the once proud organization will be the sign on the outside of the Carrillo Street office. And that will soon be gone, too, replaced by the Union Bank logo. At present, the plan is to bring the old Santa Barbara Bank & Trust sign into the main office and hang it on the wall like a museum piece.