Briefs
Suspected Gang Member Violates Bail Agreement
Augustine Cruz Jr. Put Back in Jail After Night of Violent Events
Santa Barbara police are still piecing together a bizarre series of possibly related events — including a carjacking, rollover accident, and potential fight — that took place two weeks ago. But while police continue to investigate, Judge George Eskin decided Wednesday morning that Augustine Cruz Jr., arrested after the incidents, violated the conditions under which Eskin reduced Cruz's bail amount in an unrelated case. Cruz was able to post the lower bail a few months ago.
Cruz is facing charges of robbery and two counts of assault, with gang enhancements, for two brutal attacks in 2009 that left one of the victims in assisted living for a year, according to prosecutor Hans Almgren. Cruz, who is also one of 30 people named in the city's gang injunction, is one of two men facing charges in that case. In February, Eskin, in granting the lowered bail amount of $100,000 — down from $500,000 — said Cruz should only be at work or at home, should be subject to electronic monitoring, shouldn't have any contact with the victims or with Eastside gang members, and can't go near the Franklin Center. He was also subject to searches.
According to police testimony, Cruz was potentially in violation of at least a couple of those stipulations the night of April 29 and early in the morning of April 30, though his involvement in the incidents is still unknown. In testimony Tuesday, Officer Tiffany Keller said she was on patrol the night in question when she received several calls within an hour's time. Initially Keller responded to a report of a rollover traffic collision on South Canada Street. On her way to that location, she received another call of a stolen vehicle at 100 South Alisos Street. The description of the vehicle in each case were similar, and it was later determined the vehicle was indeed the same. Around the same time, there was a dispatch call of a fight, Keller said. Detective Ben Ahrens later detailed the reported disturbance, where five to six males were chasing after a car, which they attacked, breaking windows and severely damaging the vehicle.
According to Keller, three Hispanic males were seen fleeing the scene of the rollover, one wearing a checkered shirt and one wearing a shirt with numbers on it, like a jersey. After leaving the scene of the rollover and spending some time with the victim of the carjacking, Keller encountered three subjects — one of them wearing a jersey — near the intersection of Oak Drive and Salinas Place. Two were crossing the street, away from the third. Cruz was one of them, Keller testified, and he turned his head away from her as she asked him to stop. Another was later determined to be Ernesto Lopez, a known gang member, Keller said.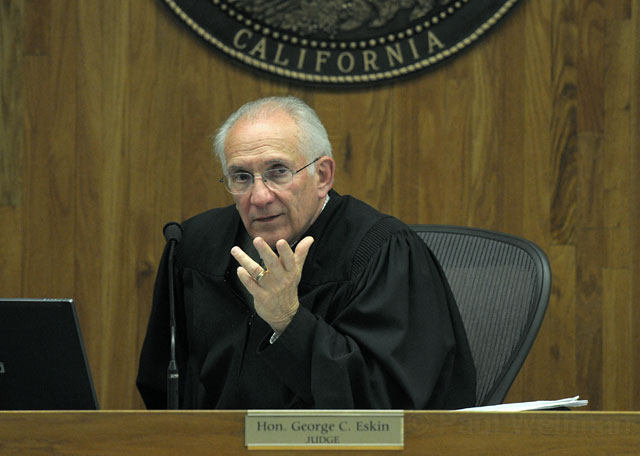 Keller could not get Cruz or the other man to stop running, but stopped Lopez, she said. Cruz was eventually tracked down to a creek area not far away, where he was hiding. He had an injury to his shoulder, Keller said, with "quite a bit of blood." It was later determined the injury was likely the result of a stab wound.
No charges related to the April 29 incident have been filed, though police have recommended misdemeanor charges be filed against Cruz.
After the police testimony, defense attorney James Crowder presented a witness who testified she saw the people involved in the rollover incident and that neither person was Cruz, whom she knew.
Crowder also had Victor Rios, a professor at UCSB, take the stand to explain how Cruz was involved in a weekly program Rios holds at Casa de la Raza. The purpose of the program, Rios said, is to conduct research while also providing mentoring, tutoring, and connections to services. He said Cruz, 21, had been participating regularly and talked about wanting a job and getting enrolled back in school.
Several people, including Rios and Ricardo Venegas from the Franklin Center, wrote letters about their hopes and aspirations for Cruz, and his father testified that Cruz was working for him as a landscaper four days a week.
"It's not what Mr. Cruz has been doing during the daytime that's of concern to me," Eskin said. The judge went on to say that he wouldn't hold much of the night's events — with details still so sketchy — against Cruz when he didn't know how, if at all, Cruz was involved. But, the judge said, he would rely on the conduct Keller observed. The fact that Cruz was outdoors around midnight with known members of the Eastside gang, tried to run and hide from officers, and had somehow received a stab wound were all factors the judge considered, noting the conditions under which he released Cruz.
"Mr. Cruz has let himself down, let his family down, Mr. Crowder down, and his friends down, and you certainly let me down," Eskin said to Cruz at the end of Wednesday's hearing. "You just weren't doing what we expected you to be doing."
With that, Cruz was placed into custody by the bailiff and eventually taken to Santa Barbara County Jail. He will be back in court on June 29.