Arts & Entertainment
Imaginings and Epiphanies
Author Jonah Lehrer Gives a Peek into the Mystery of Creativity
For someone who is a self-professed "terrible scientist," writer Jonah Lehrer sure makes science interesting — so compelling, in fact, that his latest book, Imagine: How Creativity Works, debuted at number one on the New York Times' best-seller list. It's no wonder, really, as Lehrer has written a wildly fascinating page-turner that untangles the mystery of human creativity — how it occurs and how to cultivate it. I recently spoke on the phone with the amiable, whip-smart Lehrer about Imagine, epiphany, and the importance of grit.
What set you on the path to write Imagine? I was drawn to the mystery of [creativity]: in particular, the moment of insight. When people have an insight, they can't explain where the idea came from. That just struck me as this really bizarre phenomenon. Like the brain is sharing a secret with us. … So that's how the book began: just my peculiar interest in the very strange thing called epiphany.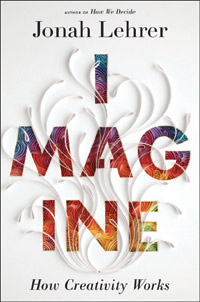 What was the most surprising thing you uncovered doing this research for the book? One of the big surprises was the importance of relaxation when you're striking out. I've always had this puritanical mindset that if I didn't know how to do something or finish a chapter, I would just get myself to work through it, to stay up late. But then in the morning when you look at your fixes, you realize you haven't fixed anything, and now you are just hungover and sleep deprived. Now when I sense even the slightest bit of frustration, I say, "'Oh, I'm stuck; I need a moment of insight,' and I take a walk. It's definitely a piece of advice that can be abused."
What was the most interesting aspect to this research or the whole book in general? I was pretty fascinated by the social side. So often we see creativity as a singular thing; you know, people all by themselves start a start-up or the poet working on her own in a little closet. But creativity in the real world turns out to be very social. The most creative people have very diverse social networks; hanging out with lots of people is a tremendous asset. … One of the great trends of creativity now is that it is increasingly becoming a group process.
You are coming to UCSB to speak. What will you be talking about? I'll be extracting some things from the book. I'll be talking about Bob Dylan and insight, but I'll also mention things that are not in the book, like the importance of grit. Grit is a new character trait that tends to be a very good predictor of success, which is particularly important for the creative domain because making something is going to be by definition difficult and can involve frustration and failure and draft after draft. But that's what it takes to make something good. Even if you have a great epiphany, you still have to make that epiphany work in the real world for it to work. That takes grit.
4•1•1
Jonah Lehrer will lecture at UCSB's Campbell Hall on Thursday, May 17, at 8 p.m. For info, call 893-3535 or visit artsandlectures.sa.ucsb.edu.