News
Sowing Environmental Seeds of Success
Report from Environmental Education for the Next Generation's First-Ever Gala
Environmental Education for the Next Generation (EENG) held its premiere "Investing in Our Youth" gala and auction Sunday evening at Chase Palm Park as part of the organization's growing effort to promote environmental action from the youngest members of society up.
Founded entirely by UCSB students, EENG is a 501 (c)(3) nonprofit organization that works to instill sustainability ethics and environmental awareness within elementary students across the state. The organization is comprised of university students from across California who join first- and second-grade classrooms as weekly instructors of activities, experiments, and discussions rooted in environmental curriculum tailored to California Education Standards. In two-and-a-half years, EENG has grown from teaching 25 students in a single classroom in Goleta to reaching more than 2,300 students in over 90 classrooms throughout Santa Barbara, San Luis Obispo, Santa Cruz, and San Francisco. The goal is to hit 15,000 students in 15 cities across California within the next four years.
Helping to fund that growth was Sunday's gala, which was put on solely by undergrads but managed to raise an impressive $15,000. Those proceeds will directly support EENG's Environmental Science and Sustainability Program, which offers educational services at no cost to the participating schools. In these times of budget cuts to public education, this free-of-charge approach explains EENG's popularity and exponential growth.
EENG enthusiasts all seem to agree on one thing, and the group's executive director Ryland King said it best Sunday: "Young members of society hold the key to lasting change." A UCSB senior who founded EENG as a 19-year-old in July 2009, King hopes to make the gala an annual event.
Distinguished attendees included 35th District Assembly Member Das Williams as the guest speaker as well as Geoff Green of the Fund for Santa Barbara as the live auctioneer. More than 100 people attended the event, including numerous community members as well as EENG's student instructors and supportive parents.
"They're instilling environmental values at a very early age," said Williams. "And if we're going to make basic changes at a deeper level, we're going to have to reach kids at an early age." Williams stressed that the key to making these changes lies in children being exposed to science early on, which is the mission of EENG. "I can't tell you how important that is for their future earnings — and for the state's," said Williams.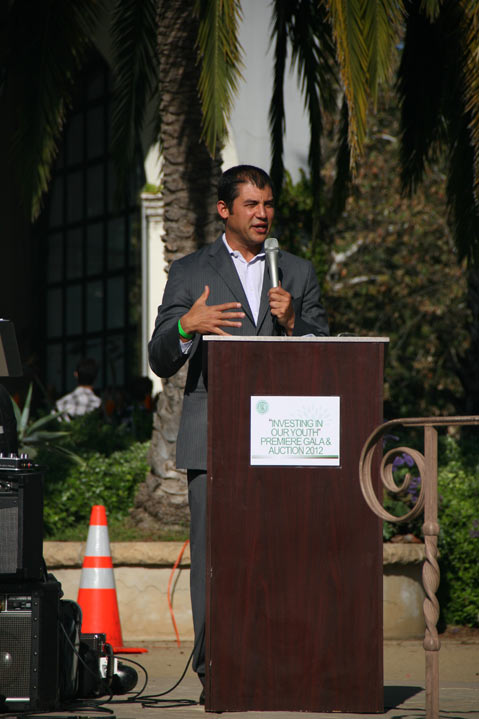 In an effort to practice what they preach, the gala was a "zero waste" event: all of the plates and utensils were compostable, with cutlery made from renewable natural plant sugars. Green Project Consultants worked to sort trash and find homes for waste items in either recycling or compost bins in efforts to avoid filling the black landfill bins.
An interactive "collective painting" project launched by UCSB student Whitney Castro featured a three- by five-foot canvas that attendees took turns painting. The finished "paint by numbers" product rendered a child planting seeds that gradually grew into the tree-based EENG logo.
The gala included both silent and live auctions that featured items ranging from weekend getaway packages to Mother's Day gift baskets. More than 100 businesses from both near and far donated items.
As an eco-lifestyle company that works with socially responsible organizations, LoaTree was imperative in keeping event costs down for the undergraduates through their own sponsorship of the event as well as assisting with the collection of generous donations from a wide array of community businesses. Thanks to its impressive community support, EENG will be able to continue to fund the education of the state's future leaders in environmental and sustainability issues.
"The kids that you are teaching are going to be California's greatest natural resource," concluded Assemblymember Williams on Sunday.
If this first ever gala is any indication, EENG will be guaranteeing the cultivation of that resource into the future.