Briefs
The State of the Good Land Is Great
A Report from Goleta's Fifth Annual State of the City Lunch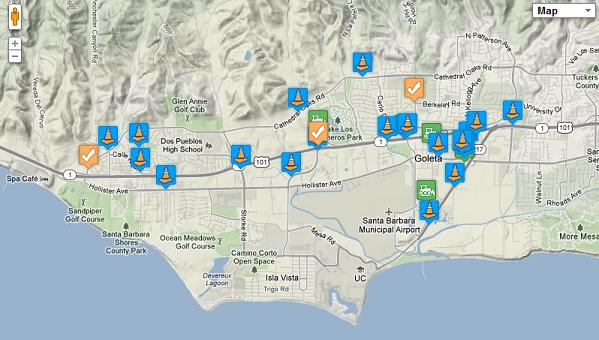 For the fifth year in a row, hundreds of Goleta's biggest movers and shakers gathered together in the Elks Lodge off of Calle Real to lunch and learn as part of the annual State of the City event. It's an auspicious time for the young city, as 2012 marks a full decade since voters approved cityhood for the healthy mix of residential (population roughly 30,000), commercial (more than 1,500 businesses), and rural (from active places like Fairview Gardens to de facto open spaces such as Bishop Ranch) areas that stretch from roughly Patterson Avenue to the Bacara Resort.
Over those 10 years, as Mayor Ed Easton pointed out while attendees began diving into the roast beef and chicken on their plates, there have been 3,600 building permits approved, more than $19 million spent on transportation projects affecting 126 miles of road, and $195,000 in grants doled out to various organizations in the community, among many other triumphs. Admitting that challenges still lie before him and the City Council, Easton opined, "I believe we are a happier and healthier community today with much to look forward to."
The mayor was followed by the city's director of community services, Steve Wagner, who explained that Goleta is booming with growth, with 1,400 new homes, 1.6 million square feet of commercial space, and 493 hotel rooms in the pipeline today. He then ran down the ongoing, planned, and projected capital improvement projects, of which there are 67 in various phases of progress amounting to about $210 million in costs. "That's a very aggressive capital improvement program for a city our size," said Wagner, who introduced a new website developed by the city to let residents track those changes: ProjectGoleta.com.
City Manager Dan Singer spoke next, breaking the ice with a too-much-information joke about being more nervous for his recent colonoscopy than for speaking to a crowd that size. He listed the city's current challenges — rising costs of public safety and infrastructure, the loss of $3 million in redevelopment funds each year that were supposed to spruce up Old Town Goleta — but said he looked toward the future with "cautious optimism." This year's budget is on track to grow by 20 percent, and for the first time ever, sales tax will be the number one moneymaker for the city, with bed tax also boosting quite a bit. Singer said that, based on projections, the budget "will be at a historic height this next fiscal year."
Noting the city's favorable demographics of well-educated, relatively high-income earners and very few poor people, Singer explained, "What's maturing in Goleta is an economic condition that is ripe for success." As a powerful example, Singer called attention to the $463 million of venture capital being pumped into the UCSB spin-off companies that call Goleta home. "There's got to be a ripple effect," said Singer. "That's a clear sign that there is belief in what's happening here in Goleta."
And to foster the start-up potential even more, Mayor Easton joined UCSB Executive Vice Chancellor Gene Lucas and the Goleta Chamber of Commerce's president Kristen Miller (formerly Amyx) to announce the creation of GEM, or Goleta Entrepreneurial Magnet, which Easton said is intended to "strengthen the economic vitality of the Goleta Valley" by building an informational website that will help "start-up companies to mature and grow."