News
Evicted Low-Income Tenants Look for New Homes
City and Legal Reps Question Ladera Street Landlord's Decision to Drop Section 8 Renters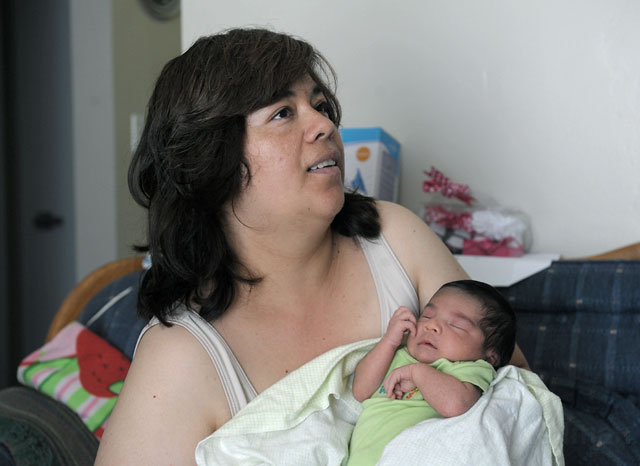 It's been 55 days since more than a dozen low-income tenants living in a Ladera Street apartment complex suddenly received 90-day eviction notices. While some of the Section 8 renters continue to search for new housing, the county's Legal Aid Foundation keeps trying to contact the property's manager Matthew Platler and owner Daniel Smith — who said they will no longer participate in the Section 8 program — to see if mediation is an option.
Immediately after getting their notices in April, 13 residents were reissued Section 8 vouchers by the city Housing Authority and began looking for new homes. According to Veronica Lowes, Director of Housing Management, the agency has successfully relocated nine of their clients despite a tight low-income housing market.
"It has been difficult, but we've had other agencies helping us," said Lowes, grateful for assistance from the Rental Housing Mediation Task Force and New Beginnings Counseling Center. "I think with the collaboration, it just helped a lot." Lowes said she was pretty confident, though not certain, that the Housing Authority would be able to find new homes for the rest of their clients still residing at 203 Ladera Street. "We're going to do our best to get them moved so they're not homeless," she said.
Former Ladera resident Dennis Banning considers himself lucky, having recently moved to a new apartment on the Mesa. "I have a wonderful garden in the front. You look out and you can see the Channel Islands," he said.
But a few of the tenants haven't been as fortunate, including single mother Norma Vargas. She has yet to find a new place to live, though she manages to stay positive, probably because she gave birth to a healthy baby girl, Janelle, less than two weeks ago. Now a mother of two — she also has a 12-year-old daughter, Netanya — Vargas looked down at Janelle in her arms as she stood in her living room. "I don't know. I hope I can find something soon," said Vargas, gently cradling her newborn.
Agnes Bishop, a resident of 203 Ladera Street since 2003, managed to put on a smile despite feeling wronged by manager Matthew Platler. She hopes to move to a new apartment closer downtown. "I'm okay," she said. "I'm praying very hard."
Natalie Sanchez, a single mother to her 14-year-old daughter, wasn't so positive about leaving her home of seven years. She plans on moving within a few weeks. "I'm really gonna miss it here," said Sanchez, who is a full-time student at nearby Santa Barbara City College. "I like my patio, my privacy, my school." Sanchez said she was angered and saddened to get evicted from 203 Ladera Street after having to temporarily move within the complex during renovations and being assured by Platler that her tenancy was safe. "Bottom line is, landlords can do what they want," she said.
Although Banning said he "lucked out" in finding a new apartment, he certainly hasn't forgotten the unfortunate series of events that transpired at his home of two years. "I'm still angry," he said. "[Platler] is just completely oblivious to what mess he's caused here. This should not be what's allowed to happen in Santa Barbara."
Lowes feels that the Housing Authority was "bamboozled" by Platler and Smith, neither of whom are from Santa Barbara. Both continue to be unreachable for comment. Although she is unsure whether the mass eviction of Section 8 tenants from the property was unlawful, she affirmed that it wasn't a typical business practice in Santa Barbara. "We normally don't get that from our landlord community here," she said. "You see 90-day notices, sure, but not the way this was done."
The unique situation prompted Banning to reach out to the Legal Aid Foundation, where he connected with attorney Emily Allen. Upon learning of the Ladera tenants case, she researched further into the Section 8 Housing Program. "It seems like there are some legal issues here," she said.
Allen said that while the program is voluntary, there is significant case law showing that evicting Section 8 tenants could be a violation of the Fair Housing Act if "disparate discriminatory impact" can be proven. The Fair Housing Act protects renters from discrimination when renting or purchasing a home. In this case, Allen believes there was possible discrimination against people with disabilities, elderly people, and members of minority groups. She also pointed out that two of the residents being evicted are single mothers with small children.
On May 7, Allen sent a letter and an email to Plater that raised some of these legal concerns and made an offer to enter into mediation. "At this point we haven't had a response," she said. "We're assessing now what the next step is." For tenant Natalie Sanchez, that next step is moving, for she doesn't expect a resolution anytime soon. "We did all this Legal Aid stuff and nothing is happening," she said.
Allen said the Legal Aid Foundation would possibly make more efforts to contact Platler soon. In the meantime, she expressed hope that the tenants still living at Ladera would be granted an extension on their housing vouchers while they look for new homes. "But the question here is will these people be able to stay," she said.
Lowes said staying is clearly not an option. "We just want to make sure they're not going to be homeless and that we can find suitable housing for them somewhere else," she said.
The four remaining tenants must be out of 203 Ladera Street by July 4. They have 35 days left.