Courts & Crime
Mesa Stabbing Suspects Beef Behind Bars
Sean Crane and Michael Hardy Can't Be in Court Together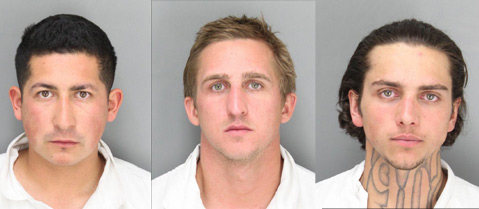 Though they allegedly acted together in a stabbing at a house party on Friday, April 13, suspects Sean Crane and Michael Hardy now aren't allowed in the same courtroom at the same time. According to a source closely associated with the case but not authorized to speak on the record, 22-year-old Michael Hardy, charged with assault with a deadly weapon and violating parole, has acted physically aggressive in County Jail toward 23-year-old Sean Crane, accused of attempted murder. Hardy reportedly believes Crane is cooperating with authorities to further implicate his codefendants and take some legal heat off himself. The source denies that is true.
Police responded to a residence at 1037 Del Mar Avenue on the lower Mesa just after midnight on the 13th. They learned from witnesses — 30-40 of whom were on the scene — that a fight erupted as the party ended, leaving two men with multiple stab wounds. One of the victims sustained life-threatening injuries and spent over two weeks in Cottage Hospital recuperating. The other was treated for his injuries and quickly released. Within a week of the incident, Crane, Hardy, and another suspect, 23-year-old Eddie Mesa, who's charged with accessory to attempted murder, were arrested. All three have pleaded not guilty. (A fourth suspect arrested in the case, Devin Kelley, 24, is accused of assault with a deadly weapon and violating parole, but the status of his prosecution is unclear at this time.)
During a hearing in Judge Brian Hill's courtroom Thursday, Hardy was present in a red jumpsuit and shackles while Crane was kept sequestered in a different area of the courthouse, his defense attorney Doug Hayes explaining to Hill there was a "separation issue" with the two and that Crane wouldn't be appearing. Much of the short hearing was spent on procedural motions that will bring the case back to court Monday, a step toward a possible trial.
Defense attorney Robert Sanger, representing Mesa, petitioned the court to allow his client — a lance corporal in the Marine Corps — to deploy with his unit to Okinawa, Japan, in July. With Mesa out on bail and standing in full uniform beside him, Sanger argued that there is no evidence to suggest Mesa was directly involved in the stabbing and that his client would return to Santa Barbara for future hearings. Mesa was required to surrender his passport to the District Attorney's Office in April and not leave the country. Hill told Sanger to submit his request in writing and the court would consider it Monday. Crane and Mesa graduated together from Dos Pueblos High School in 2006.
Watching the proceedings Thursday was Brittany Weiler, a defendant in the 2010 stabbing murder of Robert Simpson at Hendry's Beach. According to Hayes in an interview Friday, the Mesa party was a birthday celebration for Weiler. He explained she doesn't live at the location and is not implicated in the incident. Weiler seemed to attend court Thursday in support of a man out on bail in an unrelated case.
Authorities alleged Weiler acted as a getaway driver in the Hendry's Beach homicide. She pleaded no contest to accessory to murder after the fact with a gang enhancement and was sentenced to three years of probation.