Arts & Entertainment
KJEE's Summer Round-Up at the Santa Barbara Bowl
S.B.'s Radio Staples Bring the Rock on Friday, June 1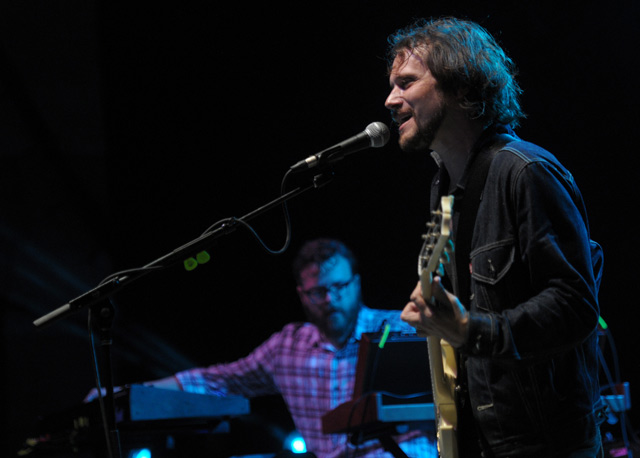 With all music festivals, there will be hits, and there will be misses. Last Friday, 92.9 KJEE's annual Summer Round-Up returned to fill the Santa Barbara Bowl with the sounds of modern rock radio. And, like the sponsoring station in question, the bands that showed up provided an eclectic and ragtag mix of buoyant pop, chugging rock, and multiple variations on the electronic-meets-organic theme.
First up, Santa Barbara locs Gardens & Villa warmed up a still-filing-in four-o'-clock crowd with a curiously potent melding of synths, flutes, and psych rock. Crowd pleasers like "Starfire Power" and "Black Hills" piqued the interest — and moved the feet — of more than a few early arrivers while new track "Avalanche" provided a promising hint of what's to come for the band.
As the 5 p.m. hour approached and the fans started piling in, L.A. indie popsters GROUPLOVE filled the stage with an energetic, if slightly cacophonous, collection of hooks and harmonies. True to their name, the band was all smiles as they delivered singles "Colours" and "Tongue Tied," though their collective vocal prowess didn't quite live up to their polished radio edits.
As the day grew dim, Garbage found a swelling crowd eager to rekindle a '90s radio romance. "We're taking you back to 1995, when we made our first album," declared vocalist Shirley Manson as she ran circles around her black-wardrobe–clad bandmates to the tune of original jams like "Only Happy When It Rains" and "I Think I'm Paranoid." Though this tour marks the end of a six-year hiatus for these edgy alt-rockers, their energy has not diminished in the slightest. With their fifth and latest album, Not Your Kind of People, Garbage has crystallized their poppy songwriting and electronic touches, reminding us all of their defining role in that elusive genre once known as "electronica."
When the sun sank, Silversun Pickups were there to take the spotlight on the second date of an international festival tour, following a stop at the Sasquatch! Music Festival in Washington the weekend prior. However, the thousand-mile trek between shows may have taken its toll on this Angeleno four-piece, who looked slightly sedentary as they hammered out bits from their latest full-length, Neck of the Woods. The energy factor was mostly left up to drummer Chris Guanlao and front-dude Brian Aubert, who chugged along at uniform tone and tempo. As a vocalist, Aubert's ability to range from soft and pretty to loud and evil rivals that of Billy Corgan, but Friday's show seemed to be all about the former and not enough of the latter. It was not until set closer "Lazy Eye" that Aubert seemed to finally let loose, but by then, it may have been too little, too late.