Sports
Stan's Sports Bar
Santa Barbaran Lou Dene's New York Sports Bar Keeps Fans Happy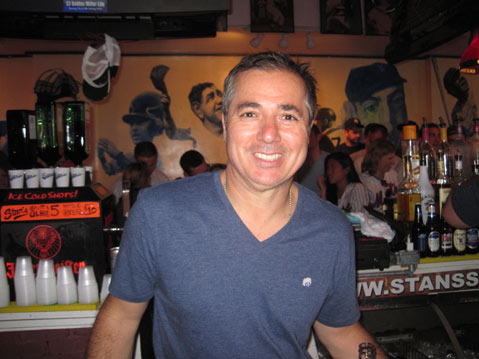 Lou Dene could not be much happier with his double life as a businessperson in New York City and a family man in Santa Barbara. The commute is a bit of a stretch, but Dene manages to limit his travels. His business operates only on game days at Yankee Stadium.
Dene (pronounced "de-nay") is the owner of Stan's Sports Bar, which sits on the corner of 158th Street and River Avenue in the Bronx. It used to be directly across the street from Yankee Stadium, but now there are tree-lined youth baseball diamonds where the "House That Ruth Built" once stood. Since 2009, the Yankees have played in a modernized replica of their old stadium, a couple of blocks up River Avenue.
Still, plenty of fans consider Stan's the place to congregate before, during, and after the Yankees' games. Dene bought the bar from his father, the late Stan Martucci, at an opportune time. It was 1998, and the Yankees were the best team in baseball, winning a record 114 games that year. "My dad was more interested in the memorabilia shop [his original business next door to the bar]," Dene said. "It was an old man's bar, but I knew the potential was there. The Yankees were winning, and attendance went from 19,000 to 50,000. We've been riding the Yankee wave ever since."
Dene, 46, was born in Brooklyn and grew up in Staten Island. He coached a junior varsity football team at Susan E. Wagner High School, and he recruited some of his former players to help run the bar. "Most of my guys are New York City firemen," Dene said. "They are able to manipulate their schedules." Stan's did not lose anybody to the collapse of the Twin Towers on 9/11, Dene said, "but a couple of them have lung issues."
Dene's career carried a different kind of risk. "A young man owning a bar — I could have ruined my life," he said. There was talk of moving the Yankees to a proposed stadium in Manhattan. "That threat forced discipline on me," he said. "I had to watch my money."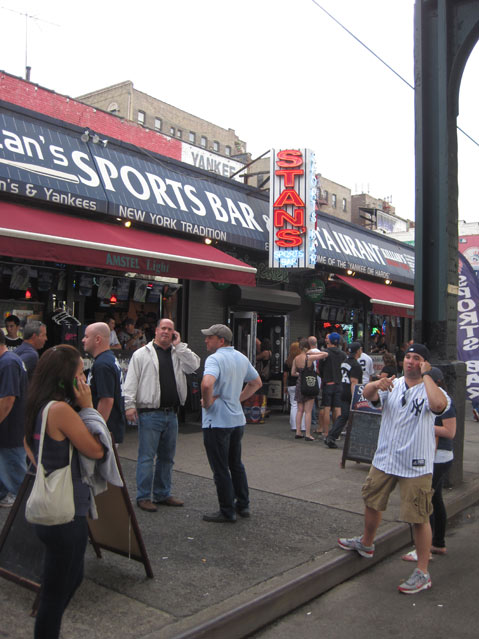 He succeeded to the extent that he could afford to spend winters in warmer locales. "[Stan's] is only open 90 days a year," he said. "I ran a bar and restaurant in the Caribbean. I went to Miami." He eventually decided on Santa Barbara as the place to settle down with his wife, Brooke Dene, and two children.
"My wife loves it, but for me, being a type A guy, it's been a challenge," Dene said of his adopted hometown. It has had a positive influence on his view across the street from Stan's. "Yankee Stadium used to be like a wall, and outside the bar, it was a smoke-filled alley," he explained. "Now there's breathing room. You grow up in New York as a concrete kid, you don't think about things like that."
Stan's was teeming last Saturday. "New Yorkers think the world revolves around them," Dene observed, and in a sports sense, that was absolutely true. At the stadium, the Yankees and Mets were about to play the second game of their "Subway Series." Across the river in New Jersey, a crowd of 81,944 was watching Argentina and Brazil play a so-called friendly soccer game. Later, the fifth game of the Stanley Cup Finals between the L.A. Kings and New Jersey Devils would be played. And going off a half hour before the baseball game was the Belmont Stakes, which drew another 85,811 to the racetrack just outside the city, despite the injury to I'll Have Another, which dashed the hopes for a Triple Crown winner.
Hundreds of people were crammed into Stan's, standing four-to-six deep on all sides of the long, rectangular bar. "It's like a mosh pit," said Dene, who was busy raking in the dough. On the back wall, life-sized portraits of Ruth, DiMaggio, and other Yankee heroes loomed behind the patrons. All eyes were on the TV screens as Union Rags won the Belmont at the wire. Then it was time for the baseball game. "Let's go Mets!" shouted a group of fans. Surprisingly, there was no hostile response.
"The Mets aren't a threat," said Teddy Tonge. "Now if they were for the Red Sox, there would be fights." It was up to Tonge, a 6′5″, 290-pound bouncer, to defuse those situations.
Dene said he grew up a Mets fan but changed allegiances when he bought the bar. "It's good for baseball when the Yankees are on top," he said. "If you have parity, where's the Cinderella story?" There was such a story developing in hockey. The Devils tried to spoil it by beating the Kings on Saturday night, but L.A. would lift the Stanley Cup for the first time two nights later. Meanwhile, the Yankees swept the Mets, completing a 5-1 home stand, and all was right in the world of Stan's.