News
Library Open Again on Mondays
City Found $154,000 to Pay for Staff and Security
Soap bubbles and smiles from people of all ages welcomed the Santa Barbara Central Library's re-opening this Monday. Over 50 people gathered in the library courtyard to witness the ribbon-cutting marking the end of a two-year, single-day closure.
In attendance were community and library officials including Mayor Helene Schneider, councilmembers Cathy Murillo and Frank Hotchkiss, and library boardmembers Catherine Radecki-Bush and Christine Roberts. The mood was celebratory, the commemorative speeches rounded out with face-painting and balloon animals.
"Two years ago, the decision was a tough one," said Schneider. "No one wanted to make the decision. When we found we could bring Mondays back, it was very gratifying."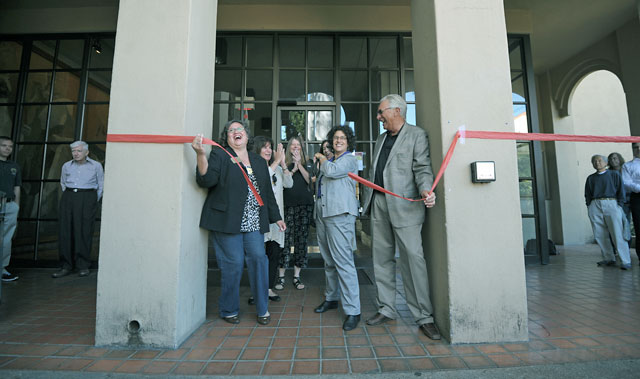 After numerous community requests, the city found the funds to pay for the library to keep its doors open seven days a week. The allocation for a year of Mondays is $154,000, which pays not only for staff but also for monitors to serve as security and support for the busy downtown location. Library director Irene Macias estimates that the library hosts between 1,500 and 2,000 people on a full day.
The Monday opening also benefits the over 800 children and teens participating in the summer reading program, "Dream Big — Read." Summer sees an increase in the number of children using the library, including groups from the Santa Barbara Museum of Art and summer camps.
"This is just the beginning of our restoration of the library," said Councilmember Murillo. She described the library's community literacy programs — especially those that support children from Spanish-speaking backgrounds — as critical for the community.
Mariano Avila, 12, has volunteered for the library since he was eight years old. To him, the library is, "a peaceful place to read, and when it's quiet you can think and use your imagination."
Mayor Schneider is confident that Monday openings are here to stay. "Unless there is another economic downfall, in which case we would have to review everything," she said, "the library will be the last thing we cut in the future."
The next step for the library is an expansion for the downstairs children's section, which is still in its "quiet phase," Macias said. The $5.5 million project, which would quadruple the size of the children's library and create more children's programs, is still waiting for its first major donor.