Frodo has two brothers and a sister and they are all friendly young pups with a super sweet, happy and energetic nature. Playful, confident, and sassy, they get along very well with each other and will most likely be good with other dogs. They are very cute with their long slim bodies, waggy tails, and a nice coat of short, soft hair. They have such sweet faces with soft, floppy ears.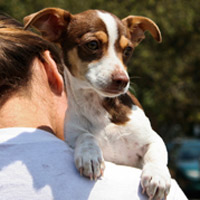 Frodo has a mostly white body with big round chestnut colored spots all over his body. He has a pink nose and very pretty hazel colored eyes. Just like any young pups, these doggies will benefit from some puppy obedience training to teach them the basics of becoming well behaved dogs. They are already spayed/neutered but still need a round of shots. To inquire about adopting a dog, visit DAWG in Santa Barbara.
DAWG (Dog Adoption and Welfare Group) is a no-kill not for profit dog rescue/adoption organization located at 5480 Overpass Road in Goleta. For more information, call (805) 681-0561. You can view more adoptable dogs at: www.sbdawg.org. The public is invited to stop by and look around every day from 9 a.m. to 4 p.m. DAWG relies on volunteers to take care of all the dogs, so if you love dogs, think about volunteering! Students are able to fulfill their volunteer community service requirement by volunteering. Volunteer orientations are generally held every other Saturday at 10 a.m. Contact DAWG for the next meeting.