Film & TV
Farewell, My Queen
Léa Seydoux, Diane Kruger, and Virginie Ledoyen star in a film written and directed by Benoît Jacquot.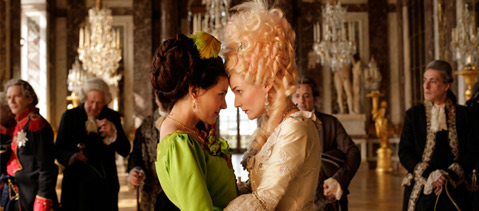 Right away this film tips its manipulative hand; it's from that school of costume drama that constantly reminds us that the past was full of little horrors, too. The camera pans across the bed of a tousled but beautiful young woman, donning her 18th-century royal-servant finery and scratching painful insect bites on her arm. The whole movie observes these polarities with religious regularity. Every sylvan scene of arms dangling from gilded gondolas in artificial lakes soon bumps into dead rats in the water. Where we are turns out to be a perfect place for sensual excesses to meet rabid pests: Versailles, beginning on the day the Bastille is stormed in faraway Paris.
Farewell, My Queen is told from the bottom up: Sidonie (Léa Seydoux) is Marie Antoinette's reader, a position that grants her perhaps too much false intimacy with the mind, body, and soul of the doomed queen. Among other servants, Sidonie seems enigmatic, a sexual cipher, though we soon suspect her queenly devotions may include more than duty. The camera — which follows her doggedly in the first half and then careens around at the conclusion — gives us a tunnel-vision view of those fated days, even including a journey into her remarkable dreams. It's tempting, given this high/low vision, to dismiss the film as a kind of French Revolution Marxist version of Downton Abbey, a guilty voyeuristic pleasure with just enough history thrown in to keep intellectuals in the audience happy.
But the film works its complicated magic with a dramatic set of coldhearted ironies. There's the haunting beauty of its cast and director Benoît Jacquot's almost offhand intelligence, a nod to his faith in his audience. Even as the story elicits sympathy, as we watch royals become humans, we envy their gowns and carriages and lakes, and maybe feel some pity for their necks. But then Jacquot shows it to us plain: drowned rats floating in the water.