News
Boxes Full of Photos
How to Deal with Them
I loved learning about what to do with digital photos in last week's column. What do you recommend for the boxes and crates full of old photos that are cluttering up my home? It's too much to deal with sometimes. – Sharon L.
Dear Sharon,
I know you are not alone on this one! While most people have converted to taking digital photos, many still have a backlog of slides, negatives, and prints from decades ago that are taking up space all over their home. Below are some very concrete steps to get a handle on your boxes and crates of hardcopy images.
Important Note: Please don't write on the backs of photos with a regular pen of any kind, or a hard pencil. There are special pencils and pens for this purpose – locate the right one. You can also place a small Post-it note on the back of a photo with notes on it.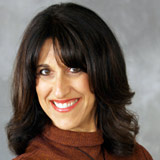 1. Set aside about two weeks where you can spend time organizing your photos. Schedule time in your calendar for as many hours as you can free up. A time when company won't be around and you are going to be home versus traveling.
2. Gather all the photos from every drawer, cupboard, box, and closet into one space. If you can designate a room, or a table in a room, on which to put them all, that would be the best.
3. Start by going through the boxes and ascertaining how many decades you are dealing with. Write the decades (1930s, 1940s, 1950s, etc.) on 3″ Post-it notes and place each in a sections of your table or other workspace you have.
4. Begin going through each box and discarding things you don't need, such as the filler papers in the envelopes, the bad shots that should have been tossed out way back when, and even the non-labeled envelopes from the developer. You can group photos together with a Post-it note. Hold the note so the sticky-side is on your left and facing down. Then place the note it on the front of the first photo in a stack, in such a way that most of it sticks up. Next, fold it over the top and back of the stack. There's your label. Do not use paper clips, rubber bands, or tapes of any kind; those will ruin the photos.
5. Once photos are grouped by decade and trash is tossed, then break the photos up into five-year or two-year increments, depending on how many years there are. Keep making Post-it notes for labeling stacks of photos and be careful not to let the pictures slide into another year's stack. Keep breaking down until you have them as close to the "year" as you can guess. When in doubt, place with the lowest year you guess.
6. Place all in photo boxes and label the box with contents
7. Plan to put the photos into albums. Choose safe, acid-free albums. If you plan to keep them boxed, obtain a safe, polypropylene plastic sorting box (Creative Memories Power Sort Box is one of the best) that is made for storing photos long-term without harming them.
Notes:
When beginning this task, as mentioned in an earlier article about getting things done, use a timer. Set a specific amount of time to work and when you finish the time, you can stop or take a break. It is okay to do this in small blocks of time as it can be a time-consuming and daunting task – but not impossible. Once done, it is done, and the rewards are well worth the time invested.
As always, if you have a question you want answered, email me at jshulem@gmail.com with "Question for column" in the subject line and I will answer it as soon as possible.