News
Mayor Scraps $12 Million Initiative Package
Opts Not to Submit 8,500 Ballot Signatures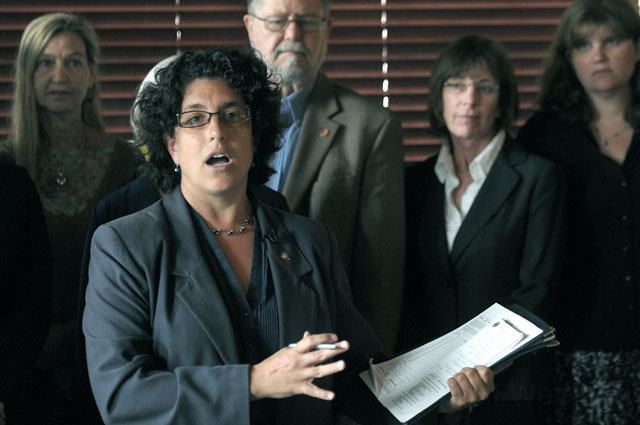 Just a few days before Labor Day, Santa Barbara Mayor Helene Schneider quietly pulled the plug on the package of four ballot initiatives — controversial, complex, and, by Santa Barbara standards, uncommonly bold — that she'd proposed with great fanfare this February in hopes of raising millions for City Hall, millions more for local public schools, and millions more in so-called pension reform to reduce the financial burden on City Hall's retirement obligations.
Last week marked the deadline for Schneider to turn in the 8,500 signatures she collected for official ballot verification. But Schneider opted not to submit those signatures, explaining she was one vote shy of the city council support she needed to place her proposal to split the proceeds of a half-cent sales tax increase with public schools — on the ballot in the form of an advisory measure.
Given that the education funding measure was central to Schneider's objectives, she said she deep-sixed her "Invest in Santa Barbara" package of initiatives. "Of course it's really disappointing," Schneider said, "but I didn't see any point in proceeding if the educational component wasn't included."
Had Schneider not withdrawn her initiatives, the soonest voters could have decided their fate would have been sometime next year. But if the two statewide tax-increase initiatives go down in defeat this November — Governor Jerry Brown's Proposition 30 and Molly Munger's Proposition 38 — Schneider said she would be open to bringing a revamped version of her package back for consideration next year. She expressed optimism that at that point she could garner the council votes necessary to put such measures on the ballot.
Schneider has frequently pointed out there is something for everyone to like about her package and something for everyone to dislike, as well. Only by including some stab at pension reform, she argued, would a majority of voters back a sales-tax increase. From the start, there were problems. Fiscal conservatives were leery about a sales-tax increase, which would have raised $5 million for the city and $5 million for the schools. Public-employee unions were wary about Schneider's initiative requiring their members to pay the maximum legal contribution into their retirement plans — which would save City Hall $2.5 million.
Although the police and firefighters unions would eventually endorse this plan, union activists within the Democratic Central Committee remained adamantly opposed. So, too, was Councilmember Cathy Murillo, who insisted that such concessions needed to be exacted at the bargaining table and not at the ballot box. Because of this, Murillo said she could not do anything to help Schneider's version of "pension reform" even though she agreed the public employees needed to pay more for their retirement.
To the extent that an advisory school-funding measure was linked to pension reform, Murillo said she could not support that either. "The whole point of unions is collective bargaining," she said. "It's about the back-and-forth of negotiations. That's what organized labor is based upon. That's so irrefutable to me."
While Councilmember Randy Rowse likewise believes city employees should contribute more to their retirement costs, he also opposed Schneider's ballot-box approach. "Hey, I'm not union guy," he said, "but we shouldn't cram this down their throats. We should do it fac-to-face at the bargaining table." It was after Schneider spoke with Rowse last week that she realized she couldn't get the four council votes needed to put her split-the-pot advisory measure before the voters.
Collective bargaining was just one of many concerns for Rowse. He objected that the funds could be spent on anything the council decided to spend them on. (Ballot measures that earmark how funds are spent require a two-thirds super-majority — very difficult to achieve — as opposed to a simple majority of 50 percent plus one.) He expressed serious doubts about the state's education system and even more doubts about giving funds collected from Santa Barbara residents to a school district serving students outside the city boundaries. There was nothing, he said, Schneider could have said to change his vote.
Almost from its announcement, Schneider's package generated heated resistance, the most vehement coming from liberal Democratic circles in which Schneider traditionally runs. Schneider was faulted for keeping her plans a secret until the last minute and announcing them as a fait accompli. The Santa Barbara Public Education Foundation in particular pitched a fit, objecting that Schneider's ballot language would distract and confuse voters considering the two parcel tax increases the school district had already decided to take to voters in June. (Although they won 66 percent of the votes, they did not reach the two-thirds needed. As a result, voters will face another parcel tax measure this November.)
After several stormy meetings, Schneider agreed to suspend signature gathering until after the June vote. Had she not done so, Schneider said, she could have collected the signatures necessary to convince her reluctant council colleagues not to oppose the advisory vote. As for springing her package on the public with little advance notice, Schneider said if she had done otherwise, nothing would have seen the light of day and stakeholder groups would have gummed her proposals to death. (Conversely, Schneider has pointed out that she responded to heated objections by downtown bar and restaurant owners, she made significant changes to her proposal to levy an increased tax on businesses selling alcohol in the drunk-and-disorderly district, expanding it to include any business selling alcohol and softening its financial impact.)
For the time being, Schneider said she takes satisfaction in hastening a broader discussion within Santa Barbara's political tribes about what is and is not acceptable to talk about, as well as potential solutions. Given her roots in liberal, Democratic circles, Schneider took a risk by broaching the matter of "pension reform," typically the exclusive domain of conservatives.
If Governor Brown's Prop. 30 tax increase fails at the polls this November, as many prognosticators suggest, Santa Barbara's school district stands to lose $6 million. In anticipation, the school board has already approved shortening the school year by five days and imposing seven days of unpaid furlough on district employees. Should that happen, Schneider suggested that cuts that now appear merely hypothetical could seem more immediately disruptive.
At that time, she said, she'd be open to asking her council colleagues to place a tax increase on the ballot, as well as a provision to split the proceeds with the local schools. Given that City Hall will then be negotiating in earnest with all its bargaining units, she said, it would violate state labor laws guiding good-faith negotiations to ask voters whether city employees should pay more into their own retirements and whether that increase should be linked to a tax increase.