Education
Roadmap for Schools
Superintendent Seeks Public Input on Strategic Plan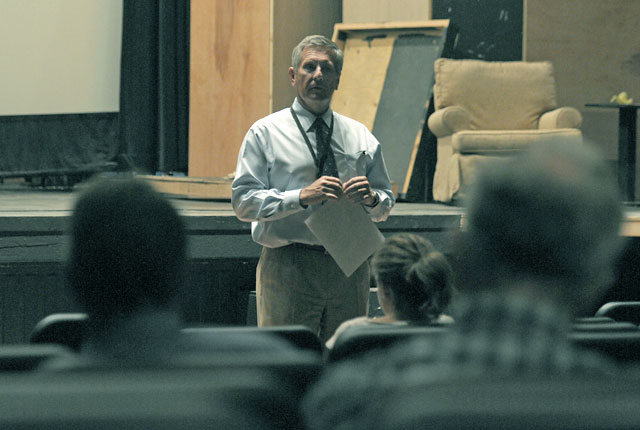 New teacher evaluations, technology-clad classrooms, AP courses with populations that reflect the demographics of their schools, updated graduation requirements, pre-kindergarten classes for everybody — all this will be accomplished within three years according to an ambitious document that Santa Barbara school chief David Cash shared with parents Monday night at Santa Barbara High School and last week at Dos Pueblos. He will make one more presentation of the second draft of his Strategic Plan at San Marcos High School on Thursday night.
The plan contains six overarching aims ​— ​making students career- and college-ready, engaging the community, transforming the district organization, infusing innovation and entrepreneurship into the curriculum, updating facilities, and innovating fiscal management ​— ​each with a number of specific subgoals such as erasing achievement gaps and creating a "Leadership Institute" for new and aspiring administrators. Whether or not it is realistic, it provides the district with a distinct sense of direction. No such document has been drafted since 1998.
In attendance at the SBHS presentation were school boardmember Ed Heron, school board hopeful Gayle Eidelson, Milpas Community Association Executive Director Sharon Byrne, a handful of interested parents, and a few teachers. While parents were not very critical of Cash's vision, they wondered out loud and in private conversations after the meeting how the superintendent could possibly marshal the resources ​— ​monetary and otherwise ​— ​to accomplish all of the goals listed in the nine-page document he said he spent five consecutive nights from 6 p.m. to midnight composing after culling feedback from the Strategic Planning Task Force and the public.
"I don't think there's any possible way to accomplish what we're trying to accomplish if you are not ambitious," said Cash. He added that the plan is a living document and will continue to evolve. He hopes to complete a final draft in November and get it approved by the board before at least two and possibly three members are replaced following the election.
"It's a big plan, but that's what strategic visions are supposed to be," said Margaret Christensen, the district's assistant superintendent of Human Resources. Cash said that it very well may take three years to implement an initiative his plan calls for in two years, but, "If I don't have high-level goals, what kind of leader am I?" In other words, the document is establishing aspirations rather than stipulating baselines. And boardmember Kate Parker, who is on the strategic vision subcommittee, said that even though budgets are tight, having "plans that are effective and meaningful … will help the board make decisions about where to direct funds."
Still, Ed Heron conceded, "There's a lot of the items that if [parcel-tax measures] A and B and [state ballot propositions] 30 or 38 don't pass, it will be a heck of a lot harder. If none of those pass, there will be things in that plan that just don't take place to the degree that we would like them to take place." The failure of all of those revenue measures, he said, would have a "devastating effect" on the district.
Heron did, however, feel that many of the Strategic Plan's objectives ​— ​such as increasing partnerships with businesses and nonprofits, finding more internship opportunities for students, asking 6th graders to devise 10-year plans for reaching a career that will be kept on file and referred to throughout their secondary school tenure, or increasing opportunities for parent participation ​— ​require more attitude adjustment than cash.
"I think a lot of the changes are the mental state of people," he said. "If you can convince people that something is of value, they'll make the changes. If you don't convince them, they won't make the changes. So leadership plays a large role." On that note, Heron appreciated that Cash is spearheading the plan. "For the superintendent to put his name on it is something. He's got skin in the game. If it doesn't work, it's his problem."
Boardmember Monique Limón, who serves on the subcommittee with Kate Parker, said that the process, which includes public input and discussion within the community, is as important as the plan. In his presentation, Cash was willing to provoke the community, ranging from practical concerns about state testing requirements to speculative ruminations about a hypothetical future where traditional classrooms cede way to cyberspace. With or without a plan, with or without resources, his message seemed to be, change is on the way.