News
Businessman Arrested on Assault, Attempted Rape, Hate Crime Charges
Michael Stinchfield Reportedly Held Two Women Against Their Will in Garden Street Home
A Santa Barbara businessman with a history of violence and intimidation was arrested early Friday morning after he reportedly held two women against their will in his Garden Street home, beating them with a baseball bat and sexually assaulting them for hours.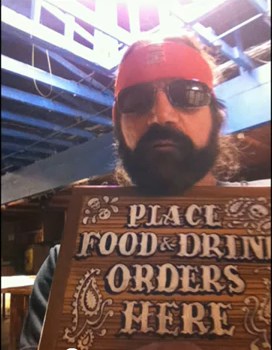 Police took Michael Stinchfield into custody at around 5 a.m. in his 1724 Garden Street home after officers witnessed the women with visible injuries screaming and fleeing and from the two-story residence. Just prior to that, multiple neighbors had called 911 reporting a disturbance.
Stinchfield, 55, is booked in County Jail on suspicion of assault with a deadly weapon, making criminal threats, attempted rape, sexual battery, false imprisonment, dissuading a victim from calling police, and a hate crime. He's being held without bail.
Police have so far released few details surrounding the incident, citing the open investigation. They did note that officers have had multiple contacts with Stinchfield in recent weeks and months, but couldn't elaborate on those encounters at this time.
The owner of multiple residential and commercial properties around town and an amateur musician, Stinchfield has been depressed and acting erratically since his wife died three years ago, neighbors said Saturday. Stinchfield is the father of two grown sons — one recently graduated high school and stays in another of his houses — and he has lived in the Garden Street home for approximately 12 years. One of his neighbors said he saw Stinchfield throwing large amounts of trash out of a broken second-story window last week.
Stinchfield made crime news headlines on September 28 when CHP officers arrested him at the end of a high-speed chase that began in Ventura County and ended in Los Angeles. According to the CHP, Stinchfield had picked up a homeless woman in Ventura but then refused to let her out of his Mercedes. The chase began when officers noticed him driving erratically, and the pursuit topped out at around 100 mph. Though Stinchfield was arrested in that incident on suspicion of felony evasion and false imprisonment, it's not clear if or how that case has been resolved.
He's been actively renovating a commercial property on lower State Street with plans to open a restaurant there called Santa Barbara Bar & Grill.