Living
Los Baños del Mar
The Bathhouses of Santa Barbara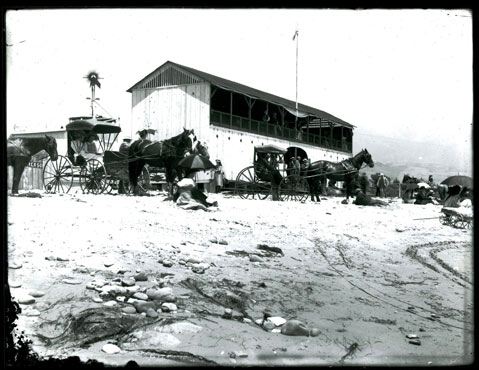 The West Beach area has been a favorite bathing spot for generations of Santa Barbarans. In fact, Bath Street got its name by being a popular pathway to the beach, as well as to some nearby sulfur springs. Demand for more sophisticated beach facilities, as opposed to just surf and sand, grew as tourism became more important to the local economy in the late 19th century.
Mr. and Mrs. A.M. Bennett opened the city's first bathhouse near the foot of Bath Street in 1873. Rental of a room and a bathing suit cost 25 cents. For weaker swimmers, there was a rope leading from shore through the surf to a buoy. The Bennetts then opened their new Ocean View House in 1875, where hot- and cold-water baths cost 50 cents or three for a dollar. They enforced a strict dress code: Everyone had to be covered from the shoulders to the knees.
The Bennetts lost their business to a winter storm in 1878, but other establishments were opening up, the best known of which was Fred Forbush's Surf-Bathing House. These early structures were all rather modest wooden affairs, and by the turn of the century, the Chamber of Commerce was calling for something on a more impressive scale to draw tourists to the city.
In the spring of 1900, the United Electric, Gas, and Power Company began construction of a $30,000 facility at Plaza del Mar, just to the west of the intersection of Castillo and Cabrillo. When completed in 1901, the magnificent Moorish-style building offered two pools with steam-heated salt water that was changed every three hours, 150 changing rooms, a confectionary, a bowling alley, a bandstand, a billiard parlor, and a roof garden. This first Los Baños del Mar quickly became one of the most popular spots in the city.
Fire destroyed this bathhouse in March 1913, with insurance covering only one-fifth of the loss. After a year without a municipal pool, the Edison Company constructed a new, Romanesque-style bathhouse at a cost of $70,000. The new building boasted a plunge 64 feet long and 35 feet wide. White tile and white concrete pillars gave the interior a classical feel. The small "pleasure pier" next to the bathhouse was improved, and a diving raft added for swimmers' enjoyment.
The 1925 earthquake badly damaged the bathhouse, greatly restricting its use. With the construction of the Cabrillo Pavilion and its pool in 1927 on East Cabrillo Boulevard, there seemed no great need to repair Los Baños del Mar. In 1937, however, the city obtained a $35,000 Public Works Administration grant from the federal government toward a new facility. This third and last Los Baños del Mar opened in 1939. Adults paid 25 cents to use the open-air pool; children under 12 were charged 15 cents. All swimmers were required to shower before entering the pool and also wade through a disinfectant trough.
Los Baños del Mar was designated a city landmark in 1992. In 1996, the complex underwent a massive renovation costing more than $800,000. Today, Los Baños del Mar continues a tradition of municipal aquatics dating back almost 140 years.