News
Dems Own the Night
Capps and Jackson Win, Prop. 30 Passes, Measures A and B Approved; and Big Upset in North County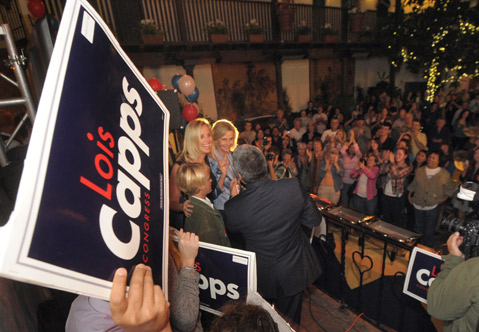 The lesson learned from Tuesday's election: Don't mess with Lois.
Facing her toughest challenge in a decade, 14-year incumbent Representative Lois Capps showed her Congressional seat ​— ​even after redistricting ​— ​will be a tough pickup for Republicans as long as she decides to run, trouncing former lieutenant governor Abel Maldonado 54.8 percent to 45.2 percent Tuesday.
She withstood a well-funded attack, taking on an opponent with more than $3 million in outside spending support who himself raised $2.4 million. He hit her with attacks that she was too partisan and had been a part of a broken Washington system for too long.
But Capps swung back, attacking Maldonado on his taxes, his record as a Sacramento politician, and his connections to the far right in Washington, despite his efforts to paint himself as a moderate. Maldonado found he had trouble with his base, having supported the largest tax increase in state history, despite a promise not to raise taxes.
And then there is her vaunted ground game. A long-storied success, but little-used in recent years, her grassroots effort sprang to life this election and was on full display over the last month. With six campaign offices, a healthy staff, and dozens of volunteers, it was a force to be reckoned with. More than 12,000 people in Isla Vista voted, according to Democratic officials, and every Democrat was called on Election Day to help get out the vote. "I won with a lot of help from the best grassroots campaign around," Capps said after addressing the crowd at El Paseo Restaurant Tuesday night.
She is still clearly the darling of the South Coast, with the loudest applause and most dramatic entrance saved for her Tuesday night. And she didn't disappoint, dancing to the music played upon her entrance and giving the crowd some love right back. "We love the Central Coast of California," she said. "And I love you. You're the best!"
Capps said she realizes how hard the last four years have been on residents, having met several people over the years who have lost their jobs. Investing in education and targeting federal money into the private sector to boost the economy are just a couple of things she hopes to do. That, and work in a more bipartisan manner. "I hope the nation is sending a strong enough signal that we can work together in a bipartisan way," she said. "We've squandered a lot there."
Maldonado conceded the race to Capps around 11:45 Tuesday night and then addressed supporters. "We've given it all we've got," he told them "Last night I said to myself, 'Did we do everything to put ourselves into a position to win this race?' And I said to myself, 'Yes, we did.'"
Maldonado then thanked his wife, children, endorsers, and supporters before a mariachi band started playing and the room began to clear out. He also reflected on his and his opponent's campaigns. "I'm proud of the race we ran," he said. "I stayed on message, and I ran a positive campaign. … It looks like negative campaigns work."
What's next for him remains to be seen. A politician for the last 14 years, Maldonado could give it another shot in 2014.
The crowd at El Paseo Restaurant downtown had plenty to cheer Tuesday night aside from Capps, as up and down the ballot ​— ​locally and nationally ​— ​it was a great day for the Democratic Party.
Assemblymember Das Williams cruised to victory over Rob Walter with 59.4 percent of the vote. The result of that race was a foregone conclusion, as the Republicans didn't wage much of a battle at all.
Hannah-Beth Jackson will return to Sacramento after an eight-year hiatus. The attorney served in the Assembly from 1998-2004. In 2008, when Democrats were celebrating a sweep of local races on Election Night, Jackson was left in the dark in her quest for the State Senate against Tony Strickland. It would take several weeks before it was determined Strickland had eked out the narrow victory, and Jackson was sent packing. But redistricting opened up a viable congressional opportunity for Strickland this year. (He lost to Julia Brownley by 3.4 percent Tuesday).
So Jackson went for it again, squaring off this time against Mike Stoker, himself no stranger to running for public office. He lost in 2010 to Williams. This time around, however, featured a lackluster campaign from Stoker, who didn't seem able to raise much support or interest. Jackson ​— ​the wife of Superior Court Judge George Eskin ​— ​rolled over Stoker.
"This has been a long journey," Jackson said Tuesday of the campaign for the 19th State Senate District. "But we are all in this together." She said she wants to invest in the community, in education, and children, to "continue to be the state that invents the future." She promised to be a "strong and independent voice for each of you because we share the same dreams."
Higher up on the ticket, President Barack Obama carried Santa Barbara County with 56.7 percent of the vote.
Lower down on the ticket, Gayle Eidelson, Pedro Paz, and incumbent Ed Heron took the top three places to become trustees on the Santa Barbara Unified School District Board of Education. "I feel excited," Eidelson said. "Surprised, actually."
The schools received good news from the passage of a statewide proposition, Prop. 30, as well as two Santa Barbara schools measures, Measures A and B, which needed two-thirds of the vote. The measures will tax parcels within the districts $45 and $48, respectively, to help offset devastating cuts the school district has endured ​— ​more than $20 million the past four years. If they hadn't passed, class sizes would have increased and teachers would have lost their jobs.
The same outcomes would have been likely if Prop. 30 had failed, but it passed with 53.9 percent of the vote statewide and received 56.2 percent of the vote here in Santa Barbara County. The failure of that proposition would have meant billions of dollars in cuts to California public education and would have led to more teacher furlough days and cuts at the local level. Class offerings at Santa Barbara City College would have been reduced, as well.
Out in Goleta, Measure G ​— ​which will require developers interested in building on any of the city's six largest agriculturally zoned parcels to go through the entire planning process, and, if successful, then take the idea to a vote of the people ​— ​passed with 71 percent of the vote. The measure's cocreator Bob Wignot made a short victory speech: "Measure G is doing surprisingly well ​— ​maybe not so surprising ​— ​thanks to the team effort and the amount of support from individuals. … We're seeing 70-percent Yes, with 30-percent No, which means 70 percent of the community got it right."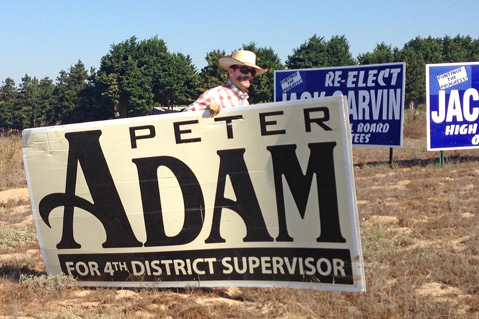 While most of the race results throughout Santa Barbara County did not come as a surprise, there was one contest that really caught people off guard ​— ​the race for the 4th District County Supervisor seat in North County. While many expected 14-year incumbent Joni Gray to win in a landslide, farmer Peter Adam upset her by 504 votes to capture the seat. Adam, a Tea Party conservative, has spoken out against the largesse of county government and believes many areas can be cut. Many conservatives were unhappy with Gray's performance on the board, believing she wasn't taking a strong enough stand against the progressive board majority.
They spoke with their votes Tuesday night, booting Gray from office. The election of Adam ​— ​who is more to the right than Gray ​— ​may force 5th District Supervisor Steve Lavagnino further to the right, as well.
In Carpinteria, Kathleen Reddington's time on the City Council will be coming to a close. Wade Nomura and Fred Shaw were elected as city councilmembers, beating out Reddington, who received 15.7 percent of the vote.
Election 2012 Results
President
Barack Obama: 59,725,608 (50%); 303 electoral votes
Mitt Romney: 57,098,650 (48%); 206 electoral votes
U.S. Senator
Dianne Feinstein: 5,613,610 (61.4%)
Elizabeth Emken: 3,528,510 (38.6%)
U.S. Representative, 24th District
Lois Capps: 119,345 (54.8%)
Abel Maldonado: 98,391 (45.2%)
State Senator, 19th District
Hannah-Beth Jackson: 134,980 (54.7%)
Mike Stoker: 111,690 (45.3%)
State Assembly, 37th District
Das Williams: 86,413 (59.4%)
Rob Walter: 59,122 (40.6%)
Santa Barbara County Supervisor, 4th District
Peter Adam: 10,828 (51.04%)
Joni Gray: 10,324 (48.66%)
Santa Barbara Unified School District Board (3 seats)
Gayle Eidelson: 32,523 (30.18%)
Pedro Paz: 29,791 (27.65%)
H. Edward "Ed" Heron: 28,253 (26.22%)
Lou Segal: 16,863 (15.65%)
Carpinteria City Council (2 seats)
Wade Nomura: 2,073 (29.00%)
Fred Shaw: 1,813 (25.36%)
Gregory Gandrud: 1,570 (21.96%)
Kathleen Reddington: 1,124 (15.72%)
Tom Perry: 561 (7.85%)
Carpinteria Valley Water District (3 seats)
June Van Wingerden: 2,368 (29.08%)
Shirley Johnson: 2,110 (25.91%)
Polly Holcombe: 2,109 (25.90%)
Robert R. Lieberknecht: 1,540 (18.91%)
Richard Forde: 2,569 (58.96%) *Two-year term
Alexandra VanAntwerp : 1,776 (40.76%) *Two-year term
Montecito Fire Protection District (4 seats)
John Abraham "Abe" Powell: 1,569 (15.65%)
Susan Keller: 1,567 (15.63%)
Gene Sinser: 1,512 (15.08%)
Roland Jensen: 1,458 (14.54%)
Goleta Sanitary District (3 seats)
John Fox: 6,291 (27.65%)
George Emerson: 5,260 (24.70%)
Steven Majoewsky: 5,472 (24.05%)
Sharon Rose: 5,294 (23.27%)
Parcel Tax Increases to Fund Santa Barbara Schools
Measure A: Yes: 41,136 (68.57%); No: 18,859 (31.43%)
Measure B: Yes: 18,159 (69.57%); No: 7,942 (30.43%)
Measure E, Increase in Bed Tax for Carpinteria
Yes: 3,226 (77.60%)
No: 931 (22.40%)
Measure G, Goleta's Agricultural Preservation Ordinance
Yes: 6,797 (71.05%)
No: 2,769 (28.95%)
Measure H, Increase in Bed Tax for Goleta
Yes: 6,926 (71.54%)
No: 2,755 (28.46%)
Prop. 30, Governor Jerry Brown's Temporary Tax to Fund Education
Yes: 4,959,206 (53.9%)
No: 4,241,246 (46.1%)
Prop. 31, Initiative Constitutional Amendment and Statute
No: 5,220,193 (60.8%)
Yes: 3,369,175 (39.2%)
Prop. 32, Political Contributions by Payroll Deduction
No: 5,086,590 (56.1%)
Yes: 3,973,720 (43.9%)
Prop. 33, Auto Insurance Based on Driver's History of Insurance Coverage
No: 4,872,423 (54.6%)
Yes: 4,046,275 (45.4%)
Prop. 34, Replaces Death Penalty with Life Without Possibility of Parole
No: 4,776,815 (52.8%)
Yes: 4,269,535 (47.2%)
Prop. 35, Human Trafficking Penalties
Yes: 7,309,737 (81.1%)
No: 1,698,939 (18.9%)
Prop. 36, Three Strikes Reform
Yes: 6,181,771 (68.6%)
No: 2,826,624 (31.4%)
Prop. 37, Genetically Engineered Foods Labeling
No: 4,835,045 (53.1%)
Yes: 4,277,985 (46.9%)
Prop. 38, Tax to Fund Early Childhood Education
No: 6,495,745 (72.3%)
Yes: 2,489,028 (27.7%)
Prop. 39, Tax Treatment for Multistate Business and Clean Energy
Yes: 5,295,968 (60.1%)
No: 3,522,579 (39.9%)
Prop. 40, Redistricting State Senate Seats
Yes: 6,068,518 (71.4%)
No: 2,427,514 (28.6%)