News
Downtown Xmas Tree on the Way
SoCal Edison Relents and Pays for Costs of Erecting Holiday Tree on State Street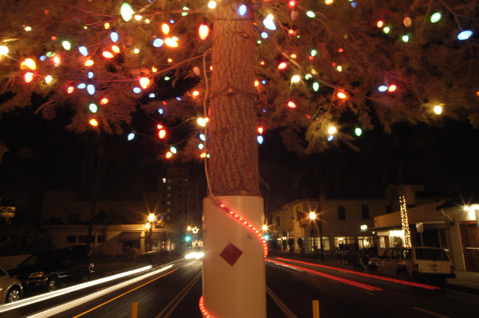 Rather than personify the Grinch who stole Santa Barbara's Christmas, officials with Southern California Edison agreed to absorb the cost of cutting down and hauling a massive Christmas Tree from forest land the company owns near Fresno and donating it to the Santa Barbara Downtown Organization (DO), as it's done every year since 1997. The tree should arrive by next Wednesday, when it will be erected in the middle of State Street by the Arlington Theater in time for next week's annual Christmas parade.
In years' past, the tree would have been installed the Tuesday before Thanksgiving, but a change in Edison's corporate donations policy coupled with serious communication problems have made the outcome of this behind-the-scenes melodrama anything but certain. Edison officials first notified the DO last year that they would not continue donating the trees, a service not replicated anywhere else. But when DO officials sought clarification beginning in August, they reportedly heard nothing back from their Edison counterparts until October 15. At that point, Edison explained the tree gift — a centerpiece for downtown Christmas festivities — was no longer in the utility company's budget.
DO officials started scrambling to pay for the tree on its own, but claimed that the cost would be $30,000 to $40,000, so City Hall and downtown business leaders began lobbying Edison to relent. In response, Edison first suggested it would provide the tree if the DO agreed to cover the $3,000 it cost to haul it, but ultimately agreed to absorb the entire cost of providing the tree with the expectation that it won't do so again. Edison's change of policy coincides with company government affairs executive — and former Santa Barbara Mayor — Hal Conklin's imminent retirement. Conklin is retiring so he can volunteer fulltime for a non-profit planting a million trees a week in Africa and Haiti.