Sports
Big Game, Big Loss
University of Alabama Delivers a Wicked Smackdown to Notre Dame's Fighting Irish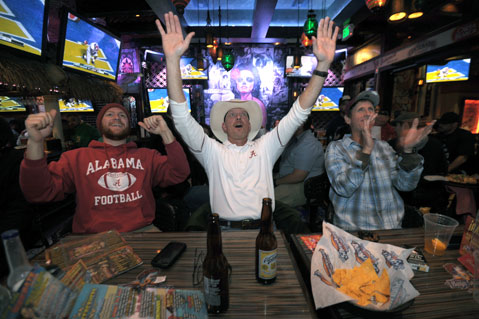 There was way too much Miss Alabama on TV Monday night, and I'm not talking about Brent Musburger's fawning over the girlfriend of the Alabama quarterback. It was all the missed tackles of Alabama running backs and missed coverage of Alabama receivers that were getting me down.
I'd been saying all last week that if I were in Vegas, I wouldn't hesitate to take 10 points and put a pile of money on Notre Dame. Thankfully, I never trade the brilliant coastal sunsets of Santa Barbara for the nighttime glitter of Sin City, so I'm not hitchhiking in Barstow today. Alabama covered the spread, and then some, in the first quarter.
It was a tough night for the Fighting Irish. They went up against a Crimson Tsunami unleashed by Nick Saban, the glowering Alabama coach who knows something about winning these big games, even if he does not seem to enjoy it.
The smackdown of Notre Dame — 42-14 was the final score — reminded me of a historic night in 1970 when USC gave Alabama the same treatment. Before a stunned crowd in Birmingham, the diversified Trojans ran roughshod over the Crimson Tide, 42-21. Bear Bryant, the wily Alabama coach, thereby ended the segregationist resistance to his recruiting players of all colors. "Alabama started loading up one year after that game, and they've been reloading ever since," said Sam "Bam" Cunningham, a USC fullback from Santa Barbara who blasted his way through the Alabama defense that night.
Alabama lineman John Hannah later became Cunningham's teammate with the New England Patriots and a lifelong friend. "I texted congratulations to John a long time before the [Monday night] game was over," Cunningham said. "Alabama couldn't play much better. It was scary. Notre Dame seemed a little bit off. They tackled like USC tackled all this year — badly. It's difficult to stop a team that starts running downhill at you."
Alabama's a great team — and how fantastic a player is Johnny Football (sometimes known as Johnny Manziel), who led Texas A&M to an upset of the Tide? — but I do not know a Notre Dame fan who isn't proud of the Irish, knowing they will be hitting the books to keep up the team's No. 1 graduation rate, and hopeful that they have a bright future under third-year coach Brian Kelly.
HIGH AND DRY: One of the most refreshing sights of the bowl season was to see no attempt by Oregon players to dump Gatorade on coach Chip Kelly in the final moments of their victory over Kansas State.
LONG SEASON: Like Notre Dame, Bishop Diego High went 12-0 before the Cardinals were tripped up by North Torrance in the CIF Southern Section football semifinals. Cal Hi Sports still decreed the Cardinals the No. 1 team at the Division 4 level in Southern California. They defeated the South's state finalist, Santa Fe Christian of Solana Beach, during the regular season. Prep football teams that reached the state finals had to play 16 games between the end of August and mid-December. That seems excessive, likely to leave some teams wrung out — like Santa Fe Christian, which lost the state championship by a 66-7 score to Central Catholic of Modesto.
LONG SHOT: Jordan Sachs gave Westmont College its finest YouTube moment last Thursday night when he sank a half-court shot at the buzzer, sending the Warrior basketball team to a miraculous 73-71 overtime victory over South Dakota School of Mines. Sachs launched his shot after grabbing a defensive rebound off a missed free throw with three seconds remaining. The ball caromed around on the rim and backboard before settling through the hoop. It's not unusual to see a half-court shot go in, Westmont coach John Moore pointed out, but rarely do they fall with a game on the line. That's why longtime Laker fans remember Jerry West's 60-footer against the New York Knicks in the 1970 NBA Finals. Oops — West's epic toss tied the score at the buzzer, but the Lakers lost the game in overtime.
PICKING UP THE PACE: About this time last year, UCSB's Orlando Johnson sank a long three-pointer that beat Cal Poly by a point in San Luis Obispo. OJ, drafted by the Indiana Pacers, scored his first NBA points last week. Indiana called him up from the D-League Fort Wayne Mad Ants, for whom he scored 25 points in a Thursday night game, and on Friday night in Boston he took the court in the fourth quarter against the Celtics. The former Gaucho star scored seven points with two rebounds and a blocked shot, and the next day he scored seven more as the division-leading Pacers defeated the Milwaukee Bucks.