News
Celebrity Pets
The Real Winners at the Golden Globes
On Sunday, January 13, Lena Dunham brought home a Golden Globe for best actress in a comedy series (Girls, HBO). However, it was a 12-pound dog named Lamby who really lucked out. According to an article in Vanity Fair, Dunham recently adopted the dog from the Brooklyn Animal Rescue Coalition. Dunham doesn't know the breed. "He's just 12 pounds of weirdness," she said. "He comes up to just below my knee, and I have a feeling we're going to have a great life together." Dunham also stated that she plans on bringing Lamby with her to the set of Girls, and if he's well behaved, he may even make a cameo or two.
Jessica Chastain, who won a Golden Globe for her role in Zero Dark Thirty, is a firm believer in pet adoption. According to the U.K.'s Daily Mail, Chastain has three rescue pets: a three-legged pooch named Chaplin; Radley, a Corgi mix; and Roman, a Chihuahua mix.
These are just two examples of celebrities who have recently adopted pets. Others include Jake Gyllenhaal, Rachel Bilson, Charlize Theron, Kate Bosworth, Hillary Swank, Selma Blair, Jane Lynch, George Clooney, Matthew McConaughey, Orlando Bloom, Kelly Ripa, and Micha Barton.
It's great to see celebrities setting trends by adopting a pet. Anytime stars give attention to the plight of homeless animals, it's a definite win in my book!
If you don't own a pet but would like to, choose an animal shelter over a pet store. There are many shelters in the Santa Barbara area alone with hundreds of animals looking for loving homes. Even if you're looking for a purebred, you may find one at an animal shelter. For a listing of Santa Barbara area rescue groups, animal controls, and humane societies, click the following link animaladoptionsolutions.com.
If you don't see what you're looking for at a local animal shelter, you can go online. Go to petfinder.com, and you can search by area, breed, sex, and size of the animal.
Before you adopt, show up to the animal shelter informed. Here are some questions you should ask the animal shelter before you adopt:
1. How is an animal's behavior evaluated? Most dogs should be tested for their tolerance when being handled as well as their behavior around food.
2. How does the animal get along with other animals? What about with kids?
3. What medical treatments and health evaluations have been done? Cats should be tested for FIV/feline leukemia and worms, be up to date on shots, and be spayed or neutered. Dogs should be tested for heartworm disease and worms, be up to date on shots, and be spayed or neutered. If these tests and procedures haven't been done, you will want to take the pet to the vet soon after adopting.
4. Are there trainers on staff to help if you encounter behavior problems with your pet? If not, ask if they have any recommendations.
5. What happens if it doesn't work out with the newly adopted pet? Some shelters have strict rules that the pet must be returned to the shelter.
ANNOUNCEMENT
CARE4Paws FurEver Valentine's Friendraiser
CARE4Paws will host its second annual FurEver Valentines Friendraiser Saturday, February 9, 7-10 p.m. at Oreana Winery. Enjoy great wine and food, delicious chocolate, live music, fabulous silent and live auctions, and much more. Contact CARE4Paws if you want to preregister or wish to support the event by donating food, dessert, or silent auction items or by becoming a FurEver sponsor. For more information visit care4paws.org
Adoptable Pet of the Week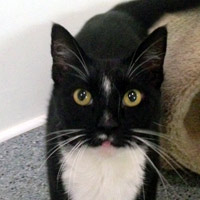 Chulo is a very social kitty cat. He is about 10 years old and is a neutered male. He can be playful but will also spend time curled up next to you on the couch. Even though Chulo is an older cat, he still has a lot of love to give. He is quite handsome with his black and white markings, and he will be sure to charm you as soon as you meet. Come in and visit him today! The Santa Barbara Humane Society is located at 5399 Overpass Road. Shelter hours are Monday-Saturday, 10 a.m.-4:30 p.m. For more information, call (805) 964-4777 or visit sbhumanesociety.org