Arts & Entertainment
Adam and Binki: Better Together
The Moldy Peaches Frontman Discusses New Collaboration
Heartbreak rarely sounds as good as it does on Adam Green & Binki Shapiro. The first collaborative effort from Green and Shapiro is an undeniably pretty affair wrapped in sweet acoustic guitars, warm drum sounds, and Shapiro's undeniably ladylike deliveries. Never mind that the songs touch on subjects ranging from jealousy and misfortune to feigned pleasantries and "pity love"; the gauzy '60s folk pop treatments are as close to aural candy as it gets.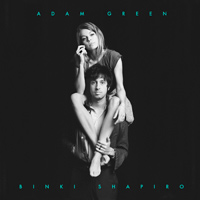 Of course, neither Green nor Shapiro is a stranger to a good collaboration. Green spent a chunk of the '90s co-fronting the Moldy Peaches alongside Kimya Dawson, while Shapiro made a name for herself at the helm of indie rock trio Little Joy, alongside then-boyfriend Fabrizio Moretti. Together, though, Green and Shapiro hit on something special, making for an album that immediately calls to mind the records of Lee Hazlewood and Nancy Sinatra, and Johnny Cash and June Carter. This Friday, February 1, Green and Shapiro make their Santa Barbara debut at SOhO Restaurant & Music Club, where they'll open for another hot-ticket folkie, Father John Misty. Below, we chat with Green about the making of Adam Green & Binki Shapiro.
You and Binki have known each other for a while. Had you always wanted to collaborate? We would hang out a lot, and I think that we just sort of knew that we got along well and we could do something like this. Probably ever since we met, we knew we clicked creatively. We could have those never-ending conversations with each other, and when you find someone like that, you kind of figure you could take that anywhere.
What prompted the writing sessions? Honestly, I was just stoned on my couch one day, and I had this idea — "Write duet with Binki." I wrote it in bold letters as a reminder, and the next day I followed up. It was just a stoned idea that I took too far. She was getting on a plane when I called her about it, and she was basically like, "Yeah, I'm about to take off, but I'll do it."
How was she to collaborate with? For me, I think that Binki's got to be the number one person to collaborate with. It became very clear to me that I consider her to be very unique and special. I like that she sings like a lady. That's pretty rare. A lot of times I think I'm on the search to find things that soothe me, whether it's music that causes me to relax for a second — I guess it's mother replacement or something. I definitely found Binki's voice to be soothing, so I was immediately drawn to it.
How did the writing process work? We wrote a lot of stuff for each other to sing. It became apparent that we could have the dynamic be me as an older guy and her a younger girl. Even she sort of suggested that I sang from the perspective of a decrepit older guy, and I'd say that was true of the relationship in a sense. When we started making the record, I was sort of rolling around on drugs being pretty lecherous, and we definitely made sure to capture that.
Were there certain songs or albums that you both listened to a lot while you were writing? You know, we had such a short time to record, just a couple of weeks, so we didn't have enough time to delve into sharing and caring about music we liked. There was this particular John Cale song that for some reason Binki was obsessed with, and it was so annoying for me. I don't really think it influenced the record; I don't think we tried to emulate it; but for whatever reason "You Know More Than I Know" was played many, many times throughout the recording, to my chagrin. I mean, I like John Cale, but I don't know, I just was not crazy about the production on that song. But I remember listening to a lot of stuff that had nothing to do with the record, like Thurston Moore's solo album and the Drive soundtrack.
The record calls to mind some of the great folk collaborations of the '60s. Yeah. I think we really just ended up making the record that we want to listen to while we're driving around. We tried to approach the record to be subconsciously adult. We approached it like a piece of artwork, and we wanted it to be based on life experiences. If anything, a lot of the popular duet stuff that you hear nowadays is pretty bubblegummy, and I think we were trying to stay away from that if we could. When I hear it, I just hear Adam and Binki, but I totally understand why people would make the comparison.
4•1•1
Adam Green and Binki Shapiro play SOhO Restaurant & Music Club (1221 State St.) with Father John Misty on Friday, February 1, at 8 p.m. Call (805) 962-7776 or visit clubmercy.com for info.