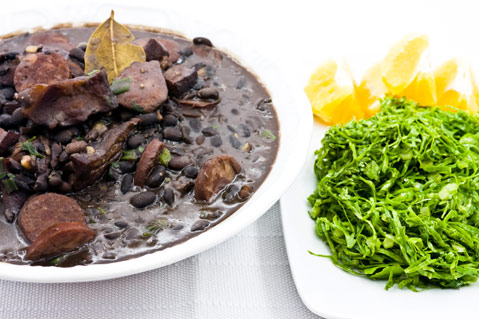 2 cups dried black beans
4 applewood-smoked bacon slices
1 (1-lb.) boneless pork shoulder (Boston butt), trimmed and cut into ½-inch cubes
¾ tsp. salt, divided
½ tsp. freshly ground black pepper, divided
3 bone-in beef short ribs, trimmed (about 2 pounds)
3 c. finely chopped onion (about 2 medium)
1¼ c. fat-free, lower-sodium chicken broth
4 garlic cloves, minced
1 (9 oz.) smoked ham hock
1 Tbsp. white vinegar
Farofa (toasted manioc flour)
Place beans in a small saucepan; cover with cold water. Bring to a boil; cook for 2 minutes. Remove from heat; cover, and let stand 1 hour. Drain.
Cook bacon in a large skillet over medium heat until crisp. Remove bacon from pan; crumble. Sprinkle pork evenly with 1/8 tsp. salt and ¼ tsp. pepper. Increase heat to medium high. Add pork to drippings in skillet; sauté 8 minutes, turning to brown on all sides. Transfer pork to a 6-quart electric slow cooker. Sprinkle ribs evenly with 1/8 tsp. salt and remaining ¼ tsp. pepper. Add ribs to skillet; cook 3 minutes on each side or until browned. Place ribs in slow cooker. Add drained beans, remaining ½ tsp. salt, onion, broth, garlic, and ham hock to slow cooker, stirring to combine. Cover and cook on low 8 hours or until beans and meat are tender.
Remove ribs from slow cooker; let stand 15 minutes. Remove meat from bones; shred meat with 2 forks. Discard bones and ham hock. Return beef to slow cooker. Stir in vinegar and crumbled bacon. Serve with orange wedges, shredded collard greens, and farofa (toasted manioc flour).