News
Conman Works Jail System
Steven Kunes Escaped Custody But an Arrest Warrant Wasn't Issued for Months
Leave it to Steven Kunes to be the first to exploit a loophole opened in Santa Barbara law enforcement's safety net when the state changed the way it incarcerates less serious felons in 2011.
The onetime Hollywood screenwriter-turned-career conman — who claimed to have penned the biopic Catch Me If You Can about famed imposter Frank Abagnale — was sentenced to four years in state prison last year for forging around $7,000 in checks and scamming $2,600 out of a onetime friend, but he was sent to County Jail to serve his time under the new AB109 guidelines meant to ease prison overcrowding.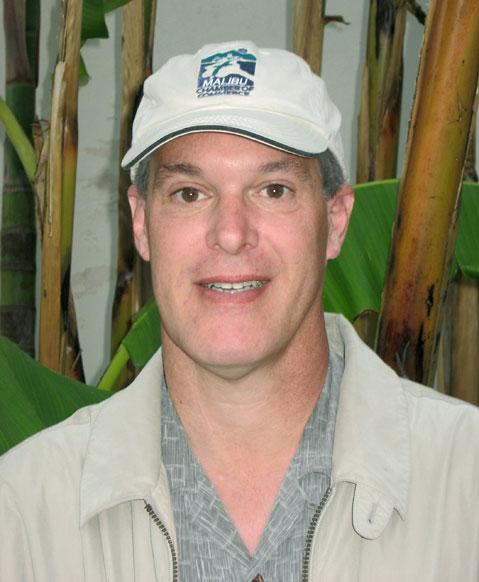 Released from Santa Barbara's similarly congested jail with a GPS monitoring device buckled to his ankle, Kunes — 56 years old and in-and-out of white collar prisons on similar charges since 1999 — cut the machine's strap at the FedEx Kinko's on Hope Avenue last August and sent it to the Sheriff's Department. The taunt gave pause to seasoned detectives. "I'd never seen that before," said Ted Toedte with the Felony Fugitive Extradition office.
The severed strap staff alerted law enforcement, but Kunes's arrest warrant was never activated and funneled to the appropriate personnel because he was the first AB109 prisoner to cut off his device in this county. "A report was written," explained Sheriff's Department spokesperson Kelly Hoover, "but because it was the first case of its kind, the protocol wasn't clearly defined yet on how to handle that situation with this new population, and a warrant was not immediately issued for his arrest as is usually the case." There are currently 128 Santa Barbara "clients" on the same kind of electronic monitoring, Hoover said.
Preventative safeguards are now in place to keep such oversights from happening again, but Kunes enjoyed more than four months of unadulterated freedom before the mistake was caught on February 6 and the Sheriff's Department plastered his "Wanted" image on its Facebook page late last week. A couple days later, Kunes was spotted at the bar at The Palms in Carpinteria by one of the restaurant's employees, and he was arrested without incident shortly after.
He had called Toedte before that, explaining he was worried about spending more time behind bars, but he admitted he "did a stupid thing" by going on the lam. Toedte told Kunes to turn himself in. During his investigation, Toedte called Kunes's relatives in Pennsylvania, where he's from. Kunes, family members relayed to the detective, told them his arrest warrant was a big mistake and that he was working to clear things up. He took some of that time to reactivate his social media presence, Tweeting on February 11: "Am wondering of Manti Te'O will be drafted by the Fantasy Football League !!!"
Toedte is the only sworn deputy in the Felony Fugitive Extradition office and, with the help of a civilian assistant, oversees approximately 2,400 felony arrest warrants. It's not clear if Kunes has hired or been assigned legal representation.
Kunes will be charged with escape, and the prosecution will be treated the same as if he had hopped a jail wall, said Deputy DA Brian Cota. If found guilty, he faces up to five years in state prison — on top of the eight months of remaining time on his original term — and won't be eligible to serve the time in County Jail. Before his original sentence was handed down last May, Kunes had skipped bail, traveled to the East Coast, and evaded authorities until his re-arrest in New Jersey. When he was finally ordered to prison, he said to Cota after the court hearing, "Thank you. That was fair."
Kunes was originally sentenced to five years on the forgery and theft charges, but a year was shaved off the term after he made restitution. The theft by false pretenses charge came after Kunes convinced Wally Ronchietto, the former Café Buenos Aires owner and Kunes's friend at the time, that he had landed a movie deal with producer/director Robert Zemeckis for a film project Kunes and Ronchietto were working on and that he needed $2,600 to secure an editor. Only after writing Kunes a check did Ronchietto realize the movie deal never existed.
During his first stint as a fugitive, Kunes mailed a Catch Me If You Can stage production review to this reporter. There was nothing else in the envelope. While he called The Santa Barbara Independent a few weeks later, promising an interview at a different time, he never connected again. Those were not his first contacts with the paper. In 2011 he wrote a number of unsolicited guest commentaries that were published by The Independent and other Santa Barbara media outlets. It was eventually discovered, however, that they were largely plagiarized from Newsweek columns. The stories have since been removed from the media websites.
At around the same time, reporters with news outlet phillyburbs.com in Bucks County, Pennsylvania, got in touch with Kunes before his arrest on the East Coast. In a Facebook message to them, Kunes said his case had "been settled and was overblown, particularly in the media, as a result of my ex-wife and a former girlfriend, who is a journalist who's trying to sell a book about my life. … I am still currently at work on the same film I've been working on for almost a year," he went on. "I can't understand why you would have any interest in me."
In 1982 Kunes was sued by J.D. Salinger for trying to sell a fake interview with the reclusive author to People magazine. The two sides eventually settled out of court. Five years ago, Kunes sold an interview with Jimmy Buffett — who was about to play the Santa Barbara Bowl — to The Daily Sound. After it ran, its publisher got a call from Buffett's people, who said the interview was completely made up.
According to Kunes's current IMDB page — heavily edited and redacted since his first Santa Barbara arrest — he helped write a 1985 episode of The Love Boat and the 1986 TV movie Alvin Goes Back to School. He also has writing credits for shows like a.k.a. Pablo, What's Happening Now!, Trial and Error, and A Salute to America's Pets.
Kunes will be back in Santa Barbara Superior Court on March 1 for an arraignment on his escape charge.