News
Washing Your Bike
A Lesson in Patience and Humility
My mother has always insisted that I was a very stubborn child. No surprise: I don't agree. I simply wanted to do it my way.
Tom Sachs is a N.Y.C. artist who creates sculptural images of contemporary objects and culture, and he demands that in his production shop there is one way to do everything. He has codified the way into a shop manual and video called Ten Bullets.
Other videos in his shop-protocol series look at his color palette (purple is forbidden!), plywood, and sweeping. How to Sweep is a paean to doing correctly any job, no matter how minor or inconsequential it may be, or seem to be.
For many cyclists, washing your bike is a minor task. For me, washing and lubricating my bike is a lesson in patience as well as a way to understand my bike better and be aware of and fix small problems before they become big. Some riders never clean their bikes, ostensibly believing that dirt forms a protective layer. When I was 6 years old I made a similarly scholarly argument against teeth brushing.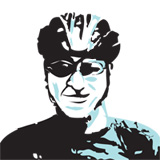 I've matured. Dirt is bad for your bike frame, chain, and components. That greasy layer on your chain is filled with small abrasive particles that increase wear and tear. It is also much easier to work on a clean bike. For example, if you're on your way to a hot date and your chain falls off — with a clean bike — no problem. Stop, replace the clean chain onto the clean front chain ring, and you're off. A dirty chain results in black greasy fingers and hands. Probably not attractive to your special love! So take 10 minutes once a week and wash your bike. Here's a cool diagram of the parts of your bike that you need to wash and clean.
If your bike isn't super dirty, you can probably clean it with some spray cleaner (Simple Green) and a couple of rags to wipe down the frame and components. But there are many mystical paths to cleanliness. This is just one.
You don't need a lot of fancy tools. If you've got a hose, a bucket of clean water and another bucket with soapy water, a soft scrub brush, and some rags, you are ready to wash your bike.
Some quick answers to questions I know you're thinking about. No, you don't need a bike-specific cleaner. Dish soap, which has a mild grease-cutting agent, is fine. In fact, heavy degreasers are not good for bicycle bearings and chains. Is it faster to wash your bike with a pressure washer? Yes, but don't be tempted. The water will be forced into pedal, headset, wheel hub, and bottom bracket bearings. Bad news!
The goal is a clean, lubed, and ready to-roll bike in 10 steps and 10 minutes. Start the clock. Ready … set …GO!
Step 1: Dip your scrub brush in the bucket of soapy water, and start with the handlebars. Wash across both sides of the bar and brake hoods and then around the stem and down the top of the headset, across the top tube and seat post.
Step 2: Load up the brush again, and go back to the head and down tubes. Brush the lower headset, fork crown, front brake, and down both sides of the fork blades to the front axle.
Step 3: Dip again for more soap on your scrub brush. Wash the lower headset. Brush around the down tube and hit the area around the bottom bracket. Save the really grimy greasy cranks and chain rings for last.
Step 4: Swirl the brush in the bucket to get the gunk off. Start at the base of the seat post and brush down. Scrub all the way to the bottom bracket and back up to the base of the seat post. Now down both seat stays. Be sure to get the rear brake, down to the rear axle, and both chain stays.
Step 5: Load up the brush again. Slop soapy water on the rear derailleur, then the front derailleur.
Step 6: Once more in soapy water, and now scrub the chain rings, cranks, and cogset.
Step 7: Using clean water, rinse off your bike, cleaning your brush frequently. For this step you can use a garden hose and sprinkle softly with low pressure.
Step 8: Now grab your rags, and wipe the bike dry. Change the rag around frequently so that you're wiping with a clean rag.
Step 9: Now it's time to lubricate your chain. Go to your local friendly bike shop if you're not sure of the best lube. Remember to wipe the excess lube off the chain by holding a soft cloth on it and turning the crank for a few minutes. Caution: Keep fingers away from moving parts!
Step 10: Break out the lube, and put a drop on the derailleur pivot points and brake pivot points (don't get any on the brake pads). Finally, a drop of oil on exposed runs of cables can work wonders. DONE!
I've written before about Sam Maloof, a famous American craftsman who for over 60 years hand-built simple chairs and beautiful furniture. Before he died, Sam was interviewed in American Craftsman magazine and tells this story: He once sent a friend's son looking for a summer job to the famous Pennsylvania woodworker George Nakashima. The boy called Sam and told him that Nakashima had hung up on him. Sam asked what had been said. Nakashima had said, "I couldn't teach you to sweep my floors in three months." The boy answered, "I know how to sweep floors." Sam says that the correct answer is, "'If it takes a year, I want to learn how to do it.' There has to be humility. Patience is very important."
If you're cleaning your bike, building furniture, brushing your teeth, or sweeping — do the job right. Bike cleaning is a perfect way to gain a deeper understanding of and appreciation for the machine that keeps you rolling.