Theater
The Last Five Years in Song
Elements Theatre Tackles Relationship Musical
Musical theater is a resilient art form. Just when it seems as though there's nothing new to do, out pops a novel take on the song/story combination, and the magic is back. In recent years, the broader influences of pop and jazz, along with the specific challenge presented by the innovative work of Stephen Sondheim, have come together to spawn a younger generation of writers/composers who are pushing the musical sophistication of the traditional Broadway song to its limits. Within this class of 21st-century musical movers, Jason Robert Brown, the writer of such shows as Parade and Songs for a New World, stands out as perhaps the most striking example of a composer who crafts songs that are stories unto themselves, miniature plays within the play that not only reveal character but also advance the plot, complicate the narrative, and develop the show's themes.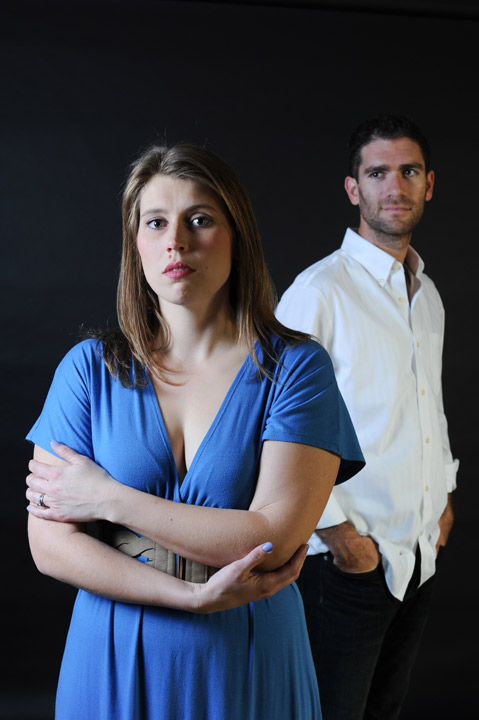 For the next three weeks, S.B.'s Elements Theatre Collective will perform Brown's autobiographical two-person show The Last Five Years at nine different locations in Santa Barbara, Goleta, and Carpinteria. This idealistic group of young theater professionals brings together an interest in ambitious, next-generation programming with the desire to reach audiences who may ordinarily lack access to such performances. They do so by producing their shows at such diverse locations as The Piano Kitchen on Rose Avenue, Java Station, Casa Esperanza, the Carpinteria Woman's Club, and the Faulkner Gallery at the Santa Barbara Central Library, and by making all their performances free. Yes, that's right, FREE.
For this production, director Sara Rademacher and producer Mary Plant-Thomas have gone with their team's star performer, the versatile actor/singer Emily Jewell, and have cast her opposite Elisha Schaefer, an actor who grew up in Santa Barbara, trained at Vassar College, and appears made to play the leading role of Jamie Wellerstein, the on-the-rise novelist whose relationship with actress Catherine Hiatt is dissected over the course of the show.
The principle conceit that playwright Brown has used to create dramatic interest in what he has acknowledged to be a thinly veiled dramatization of his breakup with ex-wife Theresa O'Neill is a one-sided reverse chronology. As the play begins, Cathy laments the breakup of her marriage to Jamie, to which the Jamie of five years previous replies with a song that celebrates Cathy as his "Shiksa Goddess." From there, the Jamie character moves forward in time, while Cathy goes backward. Their opposing narrative arcs meet in the middle, when, for the first time in the musical, they sing together. That scene is set in Central Park, and it ends with Jamie and Cathy getting married.
After pulling off the neat trick of producing the complex faux-Restoration comedy Or, in the fall of 2012, Elements has headed in yet another direction, but that's according to plan. "We don't want to be a company that has just one type of show that we are always doing," said Jewell. No danger there, as this contemporary musical could hardly be further from the period costumes and clever-but-contrived wit of their last effort. The material, which has a splendid musicality to it that raises it above the level of nearly any comparable recent two-person musical, seems like a great choice for this group, who are blessed with consistent access to such talented singers and musicians.
For Rademacher, Plant-Thomas, and Jewell, the challenge of switching spaces every few performances is just one more way to stay creative. "Our mission is to reach the whole community," says Rademacher, "and not just the people who already go to the theater. We want to help people overcome the things that have stopped them from going to plays in the past." As for the next goal for this 21st-century theater organization? "We are buying our own lights," said Plant-Thomas. "LED, so that we can get more watts per socket. That's been one of the toughest things about moving around, trying to figure out where we plug in."
4•1•1
The Last Five Years runs Friday, April 12-Sunday, April 28, at various locations. For full information, visit elementstheatrecollective.com.