Voices
The Droning of California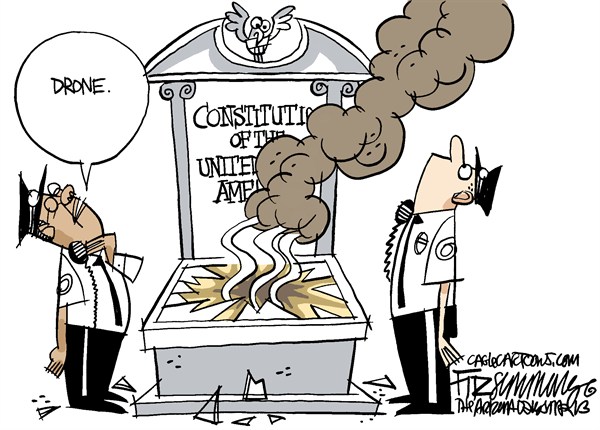 Corporations in California are at war with us and each other, vying over who will get the first $22 billion drone contract in our state.
Legislator Jeff Gorell, 44th Assembly District, wants to build drones in Oxnard, turning Highway 101 for a 75-miles stretch – from Lancaster (Edwards Air Force Base) to Lompoc (Vandenberg Air Force Base) – into a "technology corridor" for drones. Point Magu Navy Base, designated to assemble the drones, would complete the "military triangle" for drone technology in central California.
Assemblyman Gorell, past naval intelligence officer, manipulating drones over Pakistan, wants to use drones on the American people to "fight crime." Drones at 5,000 feet, and with infrared cameras, can take detailed photographs on the ground and detect movements within walls or curtained windows. Drones can also be weaponized, with advanced weapons. And reports on the evolving technology have suggested that drones will eventually be reduced to "bug-size," fitting in the cracks of walls or windows, and entering homes for surveillance purposes.
Gorell wants to secure the profits of the privatized drone industry "project" through tax-free incentives – on the backs of California taxpayers. He baits Californians by promising jobs, but mark my words: The switch is, the jobs will largely go to foreign workers brought in via international visas. Homeland Security and the Defense Department will move into the military triangle once the legislation is passed in Sacramento, undermining the project's democratic accountability.
Drone technology will, at first, likely target illegal border-crossers and marijuana growers. As the drone industry expands (by "700% in the next few years") it will likely also spread to other states and impact every American.
What will drone technology mean to the further eradication of American personal freedoms? Could drones possibly lead to the elimination of due process, if Americans are targeted as "terrorists" or "combatants?"
Can we really presume that this marriage of military technology, privatization, and corporate personhood will serve – rather than victimize – the American people?