Living
Yellow Dragon Disease
A Devastating New Pest Threatens Citrus Trees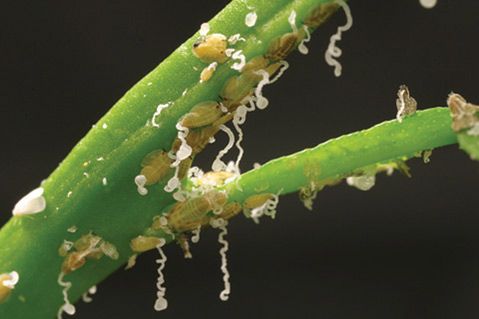 A while back, it was the turpentine beetle and pitch canker fungus that began attacking California's native Monterey pines; an invasive psyllid began sucking the life out of Eugenia hedges around the same time. And the lerp psyllid along with the longhorn borer have been infesting eucalyptus species for a decade or more. Now there is another threat to trees in California — this time to citrus. The disease (from China) is called Huanglongbing or HLB (translated as yellow dragon disease), and it is carried by another invasive psyllid known as the Asian citrus psyllid (ACP).
HLB has already wreaked havoc in the vast citrus orchards of Florida, where the University of Florida estimates the disease has tallied more than 6,600 lost jobs, $1.3 billion in lost revenue to growers, and $3.6 billion in lost economic activity; it has recently been found in Southern California. Industry leaders are worried, very worried. So far, the sightings have been managed swiftly and successfully, but the threat remains.
Symptoms of the disease include bitter, misshapen, basically inedible fruit. Fruit will also stay green and never achieve its ripe color, leading to the other name for this disease: citrus greening. The infected tree will ultimately die. Not only the infected fruit, but all parts of the plant should be quickly and thoroughly bagged and disposed of. Notify authorities of any suspected infections and cooperate with officials who will want to confirm evidence (or lack thereof) of this deadly pest.
In the usual attempt to control a foreign threat, the California Department of Food and Agriculture has instituted a quarantine on all citrus products and material around the sites where this new pest has been found. Santa Barbara and some surrounding area are within that quarantined zone. Commercial growers are advised against transporting anything that might carry the disease or its vector to another citrus-growing area. Even home growers are urged to be on alert.
The official notice is available on the California Department of Food and Agriculture (CDFA) website at cdfa.ca.gov/plant/acp/treatment_maps.html. The CDFA urges everyone to be on the lookout for signs of the pest and to observe its recommendations about moving citrus products and plant parts. "Any fruit that is not commercially cleaned and packed, including residential citrus, must not be removed from the property on which it is grown, although it may be processed and/or consumed on the premises. The success of any quarantine depends on cooperation from those affected," said CDFA Secretary Karen Ross. "The stakes couldn't be higher for California citrus." Suspicious plant material should be dried for two weeks or double-bagged prior to disposal.
The frontline for invasive pests is the U.S. Department of Agriculture. The agency's APHIS division monitors pests and alerts appropriate agencies and citizens to new threats. It has declared April to be Invasive Plant Pest and Disease Awareness Month. Its recent blog posting is somewhat amusing, but equally sobering. See blogs.usda.gov/2013/04/02/a-day-in-your-life-with-invasive-species.
Remember, those rules about bringing plants and plant material (even food stuff) into the state and the country are there for very good reasons. Everyone can help protect our landscapes and food supplies by heeding them.