Food & Drink
Montecito Urban Farms Serves Chefs
S.B.'s Restaurants Score Custom-Grown Produce
While many chefs have long trolled Santa Barbara's farmers markets for much of the produce that makes its way into their kitchens and onto our plates, a devoted kitchen garden takes the whole farm-to-table thing up the proverbial notch. Of course, not every restaurant has the space for a garden, and — despite new technologies that make rooftop gardens ever simpler to create and maintain — not every restaurateur is blessed with a landlord willing to give such an endeavor the okay. (In S.B., there's probably a red-tiled-roof-preservation committee who'd squawk, anyway.) And, as diners can certainly attest, there's something delightful about ordering what you want and having someone deliver it to you exactly as specified (most of the time).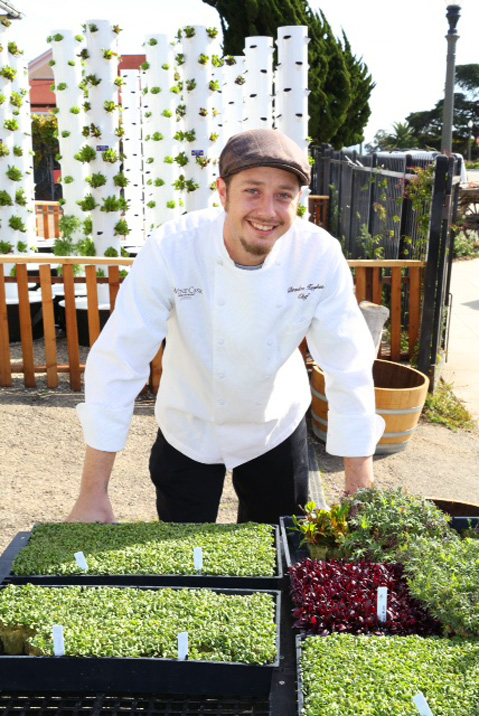 All of which is why chefs from restaurants including bouchon, Wine Cask, Intermezzo, El Encanto hotel, Café Luna, Scarlett Begonia, and Sojourner are so stoked. Montecito Urban Farms (located not in Montecito but on Summerland's main drag, Lillie Avenue) is a new tower garden operation that uses the super eco-friendly, space-saving, dummy-proof system to grow specialty greens and other fresh produce exactly to their specifications. (While tower-grown plants tend to grow 30-50 percent faster than conventionally farmed plants, chefs who like 'em young can request to have their selections harvested at precisely the right moment.)
"The advantages of working with Montecito Urban Farms are nothing short of incredible. Imagine having your own personal farmer who will plant anything you wish, anytime you want, and harvest any time you need," said Mitchell Sjerven, co-owner of Wine Cask. "Custom seed selection, combined with locally grown and harvested produce, is firmly planted in the mainstream of all Santa Barbarans who care about local, green, and sustainable food."
Montecito Urban Farms houses around 150 vertical Tower Gardens — soilless, aeroponic, modular towers that hold up to 44 plants apiece, which are fed with water and nutrient-rich tonic that are circulated up and down the tower's interior, continually nourishing the crops. In addition to the restaurant-specific towers, Montecito Urban Farms holds workshops to spread the Tower Garden gospel, grows and sells produce to the public on Tuesdays and Thursdays, and sells the towers themselves, as well as a wide variety non-GMO, organic seedlings to get your own kitchen (or green drink) garden started.
Of course, getting a taste of what the towers can do is as easy as going out to dinner.
4•1•1
Montecito Urban Farms is located at 2352 Lillie Avenue, Summerland. For info, call 694-8224 or visit montecitourbanfarms.com.