Living
Board Shapers
The Handcrafted Surfboards of Isla Vista's The First Floor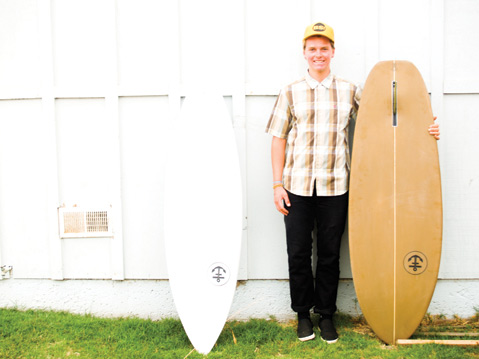 Dressed in cutoff jeans and a faded Beach House T-shirt, Jeff Svoboda sports a wetsuit tan and wiry mustache that fit the mold of your typical Isla Vista surfer. But unlike most of his friends living in the infamous beachside community, Svoboda doesn't shotgun beers or burn couches before paddling out. He's too busy shaping surfboards and glassing fins in his basement, rushing to meet demand for the unique, handcrafted products of his new business venture, The First Floor.
The project began in early 2012, when Svoboda and fellow surfer Will Howard decided to experiment with shaping retro-inspired surfboards in a small room below their Del Playa residence. It wasn't long before the weekend hobby turned into a serious addiction, and suddenly the two young entrepreneurs found themselves spending the majority of their free time in the fluorescent haze of the "first floor."
"At first, we were just shaping for ourselves, messing around with boards that we thought would be fun in Santa Barbara," Svoboda said. "But pretty soon we were getting emails and phone calls from people who wanted to order custom boards and ding repairs. Apparently it doesn't take long for a rumor to spread in Isla Vista."
One year in, Svoboda and Howard have handcrafted over 80 surfboards, drawing inspiration from the waves outside their home and the work of legendary shapers like Skip Frye and Rich Pavel. The First Floor products have a bit more foam and "float" than your average high-performance short boards, but Svoboda said that makes them perfect for the fickle conditions associated with Isla Vista.
"You don't need a board that was shaped for Pipeline when it's waist-high and mushy," he said. "I think people are starting to catch on to that around here. Most of my friends prefer a board with character and personality to the machine-made blanks you'll find in most surf shops."
Howard shares similar feelings about shaping and emphasized the importance of supporting the area industry. "When it comes down to it, The First Floor was created to make surfing in Isla Vista more fun," he said. "We feel more connected to the community when our boards are shaped within walking distance from the waves they ride. It's about as local as you can get."
A field trip to The First Floor reflects these sentiments. The renovated basement is slightly larger than a bedroom and smells of resin and cardboard; faded posters of empty waves and surfing icons litter the walls, and pretty much everything — Svoboda included — is covered in a thin layer of white dust. "This is my home now," he said with a grin. "I have everything I need down here — fiberglass, power tools, good music, and beer."
Don't let the casual demeanor fool you. Svoboda has been working hard to expand his network in the area surf industry and recently started working at Bob Haakenson Fiberglass in Goleta. When he's not surfing or shaping, he studies board designs from other companies and watches surf films to generate ideas. At this point, he remains focused on soaking up as much knowledge as possible from his mentors and developing a permanent line of First Floor board designs and templates.
Howard is equally committed to the future of the business. After graduating from UCSB, he hopes to open a storefront in Santa Barbara that sells handcrafted surfboards and other products from S.B.-area artists and photographers. "It's definitely something I want to do for the rest of my life," he said. "I don't plan to purchase another surfboard for a long time, mostly because it's so fun making them yourself."
4•1•1
For more information about The First Floor, visit firstfloorsurf.com or email firstfoorsurf@gmail.com.