Living
Plant Sale to Honor UCSB Grad
Dr. Lilyann Katiwa-Oyugi Passed Away in Kenya Last Year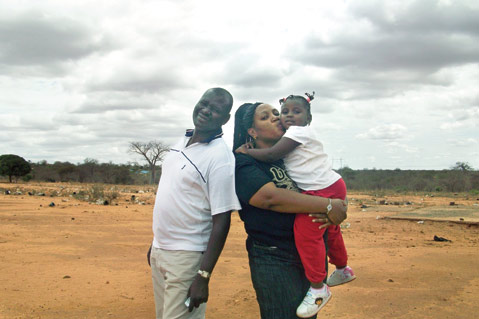 Life in the United States for Dr. Lilyann Katiwa-Oyugi was "not a bed of roses," remembered her husband, Joseph. Her family was thousands of miles away in Kenya, and her work as a UC Santa Barbara PhD student in Special Education, Disabilities and Risk Studies was difficult and demanding. But Lilyann and Joseph talked often, taking comfort in their mutual faith in God. She told him to focus on his job and their two little girls. When she wondered aloud about coming home, he said she should stay strong and finish her studies. In June 2011, Katiwa-Oyugi graduated from UCSB's Gevirtz Graduate School of Education. She completed her program in three years, a "rare accomplishment," her advisors said.
She soon moved back to Africa and started teaching at the Kenya Institute of Special Education, training teachers, specialists, and counselors. Her worked helped fill a massive void in Kenya's education system: Only 0.2 percent of the country's education budget is spent on special needs programs, and there's long been a shortage of teachers in the field. But on May 1, 2012, Katiwa-Oyugi underwent a cesarean section to deliver her family's third child, Ethan. While she seemed in good health for the next week, she suddenly fainted and fell ill on May 8. Less than 24 hours later, she passed away due to complications from the C-section. She was 38.
Katiwa-Oyugi's youngest daughter, Gift Betty, wrote this poem for her funeral:
My Mummy,
Your baby is fine because you have gone for now.
You are with God, because you have gone forever.
Your baby is fine with Aunt Liz and loving mum
You are fine and baby is fine and daddy.
Shocked and saddened by Katiwa-Oyugi's sudden and avoidable death, her Santa Barbara friends and coworkers have organized an upcoming plant sale in her memory. The money it raises will go toward the recently formed Dr. Lilyann Katiwa-Oyugi Foundation, which advocates for families affected by cesarean-related deaths, advances training and research into child health and maternal health in developing countries, and continues Katiwa-Oyugi's work of mainstreaming the rights of kids with disabilities. When her students and colleagues talk about her, they remember a bubbly woman with a wide smile and big heart whose great joy was helping often vulnerable and seemingly helpless children.
With soil, plants, pots, and supplies donated and collected over the last month, the group will host the fundraiser on May 4, from 9 a.m.-1 p.m. at 4825 Winding Way in Santa Barbara. Plant prices will range from $5-$30 for a variety of succulents, orchids, and other greenery. "Someone always jumped in when we asked for help," said Gevirtz grad student Katrina Soltero, one of the event's organizers, "and it was a beautiful process that I feel really honored Lilyann."