Outdoors
Peak Bagging in the Pinnacles
Hiking Into North America's Newest National Park
A large shadow cast over my wife, Lori, and me while scrambling through the high peaks of Pinnacles National Park. We expected to see passing clouds overhead; instead it was a pair of endangered California condors soaring in the early morning thermals.
We'd lit out before sunup to catch the sunrise warming the tallest columns of rock formations. Gradual switchbacks on the High Peaks Trail ascended above the tree line and the many canyons below. After meandering through several sweeping meadows, we reached a clearing for our first jaw-dropping view of the stunning pinnacles.
After about 1,200 feet in elevation gain, we were hiking between the steepest pinnacles when we saw condors soaring above and below us. Several other of the great birds were perched on gritty crags, sunning themselves, their broad wings open while soaking in a new day.
Pinnacles National Park, North America's newest park (as of January 10) and California's ninth, isn't the largest at 26,606 acres. But what it lacks in size it more than makes up for with otherworldly geological formations, high densities of unique wildlife, and more than 30 miles of cool day hikes.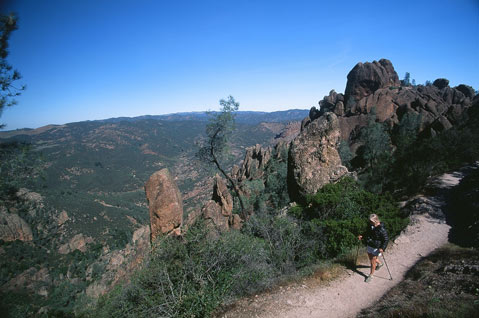 Deemed a National Monument by President Teddy Roosevelt in 1908, Pinnacles is situated in the chaparral-cloaked Gabilan Mountains in Monterey County in Central California, near the San Andreas Fault. Massive monoliths, craggy skyward spires, sheer-walled canyons, and talus passages define millions of years of erosion, faulting, and tectonic plate activity. Rock hounds will enjoy these astounding geological wonders, created by the eruption of the Neenach Volcano 23 million years ago, including dark, dank talus grottos housing 14 of California's 23 species of bats. The best bets for spotting bats are the Bear Gulch and Balconies caves.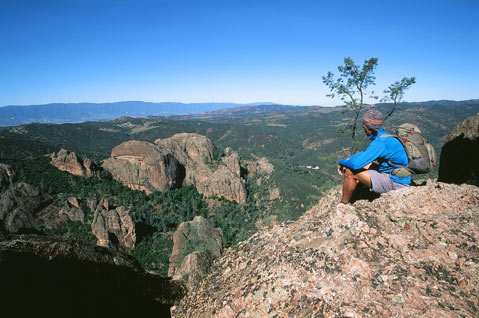 Since 2003, Pinnacles has been a strategic launching pad for captive-bred California condors. There are now 32 free-flying raptors in the park. The best place to catch a glimpse of North America's largest flying land bird is in the High Peaks region either early in the morning or late in the afternoon as they soar in the thermal updrafts year-round. Pinnacles also hosts 400 species of bees, and one of the highest densities of prairie falcons in North America. In all, 160 species of birds have been recorded at Pinnacles.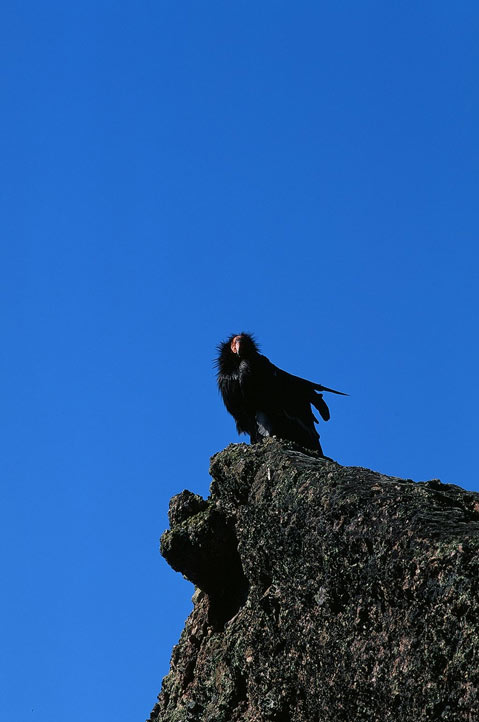 THE HIKE: Set out on the High Peaks Loop Trail (9.3 miles roundtrip) located in the eastern fringe of the park, crisscrossing streams and rolling hills, spelunking talus caves, exploring riparian canyons, and scrambling through the curious column-shaped rock formations that give Pinnacles its name. Start early, bring plenty of water, and a pair of binoculars to watch not only condors but also turkey vultures and prairie falcons.
DIRECTIONS: There is no through road linking the east and west entrances of Pinnacles. From Santa Barbara, take Highway 101 north to King City. From there take the G13 to Highway 25 to access the east entrance. To access the west entrance, continue north on Highway 101 past King City to the town of Soledad, then head east on Highway 146 for 14 miles to the entrance.
4•1•1
For more information, visit nps.gov/pinn. Camping is only allowed via the east entrance. For camping reservations, go to recreation.gov. There's a $5 entry fee that is good for seven days in the park.